'What Light Through Yonder Window Breaks?': A Shakespearean Walking Tour
Other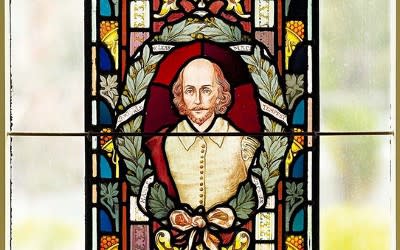 College Oak
Trinity College

Map
More information
T: 0383442543
This session is now booked out. To join a wait list please email ellie.clay@unimelb.edu.au
This walking tour through Trinity College will offer a cultural history of Shakespeare in the early years of Melbourne, with a focus on Trinity's beautiful Shakespeare-themed lead light windows.
Highlights of the tour, which will be led by Shakespeare scholars Dr David McInnis (Faculty of Arts) and Dr Gayle Allan (Deputy Dean of Trinity College), will include a complimentary high tea at the college and a demonstration of simple performance exercises that will bring the Bard to life.
Come along if you're interested in Shakespeare and would like to know more about the role his name and works played in early Melbourne.
Arrival information, including map, will be emailed to registrants in the lead-up to the event.
Being Human Festival 2019
This event is being held as part of the 2019 Being Human Festival. Founded in the UK as the only national festival of the humanities, Being Human is now a global celebration dedicated to demonstrating the breadth, diversity and vitality of the humanities.
Presenters
Dr Gayle Allan,

Associate Dean, Trinity College

Dr David McInnis

Senior Lecturer in Shakespeare Studies
The University of Melbourne

David McInnis is a Senior Lecturer in Shakespeare Studies at the University of Melbourne. He is author of MindTravelling and Voyage Drama in Early Modern England (Palgrave, 2013), editor of Dekker's Old Fortunatus for the Revels Plays series (Manchester UP, 2019), and is finalising a monograph on Shakespeare and lost plays. With Roslyn L. Knutson and Matthew Steggle, he is founder and coeditor of the Lost Plays Database. He has also edited a number of books, including Lost Plays in Shakespeare's England (Palgrave, 2014; coedited with Steggle) and a sequel volume, Loss and the Literary Culture of Shakespeare's Time (Palgrave 2019; coedited with Knutson and Steggle); Travel and Drama in Early Modern England: The Journeying Play (Cambridge UP, 2018; coedited with Claire Jowitt); and Tamburlaine: A Critical Reader (Arden Early Modern Drama Guides, 2020). In 2016 he was jointly awarded the Australian Academy of the Humanities' Max Crawford Medal (granted to Australian earlycareer researchers for outstanding scholarly achievement in the humanities). His work has been featured in the New York Times, the Guardian, the BBC, and elsewhere.