Engaging older Chinese Australians with digital media during COVID-19 lockdown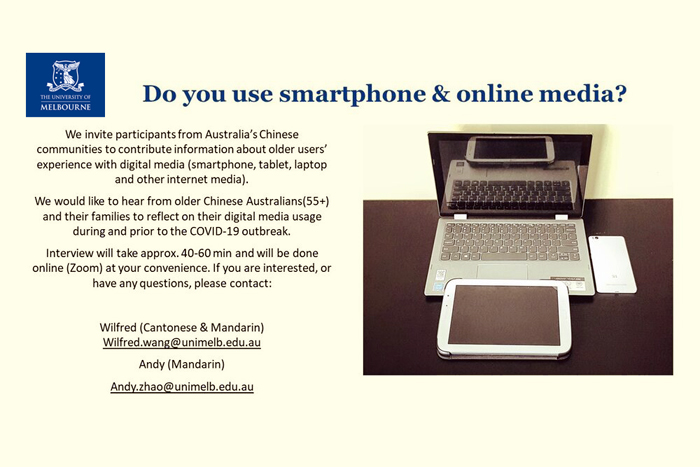 This project studies digital media use among older Australians from culturally and linguistically diverse (CALD) communities. It seeks to identify the gaps between health communication being utilised by Australian authorities and, the information and social needs among older Chinese Australians (OCAs) during a public health crisis. The project evaluates opportunities, limitations, and ethical considerations of incorporating digital media in engaging with older Australians, to increase an understanding of OCAs' experience of navigating and using digital media to access health information and social/community support programs.
本專案致力於研究來自多元文化和語言(CALD)背景的澳洲華人長者如何使用數位媒體。具體而言,本專案旨在找出疫情當下,澳洲政府所使用的健康傳播管道,與澳洲華人長者的資訊和社交需求之間的差距。另外,本專案將評估通過使用數位媒體與該群體互動所帶來的機會、局限以及道德方面的影響。這將有助於增強瞭解澳洲華人長者如何使用與駕馭數字媒體,以獲取健康和社會/社區扶持專案相關的資訊。
本项目致力于研究来自多元文化和语言(CALD)背景的澳洲华人长者如何使用数字媒体。具体而言,本项目旨在找出疫情当下,澳洲政府所使用的健康传播渠道,与澳洲华人长者的信息和社交需求之间的差距。另外,本项目将评估通过使用数字媒体与该群体互动所带来的机会、局限以及道德方面的影响。这将有助于增强了解澳洲华人长者如何使用与驾驭数字媒体,以获取健康和社会/社区扶持项目相关的信息。
Outcomes / activities
Research is underway. The project uses a research-embedded approach to collect ethnographic data in the forms of online observation and interview to understand how digital media have reconfigured OCAs' communication practice and social connection experience during the COVID19 lockdown in Melbourne, Australia.
Impact
The research will benefit the broader community by providing knowledge that will underpin future aged-care and support services across the community and public sectors.
Project details
Sponsors
School of Culture and Communication, the University of Melbourne
Research partners
Project team
Dr Wilfred Yang Wang
Dr Xinyu Zhao (Andy)
Contact