The Invention of Melbourne: A Baroque Archbishop and Gothic Architect
Understanding the cultural vision of the first Catholic Archbishop of Melbourne, James Goold (1812-1886), whose architectural patronage has left a permanent imprint on the built environment of Melbourne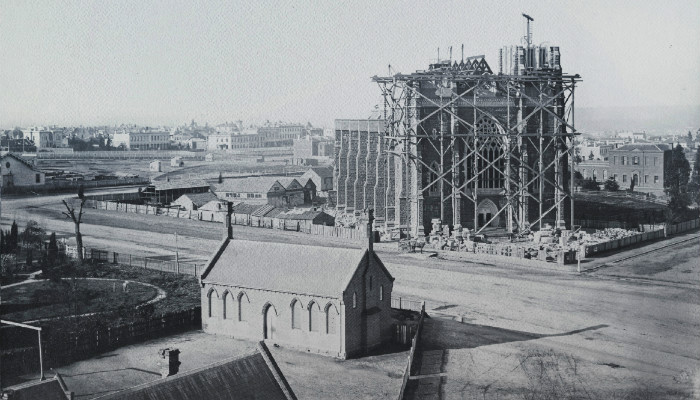 Our project aims to investigate the cultural vision of the first Catholic Archbishop of Melbourne, James Goold (1812-1886), whose architectural patronage has left a permanent imprint on the built environment of Melbourne. An Irishman educated in Italy, Goold was a passionate collector and missionary bishop. The Bishop imported a library and late Italian Baroque paintings to convey the intensity of European religious experience. When Goold was appointed to Melbourne it was a provincial town, but with the discovery of gold and the commissioning of St Parick's Cathedral Melbourne became an international metropolis.
Our research aims to create a new understanding of Australian Colonial Heritage that may impact on government policy for the preservation of the Catholic patrimony of Melbourne and the Built Environment. The impact of our publications on painting and architecture, and the current exhibition at the Old Treasury, Melbourne (July 2019-March 2020), will contribute to the public awareness of William Wardell's architecture and bring to international attention a previously unknown Baroque picture collection and library. This research may transform our understanding of the narratives of Colonial Australia.
Outcomes / activities
The Multiple Outcomes of the ARC Discovery Project, are a book, a catalogue, an exhibition, and many articles before the completion of the project in the third year, 2019-2020.
Our ARC Discovery project has been chosen by the ARC as one of the best 100 research projects in Australia. This is reflected in the Making a Difference book published online (see item 61).
Articles published
Anderson, Jaynie. "Visible and Invisible: Jacques Stella in Melbourne," in The Burlington Magazine, CLVIII, No 1357, 2016, pp. 245-250
Anderson, Jaynie. "Murillo in Australia," in Japón, Rafael (ed.,). Bartolomé Esteban Murillo y la copia pictórica. Granada: Universidad de Granada, 2018, pp. 273-293
We began with a blog that charts the research about the Discovery project and the development of its outcomes: A Baroque Archbishop in Colonial Australia
International conference
The investigators held an international conference at the end of the first year of the project. For more information please see A Baroque Archbishop in Colonial Australia blog, from which some papers, along with others, were published on 31 July 2019, in the book to accompany the exhibition at the Old Treasury, The Invention of Melbourne: A Baroque Archbishop and a Gothic Architect, published by Melbourne University Publishing.
See the book on the Melbourne University Publishing website
Download the catalogue of the exhibition (2.1Mb pdf) at the Old Treasury, edited by Paola Colleoni, as an issue of Footprints: Journal of the Melbourne Diocesan Historical Commission.
The recreation of Archbishop's Goold's library in the Mannix Library of the University of Divinity, Melbourne, with a considerable number of his books scanned, photographed and accessible on line, is an unexpected outcome of the ARC Discovery Project.
For more information please see the University of Divinity Archbishop James Alipius Goold and Mannix Library web page.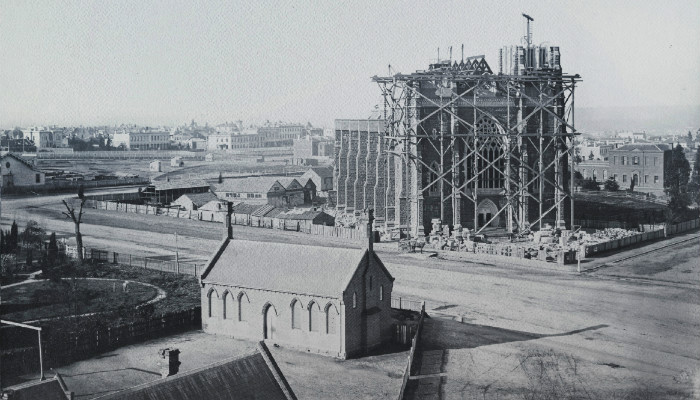 Project details
Sponsors
ARC Discovery Project funding commencement: 2017 (active)
The University of Divinity
The Australian Catholic University
The Melbourne Diocesan Historical Commission (MDHC)
The Old Treasury, Melbourne
The Estate of Mary Madeleine Theodora O'Sullevan
Lovell Chen
Newman College, University of Melbourne
Research partners
The University of Divinity
The Australian Institute of Art History
Mannix Library
New Norcia Benedictine Community
University of Granada, Spain
Freie Universität, Berlin
Project team
Chief investigators
Professor Emerita Jaynie Anderson
Rev Dr Max Vodola
Mr Shane Carmody
Associate investigators
Margaret Anderson
Kerrie Burn
Paola Colleoni (ARC doctoral fellow)
Nick Gellatly
Helen Gill
Angelo Lo Conte
Kate Lonel
Rachel Naughton
Callum Reid
Huw Sandaver
Max Vodola
Contact