Worlds in Disarray: Prehistory and the Present
Free Public Lecture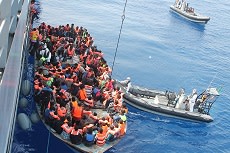 Kathleen Fitzpatrick Theatre B101
Arts West

Map
More information
T: 0434142369
Inaugural Professorial Lecture
This lecture examines the relationship between social and technological acceleration, class conflict, natural disaster and systems collapse in the ancient Mediterranean and modern western society through an examination of globalisation, populism and piracy.
Louise Hitchcock is Professor of Aegean Archaeology at the University of Melbourne.
Presenter
Professor Louise A Hitchcock

Professor of Aegean Archaeology at the University of Melbourne
University of Melbourne

Louise Hitchcock is Professor of Aegean Archaeology at the University of Melbourne. A UCLA graduate, Professor Louise Hitchcock has extensive archaeological experience in the east Mediterranean, including time as Parsons Fellow at the American School of Classical Studies in Athens, a senior Fulbright Fellow at the Cyprus American Archaeological Research Institute in Cyprus; an USAID Fellow; a National Endowment for the Humanities Fellow; a Visiting Annual Professor at the Albright Institute of Archaeological Research in Jerusalem; a visiting researcher at the Institute of Advanced Study at Hebrew University, Jerusalem, as well as excavation work in Israel, Egypt, Syria, Crete, and California. She is author of more than 70 articles on architecture, identity, piracy, feasting, and gender in the east Mediterranean. Her 4 books include, *Minoan Architecture: A Contextual Analysis*, (Studies in Mediterranean Archaeology Pocket Book 155) Jonsered: Paul Astroms Forlag (2000); *Aegean Art and Architecture*, Oxford: Oxford University Press (1999), coauthored with Donald Preziosi; *Theory for Classics, Routledge* (2008); and *Aegaeum 29, DAIS: The Aegean Feast* (coedited with Robert Laffineur and Janice Crowley). She is currently involved in several research projects: including investigating the relationship between Aegean, Cypriot and Philistine architecture, and collaborative projects on the emergence of complexity in Greece and excavating the site of Tell esSafi/Gath with Prof. Aren Maeir of Bar Ilan University. Her ongoing research is devoted to the recovery, documentation, and interpretation of contextual relationships as well as the interpretation of existing monuments, especially critical considering that many of the monumental structures of the Late Bronze Age are decaying through exposure to weather and human contact.