Let Me Stop Here: A Classical Journey into the 21st Century
Free Public Lecture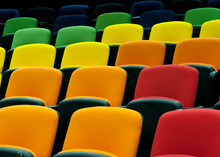 Kathleen Fitzpatrick Theatre
Arts West

Map
More information
T: 90345944
Professor Parkin, the inaugural Elizabeth and James Tatoulis Chair in Classics at the University of Melbourne, makes a case for why classics matters in the 21st century and why it will continue to be vital in the future, both in Melbourne and around the world.
As both a classicist and a social historian of the ancient world, Professor Parkin's research has focused primarily on the lives of 'ordinary people', with a tendency to move back over the life course: from old age to childhood, birth and conception. In this lecture he explores not only aspects of this research and teaching in social history, ancient languages, law, medicine and demography, but also his personal odyssey through the ancient world and back to Australasia, which he considers his true home.
Presenter
Professor Tim Parkin

Elizabeth and James Tatoulis Chair in Classics


Professor Tim Parkin joined the University of Melbourne in 2018 as the inaugural Elizabeth and James Tatoulis Chair in Classics. Before this he had spent over eleven years in England as the Professor of Ancient History at the University of Manchester. He is a New Zealander by birth who was awarded a D.Phil. at the University of Oxford as a Rhodes Scholar and who, since 1989, has worked in universities in New Zealand, Australia, and the United Kingdom, as well as spending over a year in Germany as an Alexander von Humboldt research fellow. Tim's teaching covers both ancient history and classical languages. His main research is in Roman history, particularly social, cultural, legal, and demographic aspects of the Roman republic and early empire. Among his publications are *Demography and Roman Society* (1992), *Old Age in the Roman World: A Social and Cultural History* (2003), *Roman Social History: A Sourcebook* (2007) and *The Oxford Handbook of Childhood and Education in the Classical World* (2014).