Monarch by Universal Consent: Revisiting Augustus' Alternative Truth
Free Public Lecture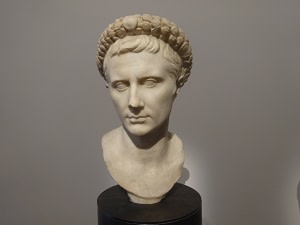 The Forum Theatre 153, Level 1
Arts West

Map
More information
T: 0434142369
In April 44 BCE, barely two months after the Ides of March, the young C Octavius (born 63 BCE) arrived in Italy to claim the political inheritance of his adoptive father, the slain dictator Julius Caesar. Some fourteen years later, his final victory over Mark Antony and Cleopatra in Egypt in the summer of 30 BCE paved the way for almost 45 years of undisputed mastery over the entire Roman world.
This lecture endeavours to reappraise the momentous career of the man who would be known as Imperator Caesar Augustus from January 27 and is widely considered as Rome's first Emperor. The chosen approach will be to confront the 'alternative facts' of his 'post-truth' retrospective in his Res Gestae, the official record of achievements he divulged in 13 CE, one year before his death, with the extant historical sources. This exercise will reveal his breathtaking distortions of the truth and offer valuable insights into authoritarian statecraft and mass communication.
Image: Bust of Emperor Augustus (photo 2017 by F. Vervaet Rome public museo)
Presenter
Associate Professor Frederik Vervaet

School of Historical and Philosophical Studies, The University of Melbourne

Associate Professor Frederik Vervaet received his PhD from Ghent University, Flanders, and is an expert in Roman political and socioinstitutional history, and Roman public law. Before coming to Melbourne in 2007 he was a visiting scholar at the University of California, Berkeley, Wolfson College, Oxford, and the Belgian Historical Institute at Rome. He regularly publishes in ranking journals, coedited volumes on *Despotism and Deceit in the GrecoRoman World* (Brill 2010), the *Roman Republican Triumph* (Quasar 2014) and *Eurasian Empires in Antiquity and the Early Middle Ages* (Cambridge 2017), and authored a substantial monograph on *The High Command in the Roman Republic* (Stuttgart 2014, termed "magisterial" in *The Classical Review* and awarded with the 2017 Woodward Medal in Humanities and Social Sciences). Amongst his more recent work is a chapter on *Magistrates Who Made and Applied the Law* in the *Oxford Handbook of Roman Law and Society* (2016). Associate Professor Vervaet spent the northern spring of this year as a Member at Princeton's renowned Institute for Advanced Study to pursue further study into Augustan statecraft.