Low Literary Laughter and Latin Comedy in Fragments
Free Public Lecture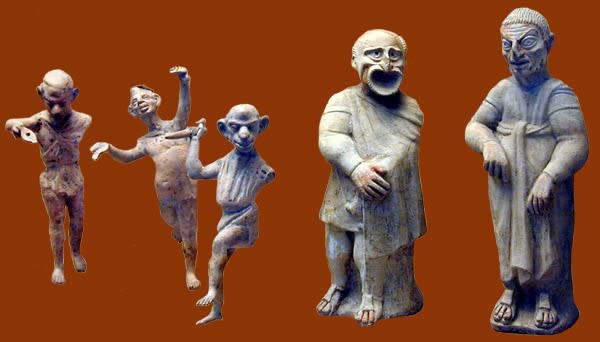 The Forum Theatre 153, Level 1
Arts West

Map
More information
T: 83441521
Literary Roman drama was much more than the well-known and imaginative comedies of Plautus and Terence, which were based on Greek original comedies and which influenced the themes and the repertory of later playwrights such as Shakespeare and Molière.
In this talk, Professor Panayotakis will focus on the literary versions of the little-known but equally celebrated forms of popular theatrical Latin drama referred to as mime and Atellane comedy, which have come down to us only in fragments. A brief study of their irreverent stage-topics, their social and political satire, their uncouth neologisms and their adult and often obscene verbal and visual humour may explain their low place in the canon of Latin literature and their marginalised status as cultural products. Nonetheless, Professor Panayotakis will argue that their low literary reputation was inaccurate and that it formed part of a conscious attempt to maintain the established literary standards and to minimise the power that these plays had in shaping public opinion about contemporary public figures and sensitive social topics.
Image: Left: three actors from mime (Roman, first century AD); Right: two actors from comedy (Etruscan, second century BC); London, British Museum.
Presenter
Professor Costas Panayotakis

Professor of Latin
University of Glasgow

Costas Panayotakis is Professor of Latin at the University of Glasgow. His research is on the Latin novel, especially Petronius' *Satyrica*, and on Roman drama, in particular the popular low forms of Roman theatrical entertainment (mime and Atellane comedy), the scripts of which have come down to us only in fragments. Author of *Theatrum Arbitri: Theatrical Elements in the Satyrica of Petronius* (Leiden, 1995), *Decimus Laberius: The Fragments* (Cambridge, 2010), and of annotated translations (into Modern Greek) of three plays of Plautus and Terence, he is currently preparing new critical editions (with facing translation and commentary) of the fragments of Atellane comedy, the moral maxims associated with the mimographer Publilius, and Petronius' *'Dinner at Trimalchio's'*.