2020
2019
Alcalde, Angel. "The Demobilization of Francoist and Republican War Veterans, 1939-44: A Great Divergence?" in Matthews, James (ed.,). Spain at War. Society, Culture and Mobilization, 1936-44. Bloomsbury Publishing, 2019.
In spite of the unabated flood of books on the Spanish Civil War and its consequences, historians of Spain in the 20th century have focused relatively little on the interaction of society and culture, and their roles in wartime mobilisation. Spain at War addresses this omission through an examination of individual experiences of conflict and the mobilisation of society. This edited volume acknowledges the agency of low-ranking individuals and the impact of their choices upon the historical processes that shaped the conflict and its aftermath. More information...
Burnard, Trevor. "Plantations and the Great Divergence," in Roy, Tirthankar and Riello, Giorgio (eds.,). Global Economic History. Bloomsbury Academic, 2019
What are the problems addressed by the growing field of global economic history? What debates and methodologies does it engage with? As Global Economic History shows, there are many answers to these questions. Riello and Roy, alongside 20 leading academics from the US, UK, Europe, Australia and Japan, explain why a global perspective matters to economic history. More information...
Davidson, Jane and Damousi, Joy (eds.,). A Cultural History of the Emotions in the Modern and Post-Modern Age (1920-2000+): Volume 6. Bloomsbury Academic, 2019.
Across six volumes, A Cultural History of the Emotions explores how emotions have changed over the course of human history, but also how emotions have themselves created and changed history. Emotions underpin our everyday lives and shape our mental, physical and social well-being. This collection shows how emotions can offer a unique insight into the historical thought and function of different societies.
Damousi, Joy and Smart, Judith (eds.,). Contesting Australian History. Essays in Honour of Marilyn Lake. Monash University Publishing, 2019.
One of Australia's leading scholars and a highly distinguished professor of history, Marilyn Lake forged a career that spanned several decades across a number of universities. Her books and other scholarly writings have significantly advanced our understandings not only of Australian social, cultural and political history but also of the interdependence of that history with those of Britain, the US and the Asia-Pacific... The chapters in this book span the breadth of Lake's scholarly influence on the directions historical research is taking today, and are based on papers by Australian colleagues and scholars presented at a Festschrift held at the University of Melbourne over two days in December 2016.
Edmonds, Penelope and Laidlaw, Zoe. ""The British Government Is Now Awaking": How Humanitarian Quakers Repackaged and Circulated the 1837 Select Committee Report on Aborigines," in Furphy, Samuel and Nettelbeck, Amanda (eds.,). Aboriginal Protection and Its Intermediaries in Britain's Antipodean Colonies. Routledge. 2019.
This collection brings together world-leading and emerging scholars to explore how the concept of "protection" was applied to Indigenous peoples of Britain's antipodean colonies. Tracing evolutions in protection from the 1830s until the end of the nineteenth century, the contributors map the changes and continuities that marked it as an inherently ambivalent mode of colonial practice. In doing so, they consider the place of different historical actors who were involved in the implementation of protective policy, who served as its intermediaries on the ground, or who responded as its intended "beneficiaries." More information...
Fedor, Julie. "Soviet Narratives of Subversion and Redemption during the Second Cold War and Beyond: The Case of Father Dmitrii Dudko," in Glajar, Valentina; Lewis, Alison and Petrescu, Corina L. (eds.,). Cold War Spy Stories from Eastern Europe. University of Nebraska Press, 2019
During the Cold War, stories of espionage became popular on both sides of the Iron Curtain, capturing the imagination of readers and filmgoers alike as secret police quietly engaged in surveillance under the shroud of impenetrable secrecy. And curiously, in the post-Cold War period there are no signs of this enthusiasm diminishing. The opening of secret police archives in many Eastern European countries has provided the opportunity to excavate and narrate for the first time forgotten spy stories. Cold War Spy Stories from Eastern Europe brings together a wide range of accounts compiled from the East German Stasi, the Romanian Securitate, and the Ukrainian KGB files. More information...
Galway, Matthew. "Permanent Revolution," in Franceschini, Ivan and Sorace, Christian (eds.,). Afterlives of Chinese Communism: Political Concepts from Mao to X. Verso. 2019
Afterlives of Chinese Communism comprises essays from over fifty world-renowned scholars in the China field, from various disciplines and continents. It provides an indispensable guide for understanding how the Mao era continues to shape Chinese politics today. Each chapter discusses a concept or practice from the Mao period, what it attempted to do, and what has become of it since. The authors respond to the legacy of Maoism from numerous perspectives to consider what lessons Chinese communism can offer today, and whether there is a future for the egalitarian politics that it once promised. More information...
Keys, Barbara (ed.,). The Ideals of Global Sport: From Peace to Human Rights. University of Pennsylvania Press, 2019
"Sport has the power to change the world," South African president Nelson Mandela told the Sporting Club in Monte Carlo in 2000. Today, we are inundated with similar claims - from politicians, diplomats, intellectuals, journalists, athletes, and fans - about the many ways that international sports competitions make the world a better place. The Ideals of Global Sport investigates these grandiose claims, peeling away the hype to reveal the reality: that shockingly little evidence underpins these endlessly repeated assertions. The essays, written by scholars from many regions and disciplines and drawn from an exceptionally diverse array of sources, show that these bold claims were sometimes cleverly leveraged by activist groups to pressure sports bodies into supporting moral causes. But the essays methodically debunk sports organisations' inflated proclamations about the record of their contributions to peace, mutual understanding, antiracism, and democracy. More information...
Kovesi, Catherine. "Defending the Right to Dress: Two Sumptuary Law Protests in Sixteenth-Century Milan," in Riello, Giorgio and Rublack, Ulinka (eds.,). The Right to Dress: Sumptuary Laws in a Global Perspective, c. 1200-1800. Cambridge University Press, 2019
This is the first global history of dress regulation and its place in broader debates around how human life and societies should be visualised and materialised. Leading scholars on Asian, Latin American, Ottoman and European history shed new light on how and why items of dress became key aspirational goods across society, how they were lobbied for and marketed, and whether or not sumptuary laws were implemented by cities, states and empires to restrict or channel trade and consumption. Their findings reveal the significance of sumptuary laws in medieval and early modern societies as a site of contestation between individuals and states and how dress as an expression of identity developed as a modern 'right'. More information...
McGregor, Katharine. "The World Was Silent? Global Communities of Resistance to the 1965 Repression in the Cold War Era," in Russell, Aidan (ed.,). Truth, Silence and Violence in Emerging States: Histories of the Unspoken. Routledge, 2019.
This book gives a comprehensive view of the ongoing evolutions and multiple faces of silence as a common strand in the struggles of state-building. It begins with chapters that examine the construction of "regimes of silence" as an act of power, and it continues through explorations of the ambiguous limits of speech within communities marked by this violence. It highlights national and transnational attempts to combat state silences, before concluding with a series of considerations of how these regimes of silence continue to be extrapolated in the gaps of records and written history. This volume explores histories of the composed silences of political violence across the emerging states of the late twentieth century, not solely as a present concern of aftermath or retrospection but as a diachronic social and political dimension of violence itself. More information...
2018
2017
Burnard, Trevor. "Slavery and the Enlightenment in Jamaica and the British Empire, 1760-1772: The Afterlife of Tacky's Rebellion and the Origins of British Abolitionism," in Tricoire, D. (ed.,). Enlightened Colonialism: Civilization Narratives and Imperial Politics in the Age of Reason. Palgrave Macmillan 2017
This book expands the debate on whether Enlightenment provided the cultural and intellectual origins of modern colonialism by exploring political and social practices. It brings together studies about the overseas empires of Britain, France, Spain, and Portugal as well as the continental empires of Russia and Austria and explores the interaction and assimilationism between European, indigenous, creole, and mix-raced elites. This book further qualifies the postcolonial thesis and shows its limits. To reach these goals, it links text analysis and political history on a global comparative scale. Focusing on imperial agents, their narratives of progress, and their political aims and strategies, it asks whether Enlightenment gave birth to a new colonialism between 1760 and 1820. More information...
Lang, Birgit; Damousi, Joy and Lewis, Alison. A history of the case study: sexology, psychoanalysis, literature. Manchester University Press, 2017
This collection tells the story of the case study genre at a time when it became the genre par excellence for discussing human sexuality across the humanities and life sciences.It is a transcontinental journey from the imperial world of fin-de-siècle Central Europe to the interwar metropolises of Weimar Germany and to the United States of America in the post-war years. More information...
Edele, Mark. Stalin's Defectors: How Red Army Soldiers Became Hitler's Collaborators, 1941-1945. OUP, 2017
Stalin's Defectors is the first systematic study of the phenomenon of frontline surrender to the Germans in the Soviet Union's 'Great Patriotic War' against the Nazis in 1941-1945. No other Allied army in the Second World War had such a large share of defectors among its prisoners of war. Based on a broad range of sources, this volume investigates the extent, the context, the scenarios, the reasons, the aftermath, and the historiography of frontline defection. More information...
Ellinghaus, Katherine. Blood Will Tell Native Americans and Assimilation Policy. University of Nebraska Press, 2017
Blood Will Tell reveals the underlying centrality of "blood" that shaped official ideas about who was eligible to be defined as Indian by the General Allotment Act in the United States. Katherine Ellinghaus traces the idea of blood quantum and how the concept came to dominate Native identity and national status between 1887 and 1934 and how related exclusionary policies functioned to dispossess Native people of their land. The U.S. government's unspoken assumption at the time was that Natives of mixed descent were undeserving of tribal status and benefits, notwithstanding that Native Americans of mixed descent played crucial roles in the national implementation of allotment policy. More information...
Scalmer, Sean. On the Stump: Campaign Oratory and Democracy in the United States, Britain, and Australia. Temple University Press, 2017
In his engaging book On the Stump, Sean Scalmer provides the first comprehensive, transnational history of the "stump speech." He traces the development and transformation of campaign oratory, as well as how national elections and public life and culture have been shaped by debate over the past century. Scalmer presents an eloquent study of how "stumping" careers were made, sustained, remembered, and exploited, to capture the complex rhythms of political change over the years. On the Stump examines the distinctive dramatic and performative styles of celebrity orators including Davy Crockett, Henry Clay, and William Gladstone. Ultimately, Scalmer recovers the history of the stump speech and its historical significance in order to better understand how political change is forged.
Griffen-Foley, Bridget and Scalmer, Sean (eds.,). Public Opinion, Campaign Politics and Media Audiences New Australian Perspectives. Melbourne University Publishing, 2017
This timely book investigates the fascinating landscape of media-driven politics through the prisms of 'public opinion', political campaigning, and audiences. From Indigenous voting rights and climate change to talkback radio and right-wing populism, Public Opinion, Campaign Politics and Media Audiences showcases new research in political science, history and media studies. Contributors scrutinise the relationship between polls, party policy and voting behaviour, and evaluate the roles of oratory and the media in electioneering and political communication across Australia, Britain and the United States. More information...
Tomsic, Mary. Beyond the Silver Screen, A History of Women, Filmmaking and Film Culture in Australia 1920-1990. Melbourne University Press, 2017
Beyond the Silver Screen tells the history of women's engagement with filmmaking and film culture in twentieth-century Australia. In doing so, it explores an array of often hidden ways women in Australia have creatively worked with film. Beyond the Silver Screen examines film in a broad sense, considering feature filmmaking alongside government documentaries and political films. It also focuses on women's work regulating films and supporting film culture through organising film societies and workshops to encourage female filmmakers. As such, it tells a new narrative of Australian film history. More information...
Zika, Charles; Hesson, Angela and Martin, Matthew (eds.,). Love: Art of Emotion 1400-1800. National Gallery of Victoria, 2017
Love, in the early modern era, was not so much a single emotion as an intricate constellation of feelings, experienced and expressed by the individual as well as broader society. From romantic desire to religious devotion, from patriotism to narcissism to nostalgia, Love: Art of Emotion 1400-1800 explores notions of public display and private sentiment, ostentation and intimacy.
2016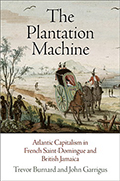 Burnard, Trevor and Garrigus, John. The Plantation Machine: Atlantic Capitalism in French Saint-Domingue and British Jamaica. University of Pennsylvania Press, 2016
The core of The Plantation Machine addresses the Seven Years' War and its aftermath. The events of that period, notably a slave poisoning scare in Saint-Domingue and a near-simultaneous slave revolt in Jamaica, cemented white dominance in both colonies. Burnard and Garrigus argue that local political concerns, not emerging racial ideologies, explain the rise of distinctive forms of racism in these two societies. The American Revolution provided another imperial crisis for the beneficiaries of the plantation machine, but by the 1780s whites in each place were prospering as never before - and blacks were suffering in new and disturbing ways. The result was that Jamaica and Saint-Domingue became vitally important parts of the late eighteenth-century American empires of Britain and France. More information...
Damousi, Joy and Hamilton, Paula (eds.,). A cultural history of sound, memory, and the senses. Routledge, 2016
The past 20 years have witnessed a turn towards the sensuous, particularly the aural, as a viable space for critical exploration in History and other Humanities disciplines. This has been informed by a heightened awareness of the role that the senses play in shaping modern identity and understanding of place; and increasingly, how the senses are central to the memory of past experiences and their representation. The result has been a broadening of our historical imagination, which has previously taken the visual for granted and ignored the other senses… This volume builds on scholarship produced over the last twenty years and explores these dimensions by coupling the history of sound and the senses in distinctive ways: through a study of the sound of violence; the sound of voice mediated by technologies and the expression of memory through the senses. More information...
Damousi, Joy; Scalmer, Sean; Goot, Murray and Archer, Robyn (eds.,). The Conscription Conflict and the Great War. Monash University Publishing, 2016
While the Great War raged, Australians were twice asked to vote on the question of military conscription for overseas service. The recourse to popular referendum on such an issue at such a time was without precedent anywhere in the world... But while the memory of the conscription campaigns once loomed large, it has increasingly been overshadowed by a preoccupation with the sacrifice and heroism of Australian soldiers. This volume redresses the balance. Across nine chapters, distinguished scholars consider the origins, unfolding, and consequences of the conscription campaigns, comparing local events with experiences in Britain, the United States, and other countries. A corrective to the 'militarisation' of Australian history, it is also a major new exploration of a unique and defining episode in Australia's past.
McIlvenna, Una. Scandal and Reputation at the Court of Catherine de Medici. Routledge, 2016
Scandal and Reputation at the Court of Catherine de Medici explores Catherine de Medici's 'flying squadron', the legendary ladies-in-waiting of the sixteenth-century French queen mother who were alleged to have been ordered to seduce politically influential men for their mistress's own Machiavellian purposes. Branded a 'cabal of cuckoldry' by a contemporary critic, these women were involved in scandals that have encouraged a perception, which continues in much academic literature, of the late Valois court as debauched and corrupt. More information...
McPhee, Peter. The French Revolution (2nd edition, revised). Melbourne University Publishing, 2016
There are three key questions the book investigates. First, why was there a revolution in 1789? Second, why did the revolution continue after 1789, culminating in civil war, foreign invasion and terror? Third, what was the significance of the revolution? Was the French Revolution a major turning-point in French, even world history, or instead just a protracted period of violent upheaval and warfare which wrecked millions of lives? More information...
Scalmer, Sean and Altman, Dennis (eds.,). How to Vote Progressive in Australia Labor Or Green?. Monash University Publishing, 2016
Red or Green? Traditionally, Australian progressives have supported the Australian Labor Party; increasingly, the Greens appeal. What are the key differences between the parties? Is greater collaboration desirable? Is it likely? This volume brings together a range of party leaders, veterans, and academic experts to tackle these important questions. Deliberately pluralistic, it encompasses strongly divergent views. Dedicated to progressive change, it aims both to capture and to advance a vital public debate.
Spinks, Jenny and Zika, Charles (eds.,). Disaster, Death and the Emotions in the Shadow of the Apocalypse, 1400-1700. Palgrave Macmillan, 2016
In late medieval and early modern Europe, textual and visual records of disaster and mass death allow us to encounter the intense emotions generated through the religious, providential and apocalyptic frameworks that provided these events with meaning. This collection brings together historians, art historians, and literary specialists in a cross-disciplinary collection shaped by new developments in the history of emotions. It offers a rich range of analytical frameworks and case studies, from the emotional language of divine providence to individual and communal experiences of disaster. More information...
2015
Burnard, Trevor. Planters, Merchants, and Slaves: Plantation Societies in British America, 1650-1820. University of Chicago Press, 2015
As with any enterprise involving violence and lots of money, running a plantation in early British America was a serious and brutal enterprise. Beyond resources and weapons, a plantation required a significant force of cruel and rapacious men - men who, as Trevor Burnard sees it, lacked any better options for making money. In the contentious Planters, Merchants, and Slaves, Burnard argues that white men did not choose to develop and maintain the plantation system out of virulent racism or sadism, but rather out of economic logic because – to speak bluntly – it worked. More information...
Damousi, Joy. Memory and Migration in the Shadow of War: Australia's Greek Immigrants after World War II and the Greek Civil War. Cambridge University Press, 2015
In an engaging and original contribution to the field of memory studies, Joy Damousi considers the enduring impact of war on family memory in the Greek diaspora. Focusing on Australia's Greek immigrants in the aftermath of the Second World War and the Greek Civil War, the book explores the concept of remembrance within the larger context of migration to show how intergenerational experience of war and trauma transcend both place and nation. Drawing from the most recent research in memory, trauma and transnationalism, Memory and Migration in the Shadow of War deals with the continuities and discontinuities of war stories, assimilation in modern Australia, politics and activism, child migration and memories of mothers and children in war. Damousi sheds new light on aspects of forgotten memory and silence within families and communities, and in particular the ways in which past experience of violence and tragedy is both negotiated and processed. More information...
Darian-Smith, Kate and Edmonds, Penelope (eds.,). Conciliation on Colonial Frontiers: Conflict, Performance and Commemoration in Australia and the Pacific Rim. Routledge, 2015.
Spanning the late 18th century to the present, this volume explores new directions in imperial and postcolonial histories of conciliation, performance, and conflict between European colonisers and Indigenous peoples in Australia and the Pacific Rim, including Aotearoa New Zealand, Hawaii and the Northwest Pacific Coast. It examines cultural "rituals" and objects; the re-enactments of various events and encounters of exchange, conciliation and diplomacy that occurred on colonial frontiers between non-Indigenous and Indigenous peoples; commemorations of historic events; and how the histories of colonial conflict and conciliation are politicised in nation-building and national identities. More information...
Creak, Simon. Embodied Nation: Sport, Masculinity, and the Making of Modern Laos. University of Hawaii Press, 2015.
This strikingly original book examines how sport and ideas of physicality have shaped the politics and culture of modern Laos. Viewing the country's extraordinary transitions – from French colonialism to royalist nationalism to revolutionary socialism to the modern development state - through the lens of physical culture, Simon Creak's lively and incisive narrative illuminates a nation that has no reputation in sport and is typically viewed, even from within, as a country of cheerful but lazy people. Creak argues that sport and related physical practices – including physical education, gymnastics, and military training – have shaped a national consciousness by locating it in everyday experience. These practices are popular, participatory, performative, and, above all, physical in character and embody ideas and ideologies in a symbolic and experiential way.
Spinks, Jenny and Eichberger, Dagmar (eds.,). Religion, the Supernatural and Visual Culture in Early Modern Europe: An album amicorum for Charles Zika. Brill: 2015
This volume brings together some of the most exciting new scholarship on these themes, and thus pays tribute to the ground-breaking work of Charles Zika. Seventeen interdisciplinary essays offer new insights into the materiality and belief systems of early modern religious cultures as found in artworks, books, fragmentary texts and even in Protestant 'relics'. Some contributions reassess communal and individual responses to cases of possession, others focus on witchcraft and manifestations of the disordered natural world. More information...