The Marzuolo Archaeological Project
The Marzuolo Archaeological Project (MAP) is an international fieldwork collaboration between Cornell University, The University of Melbourne and The University of Arkansas, investigating the Roman-period site of Podere Marzuolo in rural southern Tuscany (Italy).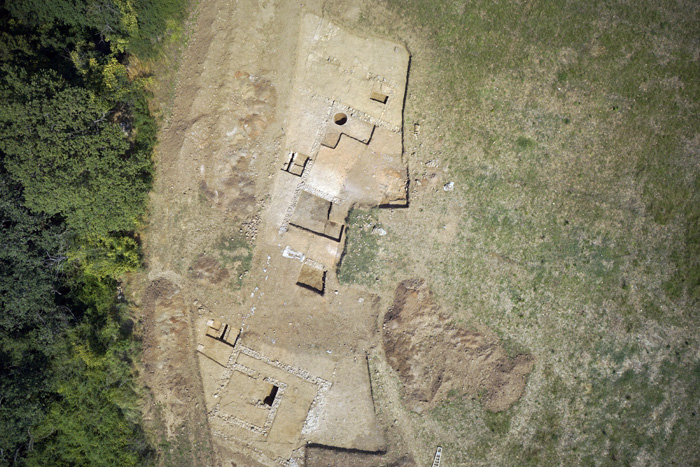 Since 2016 annual field campaigns have taken place, using an integrated approach combining targeted excavation, spatial and scientific data analysis, 3D-modelling, and material studies. These investigations highlight the potential of the site to function as a paragon of the varied nature of Roman rural settlement.
Situated c. 40km away from the coast and from the nearest urban settlement of Roselle, the site finds itself in a landscape populated by small-scale peasant activity sites. The site itself is of a type poorly documented to date for the Roman world: excavations reveal an original villa rustica that in the first half of the 1st century AD was repurposed as a dedicated craft production centre.
This second phase centres around a large complex (to date ca. 1500m2 of it has been excavated) that existed for only a few generations before it burnt down and was abandoned. The complex consists of a sequence of large cells dedicated to artisanal production opening onto a portico that may have flanked a central courtyard.
Excavated features include a combined blacksmith and woodworking workshop (with all original features and a complete set of tools and instruments preserved) and a storage room containing collapsed piles of ca. 400 vessels in terra sigillata, suggestive of on-site production of this iconic red-slipped tableware that was distributed throughout the Mediterranean during the Early Imperial period.
Project details
Project directors
Dr Astrid Van Oyen (Cornell University)
Dr Gijs Tol (University of Melbourne)
Dr Rhodora G. Vennarucci (University of Arkansas).
Project collaborators
Dr Anna Maria Mercuri (University of Modena and Reggio Emilia)
Dr Eleonora Rattigheri (University of Modena and Reggio Emilia)
Dr Evangelia Kiriatzi (Fitch Laboratory, Athens)
Dr Noémi Muller (Fitch Laboratory, Athens)
Dr Edyta Marzec (Fitch Laboratory, Athens)
Dr Ines Tescione (Università degli Studi Roma Tre)
Funding
2021-2022 – Loeb Classical Library Foundation Fellowship
2018 – Loeb Classical Library Foundation Fellowship
2017 – Einaudi Centre for International Studies (Cornell University); the President's Council for Cornell Women
2016 – Cambridge Humanities Grant; McDonald Institute for Archaeological Research Grant; Cotsen Excavation Grant from the Archaeological Institute of America; Centre for Advanced Spatial Technologies's SPARC Field Grant, University of Arkansas