2014
Sloggett, Robyn. "Considering evidence in Art Fraud," in Chappell, D. and Hufnagel, S. (eds.,). Contemporary Perspectives on the Detection, Investigation and Prosecution of Art Crime: Australasian, European and North American Perspectives. Ashgate, 2014.
In the world of law enforcement art and antiquity crime has in the past usually assumed a place of low interest and priority. That situation has now slowly begun to change on both the local and international level as criminals, encouraged in part by the record sums now being paid for art treasures, are now seeking to exploit the art market more systematically by means of theft, fraud and looting. In this collection academics and practitioners from Australasia, Europe and North America combine to examine the challenges presented to the criminal justice system by these developments. Best practice methods of detecting, investigating, prosecuting and preventing such crimes are explored. This book will be of interest and use to academics and practitioners alike in the areas of law, crime and justice. More information...
Nicole Tse, Heysen, R. "Hans Heysen's art materials: an investigation into suppliers, knowledge and choice," in Dubois, H., Townsend, J., Nadolny, J., Eyb-Green, S., Kroustallis, S. and Neven, S. (eds.,). Making and Transforming Art: Technology and Interpretation. Archetype Publications, 2014.
The papers in this volume, presented at the Royal Institute of Cultural Heritage (KIK-IRPA) in Brussels in November 2012, cover a wide range of works of art, periods, sources and approaches, from Dioscorides to contemporary artists' installations. The theme of the conference is reflected in studies such as Tingely's explosive Homage to New York, the evolutions and transformations of harpsichords in France in the seventeenth and eighteenth centuries, the art of wax anatomical models in Spain, or neo-gothic polychromies. The confrontation of source research with experimental reconstruction and analysis are illustrated in the study of anthocyanin colorants in Medieval European illuminators workshop or of tempera paint around 1900. Research on artist's materials, such as vermillion, zinc white or turpentine, refers to patents, inventories, diaries and chronicles. The interpretation and transmission of sources is central to several papers. Innovative databases on Art Technological Sources are also presented. More information...
2013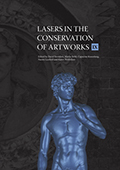 Tse, Nicole, Miles, E. and Roberts, Ann. "Film formation of artists' acrylic paints in tropical climates using dynamic speckle interferometry," in Saunders et all (eds.,). Lasers in the Conservation of Artworks IX. Archetype Publications, 2013, pp. 32-40.
The papers in this volume were presented as papers or posters at the ninth meeting dedicated to the use of lasers in the conservation of artworks (LACONA), hosted by the British Museum and University College, London. They focus not only on the fundamental scientific research behind the use of laser technology, but also on the application of lasers in the treatment and analyses of cultural heritage in a way that is directly applicable to conservation practice. The papers illustrate three broad themes that have recurred throughout the well-established series of LACONA meetings, presenting advances in: the use of laser technologies in conservation treatments for cultural heritage; laser-based methods for imaging, 3D documentation and modelling; and laser-based techniques for analysis, diagnostics and monitoring. More information...
Ormond-Parker, L. and Sloggett, Robyn. "Crashes along the Superhighway: The information continuum in Information Technologies and Indigenous Communities," in Ormond-Parker, Corn, Fforde, Obata, and Sullivan (eds.,). Information Technologies and Indigenous Communities. AIATSIS - Aboriginal Studies Press, 2013 eBook.
This eBook sets out key issues identified in the final plenary session at the AIATSIS research symposium on information technologies and Indigenous communities. Over 70 papers were presented at ITIC on the use of information technologies by Indigenous peoples. Illustrating the strength and vibrancy of the sector, presentations were delivered on programs, projects and research being implemented and undertaken by a range of community organisations,institutions and researchers across Australia. More information...
Lau, Ramanaidou, Petronella Nel, Kappen, Villis. "Artworks and cultural heritage materials: using multivariate analysis to answer conservation questions," in Rajan (ed.,). Informatics for materials science and engineering: data-driven discovery for accelerated experimentation and application. Butterworth-Heinemann, 2013.
Materials informatics: a 'hot topic' area in materials science, aims to combine traditionally bio-led informatics with computational methodologies, supporting more efficient research by identifying strategies for time- and cost-effective analysis… This work, from Krishna Rajan, the leading expert of the informatics approach to materials, seeks to break down the barriers between data management, quality standards, data mining, exchange, and storage and analysis, as a means of accelerating scientific research in materials science. More information...