Jewish Culture and Society
2017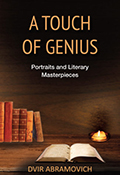 Abramovich, Dvir. A Touch of Genius: Portraits and Literary Masterpieces. Hybrid Publishers, 2017
In a collection of passionate, sparkling essays, one of Australia's leading literary critics presents a fresh and exciting ode to Jewish fiction. Rescuing some brilliant texts from the dustbin of oblivion or from culture's short-memory, Abramovich, writing with affection and authority, offers gems of critical appreciation and in-depth discussion of masterpieces and iconic authors such as Nobel Prize Winner S.Y. Agnon, Israel's most celebrated living author Amos Oz, the mesmerising Paul Celan, the incomparable David Grossman, the extraordinary Susan Fromberg Schaeffer, the Israeli 'Agatha Christie', and the early pioneers of Hebrew letters. Sharing his lifetime joy of reading and engagement with the written word, and showcasing his scholarly erudition, Abramovich effortlessly muses on the nature of writing, and takes readers on an intellectual and philosophical journey through grand thematic landscapes such as memory, the Holocaust, identity, man's relationship with God, imagination, family, marriage death and suffering. A celebration and a tribute to old favourites, this delightful volume of reflections and meditations is sure to ignite a fire in the discerning readers' minds, and motivate them to go back to those classics with a renewed sense of excitement. More information...
2015
Abramovich, Dvir. "Exiled Citizens: Holocaust remembrance in the first decade of Israeli statehood and the gradual shift in attitudes in the 1980s," in McConville, Chris (ed.,). HOPEFUL PLACES: Migration and belonging in an unpredictable era. Connor Court Publishing, 2015.
"Low income, poor education and related difficulties" diminish the lives of native-born and immigrant, and remain largely unaltered by an emphasis on cultural retention and national migration policy. Perhaps in the end, Gans's criterion remains the only useful measure of migration policy, and a sense of belonging; that regardless of official statements about multiculturalism or embrace of difference, and in the face of continued marginality, a successful settlement is one that survives as "by and large a good place to live". From the Introduction. More information...
2014
Abramovich, Dvir. Flashpoints: Israel, anti-Semitism and the Holocaust. Hybrid Publishers, 2014
Never one to shy away from controversy, Abramovich's thought-provoking collection of essays and intelligent writings are sure to arouse heated discussion. Mercilessly tackling everything from Mel Gibson's anti-Semitic rants, The Holocaust, Iran's pursuit of nuclear weapons and the UN's anti-Israel stance, Flashpoints offers unique perspectives on Israel, the Israeli-Palestinian conflict and the Jewish world. Whether you agree with him or not, one thing is certain: Abramovich's pieces will lead you on a journey of exploration and reflection, challenging what many people hold true about topics that are as relevant today as ever. More information...