Mawng maths – using Mawng spatial terms in school mathematics lessons
Seminar/Forum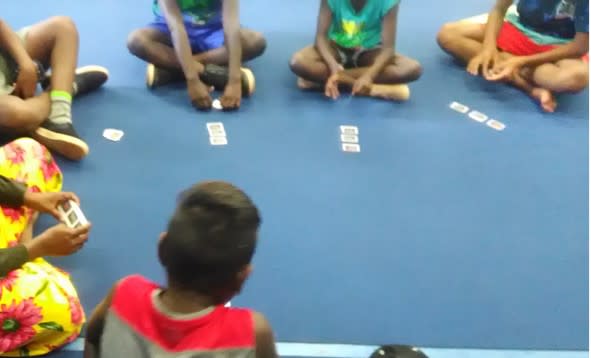 This project explores how Mawng spatial terms can be used in school mathematics lessons at Warruwi school. As well as investigating whether using Mawng in mathematics lessons helps reinforce and maintain local ways of talking about space and location, the project also provides an opportunity for teaching staff who speak Mawng to take on more responsibility for the content of the class teaching. The initial objective was for students to gain a firmer foundation in spatial language and thinking through use of their first language in a formal school context. Although Mawng is still being learnt and spoken by young children, some adults are concerned that language shift might be occurring. The motivation has thus shifted to include a language maintenance aspect. A teaching intervention in Mawng language focusses on spatial sequencing words, particularly kiwraka 'in front, first' and warrwak 'behind, last'. Mawng mathematics lessons are developed collaboratively and taught by the Mawng Assistant Teacher. Pre- and post-intervention interviews have been conducted with children aged 5 – 10 years in Mawng and English. Data analysis is not yet complete but there are indications of preferences for intrinsic over relative interpretations, and for translational over reflective relative interpretations.
Presenter
Dr Cris Edmonds-Wathen

The University of Melbourne

Cris EdmondsWathen is a postdoctoral research fellow in the Research Unit for Indigenous Language. She researches how mathematics is expressed in different languages, particularly languages that have not been used for formal school mathematics. Key questions that inform her research on the relationship between mathematics education and language in remote indigenous communities include: What mathematical concepts do young indigenous language speaking children learn in their everyday life? How does their mathematical understanding correspond or not correspond with assumed learning in the Australian curriculum? How can curriculum design and teaching programs for indigenous language speaking students be better informed by the children's prior mathematical understanding?