Situated, embodied, distributed: Interaction and cognition in the orchestral rehearsal
Seminar/Forum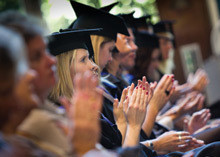 This PhD completion talk examines cognition and interaction within the orchestral rehearsal, considering the ways in which interactional and cognitive processes are achieved through the use of musicians' bodies, distributed across the orchestral organisation (including musicians and others), and situated within spaces that are created by and through the work of the orchestra. Data for this study includes both ethnographic observation of a professional orchestra working with a number of different conductors, and video-recordings of a full rehearsal cycle of a symphonic work being prepared for public performance. Four cameras were used to capture simultaneous video of the orchestra during rehearsal. Ethnographic research included observation before, during and after rehearsals as well as during the orchestra's performances over a four-month period; this ethnographic research also included conversations with orchestral musicians, conductors and support staff.
In this talk, I consider first, how orchestral players, and the orchestral support staff, use time, space, artefacts and their bodies themselves to establish the creative and cognitive work of 'rehearsal' as their mutual and shared goal. Within this co-constructed 'space' for the orchestral rehearsal, this talk then examines how conductors and musicians use bodies, artefacts, and interaction to achieve the shared goals of the rehearsal process. Considering the work of the conductor, this talk argues that conductors use their body and artefacts to interact with the orchestra to achieve the mutual, creative 'work' of orchestral rehearsal, and examines how conductor gesture in particular can be seen as an important interactional tool in this process. Turning to musicians, this talk argues that individual musicians can be conceptualised as a distributed cognitive system, and that this shared and accessible-to-others cognitive work can be seen as salient to the orchestral rehearsal. Interaction is then examined in terms of interaction achieved predominantly through talk during the orchestral rehearsal, showing how musicians orient to embodied processes of knowing as relevant to interaction within rehearsal, and in terms of how the observability of gesture is related to the construction and performance of social roles within musical performance and rehearsal.
Presenter
Katharine Parton

Katharine Parton was elected Director of Music & ByeFellow at Fitzwilliam College, University of Cambridge from 2014 to 2017. During this time, Katharine founded the Young Women's Conducting Workshops at the University, in association with the Royal Philharmonic Society, and oversaw college music, including international tours and curating professional concert series. Katharine taught conducting students from across the University, ran numerous workshops on conducting within the College, and gave guest lectures for the graduate programs in the Faculty of Music. Katharine is active as both a composer and conductor. She made her professional conducting debut with the Lyric Opera of Melbourne in 2009, having studied with Professor John Hopkins both at the University of Melbourne and through the Melbourne Youth Orchestra programs. She continued her studies at the Royal Northern College of Music and conducted extensively during her time at the University of Cambridge. Katharine has presented her research at multiple peerreviewed national and international conferences across disciplines including linguistics, gesture studies, and music, and has featured both as a speaker and invited panellist. She was awarded best paper at the 2010 International Gesture Studies Society conference, and most recently was invited to speak at the Tasmanian Symphony Orchestra as part of the Louise Crossley Conducting Workshop. Katharine holds degrees in music, linguistics, French and education from the University of Melbourne. Her PhD research was funded by a Melbourne Research Scholarship.