Language documentation at the University of Melbourne
Linguistics at the University of Melbourne has a long tradition of supporting fieldwork-based research on endangered languages.
Topics range from descriptive grammars of little known languages to more specific investigations of phonetics, morphology, semantics, discourse, lexicography, language acquisition and language documentation.
To those University of Melbourne students obtaining scholarship support for the Linguistics and Applied Linguistics PhD program, financial support for fieldwork through the Faculty Fieldwork Scheme is available (currently up to around AUD $10,000); in many cases further support from particular research projects is also available. A Language Documention lab provides a desk, filing cabinet and computer for each PhD student undertaking remote area fieldwork and language documentation.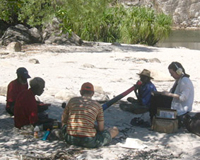 Honours students can take field methods classes which may trigger an interest in the language studied that results in further research on that language. Languages that have been studied in the field methods course in recent years have included Lopit (Sudan), Ganalbingu (Australian), Golin, Enga (Papuan), Tetun Dili, Lau, Sasak, Bugis and Acehnese (Austronesian).
The program offers two regular courses on Australian Aboriginal languages, and a further course involving the study of a particular language family (eg the Aslian languages of the Malay Peninsula). We regularly offer workshops in topics in language documentation with a focus on software tools to support linguistic analysis.
Linguistics staff have been central in establishing the Pacific and Regional Archive for Digital Sources in Endangered Cultures (PARADISEC) and support long-term reusability of records produced during linguistic research. We also established the Resource Network for Linguistic Diversity to support language work and to network between researchers in the field, since 2019 called Living Languages, a key national organisation delivering grassroots training to Indigenous people across Australia.
Staff and affiliates
Graduate students with fieldwork-based research recently or currently enrolled (2014)
Brigitte Agnew - grammatical description of Mangarla (north Western Australia)
Rosey Billington - Phonetics and phonology of Lopit (South Sudan)
Lucy Davidson - investigating the ways in which children become cultural members of Murrinhpatha speaking society (Northern Australia)
Daniela Diedrich - grammatical description of Paku, Kalimantan (Indonesia)
Bill Forshaw - Acquisition of verbal morphology in Murrinh-Patha (Northern Australia)
Kate Horrack - Argument structure in Wubuy (Northern Australia)
Ivan Kapitonov - grammatical description of Kunbarlang (Northern Australia)
Isabel O'Keeffe (née Bickerdike) - Kun-barlang language and songs in multilingual western Arnhem Land (Northern Australia)
Jonathan Moodie - Grammatical description of Lopit (South Sudan)
Gemma Morales - the development of Yolngu Matha (home language) literacy skills (Northern Australia)
Graduates
Sara Ciesielski (2016) - Sherpa language socialisation (Nepal)
Brighde Collins (2016) - Aspectual expression in Ngandi (Northern Australia)
Hywel Stokes (2014) - Phonetics of Bininj Gun wok (Northern Australia)
Aidan Wilson (2014) - Verbal morphology in Traditional Tiwi (Northern Australia)
Lauren Gawne (2013) - Evidentiality in Lamjung Yolmo (Nepal)
Amanda Brotchie (2009) - Grammar and Narrative in Tirax (Vanuatu)
Samantha Disbray (2009) - Locational expressions in Wumparrarni English narratives (Warumungu and Kriol). (Northern Australia)
Jenny Green (2009) - Integrating gesture, sand diagrams and speech in Alyawerre (Central Australia)
Robyn Loughnane (2009) - Oksapmin (Papuan, PNG)
Karin Moses (2009) - Child directed questions in Yakanarra (Kriol and Walmajarri) (Western Australia)
Sebastian Fedden (2007) - A grammar of Miyan. (Papuan, PNG) (Now at MPI, Nijmegen)
Anthony Jukes (2007) - A grammar of Makassarese (Indonesia) (Recently worked at SOAS, London)
Felicity Meakins (2007) - Case marking in Gurindji Kriol (Northern Australia)
Eva Fenwick (2007) - Beja (Sudan) (MA)
Alice Gaby (2006) - A grammar of Kuuk Thaayorre (Cape York, Northern Australia)
Ruth Singer (2006) - Topics in Mawng agreement (Northern Australia)
Yon Mahyuni (2004) - Speech styles and cultural consciousness in the Sasak community, Lombok (Indonesia)
Adam Saulwick (2004) - The verb in Rembarrnga, a polysynthetic language (Now working in Adelaide)
Nicholas Thieberger (2004) - Topics in the grammar and documentation of South Efate, an Oceanic language of Central Vanuatu
Domenyk Eades (2003) - A grammar of Gayo: a language of Aceh, Sumatra
Jeanie Bell (2003) - A sketch grammar of the Badjala language of Gari (Fraser Island) (MA)
Judith Bishop (2002) - Aspects of intonation and prosody in Biinj Gun-wok: an autosegmental-metrical analysis.(Northern Australia)
Nick Enfield (2000) - Linguistic epidemiology: on the polyfuctionality of 'acquire' in mainland South East Asia
Nicole Kruspe (1999) - Semelai
Tonya Stebbins (1999) - Issues in Sm'algyax (Coast Tsimshian) Lexicography (Canada)
Cathy Bow (1999) - The vowel system of Moloko (MA)
Rachel Nordlinger (1993) A grammar of Wambaya
Other linguists at the University of Melbourne
Steven Bird - Open Language Archives Community, Basic Oral Language Documentation (BOLD) PNG project (among others)
Mike Ewing - Endangered Moluccan Languages: Eastern Indonesia and the Dutch Diaspora
Professor John Hajek - Indigenous languages of Eastern East Timor: description and contact studies, Saliba (PNG), Tetun Dili and Waima'a (E Timor), Monégasque (Monaco), Bolognese (Italy)
Yongxian Luo (Chinese studies) - Tai linguistics, semantics, lexicography