At a Crossroads: Making Sense of Modern Turkey
Free Public Lecture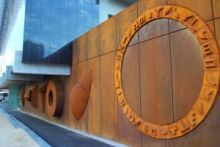 Latham Theatre
Redmond Barry Building

Map
FULLY BOOKED
During its initial rise to power, Recep Tayyip Erdoğan's AKP was lauded for its democratising reforms, which saw Turkey depicted as an island of stability and a democratic model for its regional neighbours. However, after 16 years under Erdoğan's rule, Turkey has witnessed a rapid rollback of its democracy, underscored by the continuing state of emergency that followed the failed coup attempt of 2016. Other critical domestic and regional developments in this period have further compounded the country's problems. Turkey is currently grappling with a growing terrorist threat, renewed conflict with the PKK and the continuing fall-out from the Syrian war, which has seen Turkish troops intervene militarily inside Syria. Turkey's changing geostrategic calculus and authoritarian shift have exacerbated tensions with the US and other NATO allies, and have stalled progress on Turkey's long sought-after EU membership bid. Turkey's 24th June election is set to formally end the country's parliamentary democracy in favour of a presidential system, adding to the uncertainty at this critical juncture in Turkish history.
The University of Melbourne is delighted to host two renowned experts in modern Turkish politics, Emeritus Professor İlter Turan and Professor Ersin Kalaycıoğlu, for a public lecture and Q&A discussion about some of Turkey's key domestic and geopolitical challenges.
This event is hosted by the Asia Institute's Islamic Studies research cluster.
Presenters
Professor Ersin Kalaycıoğlu

Dr Ersin Kalaycıoğlu is a Professor of Political Science at Sabancı University. Professor Kalaycıoğlu has taught at Boğaziçi University, served as President of Işık University between 2004 and 2007, and currently serves as a visiting faculty member at Harvard University's Center for Middle Eastern Studies. His research focuses on comparative politics and political representation and participation, on which he has published extensively. Professor Kalaycıoğlu has authored and coedited numerous books in Turkish and English, including: Turkish Democracy Today: Elections, Protest and Stability in an Islamic Society and The Rising Tide of Conservatism in Turkey. He is currently working on a book project on Turkish voting behavior with Ali Çarkoğlu, scheduled for publication in 20182019 through Michigan University Press.

Professor Emeritus İlter Turan

Dr Ilter Turan is Emeritus Professor of Political Science in the Department of International Relations of Istanbul Bilgi University and President of the International Political Science Association. He has worked at Istanbul and Koç Universities and has held visiting appointments at American and British universities. Professor Turan has served as the President of Istanbul Bilgi University, the President of the Turkish Political Science Association and Vice President and Program Chair of the International Political Science Association. He has authored books and articles in English and Turkish on Turkish politics and Turkish foreign policy, and is a columnist for the economics daily Dünya.