Network team
Professor Philomena Murray – Director of CONREP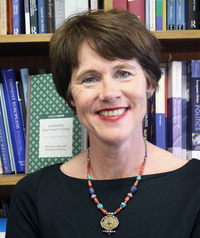 Philomena Murray is Professor in the School of Social and Political Sciences at the University of Melbourne. She holds Australia's only Personal Jean Monnet Chair awarded by the European Union. She has directed several international research projects on EU-Asia relations; comparative regionalism and EU-Australia as the recipient of EU grants. She currently co-directs an EU-funded research project on EU-Australia relations with Dr Margherita Matera.
She founded the Contemporary European Studies Association of Australia. She received a national Carrick / (Australian Learning and Teaching Council) Citation for Outstanding Contribution to Student Learning for pioneering the first EU curriculum in Australia and leadership in national and international curriculum development. She is an assessor for the Australian Research Council and European research bodies. A former diplomat, she has run training courses on the EU for the Department of Foreign Affairs and Trade in Canberra.
She is a Visiting Research Fellow at Trinity College Dublin. She is Visiting Professor at the College of Europe, Bruges. She is Associate Research Fellow at United Nations University – Comparative Regional Integration Studies, Bruges. She is co-founder and Coordinator of Academics for Refugees since 2014. Her research interests are in refugee policy in the EU and Australia; comparative regional integration; EU-Asia relations; EU-Australia relations and EU governance and legitimacy.
Ms Tamara Tubakovic – Research Coordinator CONREP
Tamara Tubakovic is a researcher and teaching associate in the School of Social Political Sciences, the University of Melbourne. Tamara's doctoral thesis, The Challenges to Reforming the Dublin System: A Critical Assessment of the Institutional Constraints on EU Asylum Policy-Making, analysed the way in which the EU's institutional decision-making framework has hindered concrete and durable solutions to the challenges of asylum distribution in the EU. Her research and publications focus on EU asylum policy-making, institutional and policy reform, crisis decision-making and regional integration.
In 2018 Tamara was a visiting graduate research fellow at the Refugee Studies Centre at the University of Oxford. In 2017 Tamara conducted an internship at the Royal Institute for International Relations (Egmont) in Brussels. In 2016 she was awarded a postgraduate fellowship at the European University Institute in Florence, Italy. She tutors in the undergraduate subject European Integration: The Politics of the EU and has given guest lectures on immigration and asylum issues in the EU in International Affairs (Master of International Relations, the University of Melbourne) and on regional refugee challenges in Comparative Regional Governance (Master of International Relations, the University of Melbourne).
Dr Margherita Matera – Research Coordinator CONREP 2018-2019
Margherita Matera is a researcher and Honorary Fellow in the School of Social and Political Sciences at the University of Melbourne. Her research and publications focus on the European Union's security and defence cooperation, the EU as a foreign policy, security and crisis management actor, the externalisation and securisation of EU refugee policy, NATO and the transatlantic relationship, EU-Australia relations, and comparative regionalism. In 2015, she was the recipient of the Summer Research Scholar Program Grant from the European Union Center of Excellence and European Studies Center at the University of Pittsburgh. She teaches on EU integration, comparative European politics and international relations. She is a co-editor of a special issue of the Australian Journal of International Affairs on EU-Australia Relations, published in 2018 with Professor Philomena Murray. In 2017 she was awarded, along with Professor Murray, a two-year Jean Monnet Project to further explore EU-Australia relations.
Associated partners
Steering committee


Ms Lisa Button, Centre for Policy Development
Dr Jeff Crisp, Refugee Studies Centre, University of Oxford
Professor Guy Goodwin-Gill, Kaldor Centre, University of New South Wales
Ms Pia Oberroi, Office for the High Commissioner for Human Rights
Mr Paul Power, Refugee Council of Australia
Ms Elly Schlein, European Parliament