In Conversation: Two Cross-Cultural Historians and their Recent Work
Seminar/Forum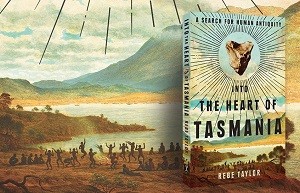 G03
Babel Lower Theatrette

Map
More information
T: 0434142369
Dr Kat Ellinghaus will discuss her most recent book, Blood Will Tell: Native Americans and Assimilation Policy. The book examines the processes, policies and conversations by which, after centuries of cross cultural relationships, blood quantum came to dominate conceptions of Native American identity in the first half of the twentieth century. Ellinghaus will talk about the many ways in which Native American people resisted, challenged and shaped the U.S. government's efforts to categorise them, as well as the methodological and ethical challenges of writing about this fraught political topic.
Dr Rebe Taylor will discuss her book, Into the Heart of Tasmania: A Search for Human Antiquity which follows the journey of English gentleman, Ernest Westlake, who in 1908 packed a tent, a bicycle and forty tins of food and sailed to Tasmania. On mountains, beaches and in sheep paddocks Westlake collected over 13,000 Aboriginal stone tools. He believed he had found the remnants of an extinct race whose culture was akin to the most ancient Stone Age Europeans. But in the remotest corners of the island Westlake encountered living Indigenous communities and unwittingly documented what he could not perceive: an Aboriginal people with a complex culture and a deep past.
The two historians discuss their recent work in conversation with Professor Kate Darian-Smith.
Presenters
Dr Rebe Taylor

Coral Thomas Fellow
State Library of New South Wales

Rebe Taylor is the Coral Thomas Fellow at the State Library of New South Wales and an honorary fellow at the eScholarship Research Centre at the University of Melbourne. She has a Masters degree from the University of Melbourne and a PhD from the Australian National University. Her first book was *Unearthed: The Aboriginal Tasmanians of Kangaroo Island* (Wakefield Press, 2004, 2008). In 2013, Rebe published an awardwinning web resource, *Stories in Stone: an annotated history and guide to the collections and papers of Ernest Westlake* (18551922) with Michael Jones and Gavan McCarthy.

Dr Kat Ellinghaus

Hansen Lecturer in History
The University of Melbourne

Kat Ellinghaus is a Hansen Lecturer in History at the University of Melbourne. She writes and researches in the areas of colonial history, transnational and comparative history, crosscultural relationships and the assimilation policies of the United States and Australia.