Seals and Identity in Byzantium
Free Public Lecture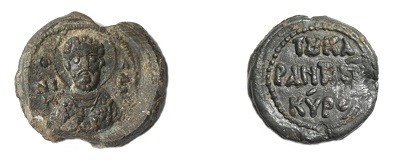 Forum Theatre - 153
Arts West
Professors Walk
Map
More information
T: 8344 1521
Byzantine Seals, Photo by Prof. Claudia Sode
Given the inadequacy of other means of securing documents, individuals at almost all levels of Byzantine society used personal seals that they would change frequently to mark changes in their career or status. Some 80,000 of these survive for which the inscriptions indicate the owner's name and title and the office held. But they also show an image which, far more than mere decoration, acts as a medium to convey identity by reference to specific iconographic subjects. By discussing how homonymity, gender, family devotions, offices, or urban affiliation have stimulated an individual's choice of iconography, it is the aim of this paper to demonstrate what an essential body of material seals are for any investigation devoted to the question of identity in Byzantium.
This event is co-sponsored by the Classical Association of Victoria
Presenter
Professor Claudia Sode

Professor of Byzantine Studies at the University of Cologne
University of Cologne

Claudia Sode is Professor of Byzantine Studies at the University of Cologne which she is currently combining with a 3year appointment at Changchun University in China to promote and develop Byzantine Studies in China. She gained both her doctorate and her Habilitation at the Friedrich Schiller University of Jena, and has held research fellowships at Hamburg University, Harvard's Dumbarton Oaks Center for Byzantine Studies in Washington DC, the Aristotelian University of Thessaloniki, and the Centre d'Histoire et Civilisation de Byzance in Paris. In October this year she is the invited keynote speaker of the Prolepsis Association's international postgraduate conference on "Authenticity, Authority and Authorship from the Classical Antiquity to the Middle Ages" at the University of Bari in Italy. She has published extensively on Byzantine studies with particular emphasis on Byzantine seals and their value for interpreting aspects of Byzantine social history with 3 books, some 8 booklength editions, 13 articles and 11 chapters in books.