Traumatic Memory, Legacies of the Past, and Contemporary Ruptures: The Cry of Nomonde Calata
Free Public Lecture
Cancelled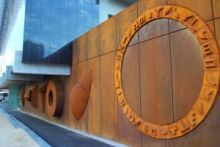 Carrillo Gantner Theatre
Sidney Myer Asia Centre

Map
** PLEASE NOTE THIS EVENT HAS NOW BEEN CANCELLED **
Due to unforeseen circumstances, Pumla Gobodo-Madikizela will no longer be able to travel to Australia and deliver her public lecture.
The Global Network on Justice. Conflict. Responsibility apologises for this late change and is working to reschedule this event sometime next year. Please contact jcr-network@unimelb.edu.au if you would like to receive updates about it.
For anyone attending the Symposium on Tuesday 24 October, this will still be going ahead.
---
In 1985, Nomonde Calata's husband was one of 'the Cradock Four' activists killed by apartheid security police in South Africa. She is known for her heart-wrenching scream at the opening of the Truth and Reconciliation Commission's public hearings.
Against this backdrop, Pumla Gobodo-Madikizela will explore the promise and limits of the TRC's public testimony process and illustrate how it became a site for connecting the individual and political dimension of trauma. Using a Kleinian psychoanalytic lens, she will explore how witnesses' traumatic memories transformed public spaces into intimate spaces. This enabled human rights criminals and bystanders to confront their guilt and shame, which created opportunities for change and transformation.
In this public lecture, Pumla will propose the concept of 'post-apartheid trauma' and argue that it can be used to analyse the various intersecting dimensions of traumatic memory and its intergenerational repercussions in contemporary South Africa.
This public lecture is part of the Global Network for Justice. Conflict. Responsibility symposium being held at The University of Melbourne.
Presenter
Professor Pumla Gobodo-Madikizela

Chair in Historical Trauma and Transformation
University of Stellenbosch

Pumla GobodoMadikizela is Professor and Research Chair in Historical Trauma and Transformation at Stellenbosch University, South Africa. She has been Professor of Psychology at the University of Cape Town, and Senior Research Professor at the University of the Free State leading the research initiative in Trauma, Memory and Forgiveness. She served on South Africa's Truth and Reconciliation Commission, and since then, her research has focused mainly on two strands of research. The first is exploring ways in which the impact of the dehumanising experiences of oppression and violent abuse continues to play out in the next generation in the aftermath of historical trauma. For her second research area, she expands her earlier work on remorse and forgiveness and probes the role of empathy more deeply by engaging a perspective that makes transparent the interconnected relationship among empathy, Ubuntu and the embodied African phenomenon of inimba, in order to find a richer, deeper and more complex understanding of empathy that takes into account an African knowledge archive. She has published extensively in the area of postconflict trauma, including her critically acclaimed book 'A Human Being Died that Night: A South African Story of Forgiveness' which won the Christopher Award (2003) and the Alan Paton Award (2004).