Diabetic Eye Disease Community Information Forum
Seminar/Forum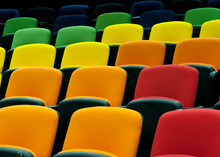 Hughes Room
Royal Australasian College of Surgeons
250-290 Spring Street, East Melbourne
Map
More information
T: 03 9929 8360
Diabetic eye disease is a rapidly growing health problem for the 1.7 million Australians who suffer from diabetes. Come and learn about how the Centre for Eye Research Australia (CERA) research leaders are fighting this challenge and the latest developments in diabetic eye disease at our community forum.
Hosted by Dr Peter van Wijngaarden, Interim Managing Director, Head of Diabetic Retinopathy & Neuroglial Interactions research, CERA.
Topics covered:
Diagnosing diabetic retinopathy using artificial intelligence
Diabetic retinopathy in pregnancy
How clinical trials bring a test tube dream into treatment reality
Followed by a Q&A panel discussion.
All are welcome at our community events, aimed at a general audience.
Presenters
Associate Professor Lyndell Lim

Head, Clinical Trials Research
Centre for Eye Research Australia

Lyndell Lim, a Uveitis and Medical Retina Subspecialist, leads the Clinical Trials Research at CERA. After completing her Ophthalmology training in Melbourne, Lim then completed two Fellowships – one in Medical Retina at the Royal Victorian Eye and Ear Hospital, and one in Uveitis/Ocular Inflammatory Disease at the Casey Eye Institute, Portland, Oregon, USA. Lim's main research interests are clinical studies in the field of uveitis and ocular immunology, and diabetic retinopathy. Her team runs both investigator initiated and sponsored clinical trials that aim to investigate new treatments in a variety of ophthalmic disease.

Dr Felicia Widyaputri,

PhD student

Dr Stuart Keel,

Research Fellow