Keywords for India: Empire
Free Public Lecture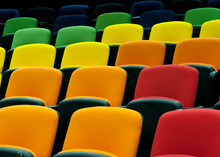 YHM Room, Level 1
Sidney Myer Asia Centre

Map
To some, 'empire' in the context of India/South Asia is necessarily a reference to the British Raj, especially after 1858. But the term actually has a much more general usage. It is used to refer to the large political formations of the classical period, such as those of the Mauryas, Kushanas or Guptas; then to some later formations such as Vijayanagara and the Mughals. At the same time, there is a tendency to speak of certain periods as being 'between empires'.
This lecture will address three related questions: the use of the term 'empire' in global history, and various successful and less successful attempts to define it; its use in Indian contexts, and what (if anything) it translates; and whether elements of empire can still be found in the Indian political system as it exists today.
Presenter
Professor Sanjay Subrahmanyam

Distinguished Professor & Irving and Jean Stone Endowed Chair in Social Sciences
UCLA

Sanjay Subrahmanyam, Distinguished Professor and Irving and Jean Stone Endowed Chair in Social Sciences, joined UCLA in 2004 from Oxford. Educated at the Delhi School of Economics, the first decade of his working career was spent (with brief interruptions in Philadelphia and Cambridge) teaching economic history and comparative economic development at the same institution, where he was eventually named Professor of Economic History (199395). Thereafter, Subrahmanyam taught from 1995 to 2002 as Directeur d'études in the Ecole des Hautes Etudes en Sciences Sociales (Paris), where his position was on the economic and social history of early modern India and the Indian Ocean world. In 2002, Subrahmanyam was appointed as the first holder of the newly created Chair in Indian History and Culture at the University of Oxford, a position he held for two years. After joining UCLA, Subrahmanyam served from 2005 to 2011 as founding Director of UCLA's Center for India and South Asia. He teaches courses on medieval and early modern South Asian and Indian Ocean history, the history of European expansion, the comparative history of early modern empires, and various aspects of world history. He continues to advise graduate students on Indian history, the history of the Iberian empires, and more generally on forms of "connected histories". Subrahmanyam was Joint Managing Editor of the Indian Economic and Social History Review for over a decade, besides serving on the boards of a number of other journals in the US, UK, France, Portugal, and elsewhere. He was also one of the founding editors of the "South Asia Across the Disciplines (SAAD)" monograph series. In 2013, Sanjay Subrahmanyam was elected to a Chair in Early Modern Global History at the Collège de France in Paris, and delivered a full series of lectures there over the year 201314. Since 2014 he continues to lecture as a longterm visiting professor, and has a regular media presence in France: TV interviews appear for example on MediaPart (May 2014), and on France Info (April 2015). Sanjay Subrahmanyam's book Europe's India: Words, People, Empires, 15001800, appeared in 2017 from Harvard University Press, and in a French translation in 2018. Another book, Empires Between Islam and Christianity, 15001800, has appeared in 2018 in the Indian edition (Permanent Black) and the US edition in 2019. In February 2019, Sanjay Subrahmanyam was awarded the Dan David Prize for History (jointly with Kenneth Pomeranz, Chicago).