Lung stem and progenitor cells in health and disease
Seminar/Forum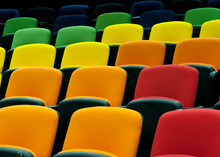 Davis Auditorium
Walter and Eliza Hall Institute
1g Royal Parade
Map
More information
T: 9345 2555
Lung diseases cause nearly 8 million deaths per year worldwide, in large part due to respiratory infections and chronic respiratory disease. The pathology of devastating lung disorders such as chronic obstructive pulmonary disease, idiopathic pulmonary fibrosis, lung cancer, bronchopulmonary dysplasia or cystic fibrosis is likely caused by dysregulation or malfunction of lung stem cells during embryogenesis or in the adult. This lecture will present the role of lung stem cells in normal lung function and in the pathogenesis of lung diseases.
Dr Labat will introduce recent work on the identification and regulation of embryonic lung stem cells. She will also describe how specific adult lung stem cells are activated following lung injury to enable repair and homeostasis in the lung and how these mechanisms may go awry in respiratory disease.
Presenter
Dr Marie-Liesse Labat

Laboratory Head
Walter and Eliza Hall Institute

Dr Labat is a laboratory head in the ACRF Stem Cells and Cancer division.