Medieval Round Table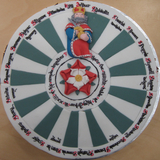 The Medieval Round Table is an informal discussion group open to interested students, academics and independent scholars. The Round Table meets monthly, usually on the first Monday of the month for presentations of papers, discussions of participants' work in progress, discussions of readings etc.
Committee
Professor Stephanie Trigg
School of Culture and Communication
sjtrigg@unimelb.edu.au
Andrew Stephenson
School of Historical and Philosophical Studies
andrewws@unimelb.edu.au
To be added to the mailing list please email Andrew Stephenson andrewws@unimelb.edu.au.
Time
6:15 pm except where noted otherwise below.
Venue
To be confirmed for 2018.
Programme for 2018
5

February
Sandy Whittem, School of Culture and Communication, University of Melbourne
5

March
9

April
John Weretka - University of Divinity
7

May
4

June
2

July
6

August
3

September
1

October
12

November (2nd Monday)
3

December
Previous Papers