Medieval Round Table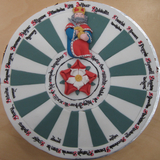 The Medieval Round Table is an informal discussion group open to interested students, academics and independent scholars. The Round Table meets monthly, usually on the first Monday of the month for presentations of papers, discussions of participants' work in progress, discussions of readings etc.
Convenors
Professor Stephanie Trigg
School of Culture and Communication
sjtrigg@unimelb.edu.au
Andrew Stephenson
School of Historical and Philosophical Studies
andrewws@unimelb.edu.au
To be added to the mailing list please email Andrew Stephenson andrewws@unimelb.edu.au.
Time
6:15 except where noted otherwise.
Venue
As noted for each session; subject to change.
Programme for 2022
7 February
Graduate Seminar Room 2 (Room 209), Old Arts (To be confirmed.)
Michael Warby
Why Ritual? The Social and Cognitive Dynamics of a Pervasive Social Phenomena
Rituals, repeated patterns of actions that "point to" something beyond themselves, are pervasive in human societies. When service personnel salute, they are engaged in ritual. Rituals both predate language (other species use rituals) and may have provided a basis for its evolution.
All religions have rituals, yet not all rituals have religion. States have historically invested major resources in ritual spaces and continue to habitually ritualise their processes. Totalitarian states typically invest considerable resources in public rituals, including ritual elections.
Psychologist John Vervaeke's taxonomy of four ways of apprehending reality: propositonal (truth), procedural (capacity), perspectival (presence) and participatory (attunement) — episteme, techne, noesis and gnosis: knowledge that, how, of and in — provides a framing to examine the operation of ritual and how it can engage participants. How ritual can be used to generate shared signals and align perspectives.
Understanding the function and power of ritual helps to understand why ritual spaces represent both the oldest, and historically many of the largest, human stone constructions. How much the monumentalism of states has represented rituals of authority expressed in stone.
Medieval cathedrals and Mesoamerican pyramid-temples were both constructed around notions of human sacrifice and consumption of the sacrificed. The architecture and rituals of medieval cathedrals and Mesoamerican pyramid-temples provide stark, yet revealing, contrasts for examining the pervasive utility and power of ritual; their operation at the limits of consciousness; and their creation.
Michael "Lorenzo" Warby is a principal of Multisensory Education.
7 March
Via Zoom
Adelaide Greig, University of Melbourne (MA Completion Seminar)
4 April
Via Zoom
2 May
Via Zoom
6 June
On Campus
The Reception of Concepts from the Language Arts into Musical Discourse and Praxis (1000 – 1300)
Guido of Arezzo, John of Affligem and Jerome of Moray on Grammar and Music
Carol J. Williams, Monash University
The alignment between grammar and music can be seen in antiquity in the earliest crafting of the seven liberal arts. The music pedagogue Guido of Arezzo (c. 990 – after 1033) unfolds the analogy between the parts of language and the elements of music in chapter fifteen "On grateful melodic lines and composing them" of his music theory handbook, the Micrologus. He establishes the musical equivalents of letters, syllables, feet and lines as well as interpreting the elements of punctuation, the comma, the colon, the punctus and so on with the process of degrees of cadential closure in melody. Guido's aim is to impress on his readers the necessity of letting 'the effect of the song express what is going on in the text.' These ideas were to be given further polish and direction by John Cotton (of Afflighem) (fl. 1100) in his De musica, where he explains that both language and music are only expressive in their manipulation of time; tempus is common to both. It is John who makes clear the temporal relationship of one syllable to the next, understood through the quantitative measure of long and short syllables. This revivification of the analogy between grammar and music leads in one direction to Jerome of Moray's (d. after 1271) instructions on writing chant for newly established feasts. The other direction, focussed on tempus rather than expressivity, was to provide the basis for the rapidly shifting discourse on musica mensurabilis, and the revolutionary sounds of thirteenth-century Parisian polyphony.
Communicating the Rhetoric of Music in Thirteenth-century Paris: The Contribution of John of Garland
Constant J. Mews, Monash University
Musicologists have often assumed that John of Garland the music theorist, identified as Johannes gallicus by the Dominican music theorist, Jerome of Moray, must be a different person from the English-born literary theorist and poet, John of Garland. This John, educated at Oxford in the early 13th century, was the major theorist of literary composition. In this paper, I compare what John of Garland the music theorist has to say about the rhetorical aspect of music composition to the way John of Garland the literary theorist invokes the notion of musica, as defined by Boethius, to explain the subtleties of literary composition. There can be no doubting, I argue, that John of Garland was a single teacher much concerned with the theory of composing both verse and music, and thus a major figure in seeking to bring together the more mathematically oriented perspective of Boethius on music, with the more practical approach of Guido of Arezzo. While the Boethian structure of John of Garland's music theory was questioned c. 1270 by Johannes de Grocheio, it would still be of great influence on a range of theorists from the late 13th and early 14th centuries.
The Musical Reception of Saint King Louis IX of France, 1297 to 1306
Catherine Jeffreys, Monash University
The canonisation of Louis IX of France in 1297 gave rise to a flurry of musical activity to commemorate the new saint. The Dominicans led the charge, creating a liturgical office of Saint Louis that would form the basis of different celebrations produced by the religious orders, secular churches and the French crown. In this paper, I trace the musical reception of Louis from its Dominican origins to its secular expression under the auspices of Louis's grandson, King Philip IV ('the Fair') of France. I consider the roles of two men whom Philip paid to compose a liturgical office of Saint Louis: Petrus de Cruce from Amiens and Gaufridus, chaplain to Jacques de Châtillon, who had close ties to the French crown. I argue that Petrus and Gaufridus composed music for different parts of the Office for Saint Louis known as Ludovicus decus. However, they took different approaches to composing music, reflecting different understandings of the relationship between music and grammar. The monk Guy of Saint-Denis (c.a. 1301) went on to contrast their combined musical effort with the approach to ecclesiastical music of previous generations. I contend that Guy's assertions go beyond practical observations on music and represent veiled reproval of both the French crown and the Dominicans.
Catherine Jeffreys is an independent scholar and former research affiliate in The Centre for Religious Studies at Monash University (2004–2020). She completed a PhD in musicology at the University of Melbourne (2000) and has published on twelfth-century German plainchant and late-thirteenth-century music theory.
Constant J. Mews is Emeritus Professor in the School of Philosophiccal, Historical and International Studies, Monash University. A specialist in the religious and intellectual history of the medieval period, he has published widely, including collaborations in editions of thirteenth-century music theorists, Johannes de Grocheio and Guy of Saint-Denis.
Carol J. Williams is an adjunct research fellow of the Centre for Medieval and Renaissance Studies of Monash University with an established academic career in both musicology and history. One of the collaborating editors and translators of the Ars Musice of Johannes de Grocheio (2011) and the Tractatus de tonis of Guy of Saint-Denis (2017), she is also a performing musician in the early music ensemble, Acord.
4 July
On Campus
1 August
Via Zoom
5 September
Via Zoom
3 October
Via Zoom
7 November
On Campus
5 December
On Campus
Previous Papers