Medieval Round Table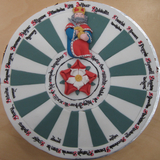 The Medieval Round Table is an informal discussion group open to interested students, academics and independent scholars. The Round Table meets monthly, usually on the first Monday of the month for presentations of papers, discussions of participants' work in progress, discussions of readings etc.
Convenors
Professor Stephanie Trigg
School of Culture and Communication
sjtrigg@unimelb.edu.au
Andrew Stephenson
School of Historical and Philosophical Studies
andrewws@unimelb.edu.au
To be added to the mailing list please email Andrew Stephenson andrewws@unimelb.edu.au.
Time
6:15 except where noted otherwise.
Venue
As noted for each session; subject to change.
Programme for 2023
6 February
Graduate Seminar Room 2 (Room 209), Old Arts
Also via Zoom. Email andrewws@unimelb.edu.au to receive the Zoom link.
Guy Geltner, Monash University
The Nature of Extraction in Preindustrial Europe
Image: Altarpiece of St. Anne's Church, Annaberg-Buchholz (Germany), c. 1521
As mining burgeoned across Europe from the thirteenth century on, the sector's promoters and observers had to contend with resource management in a new key. Ore extraction differed in scale and scope from traditional practices of agriculture and animal husbandry. It was also more visibly destructive and by many accounts impacted the health of people, animals, soils and crops. This paper begins by exploring such emic accounts and how they differ from present-day ecological and biochemical explanations. It then moves to ask whether the era's documented cultural responses to mining-related landscape change amount to an environmental turn or a secularization of Creation, a phenomenon scholars tend to associate with modernization? As this paper will argue, tracing early mining history can be inspired by environmental history while challenging some of its conventions.
6 March
Via Zoom. Email andrewws@unimelb.edu.au to receive the Zoom link.
Karen Green, University of Melbourne
Money and Christine de Pizan's Mirrors
Christine's economic thought matured and developed over the fourteen years of her career, during which she turned from allegory, poetry and the citation of authorities, towards realistic description, prose and original theorizing. Her earliest representations of wealth pit the evils of greed and riches against the higher values of wisdom and virtue. In writing the biography of Charles V she came to recognize that the circulation of money is an important means for fostering the health of the body politic. As a result, in subsequent mirrors, she insisted that economic management and good public administration should strive to ensure that money's circulation does not encourage vice, but instead fosters and rewards virtue.
3 April
Via Zoom. Email andrewws@unimelb.edu.au to receive the Zoom link.
Erin Sebo, Flinders University
Eart þu se Beowulf...? Beowulf, Emotion and the Ideal
Although there has been considerable critical interest in using psychoanalytic frameworks to understand the monsters of Beowulf, the hero is still largely considered as the expression of a literary ideal - even when scholars cannot agree on precisely which ideal he exemplifies. In a sense, this is hardly surprising. The poem describes what Grendel, for example, sees, thinks, hopes for and feels: his desire to kill, his anger, misery, joy, and finally fear. By contrast, in the same passage, there is hardly any mention of the feelings or thoughts of the hero. This is typical: the poet rarely speaks directly about Beowulf's motivations. And yet, the poet has depicted an atypical hero. His choices are unconventional, his decisions unusual. All heroes are exceptional, but Beowulf is surprising. He is, as Klaeber points out, 'a solitary figure in life'. Unlike other characters, he does not seem to have strong emotional connections. When Grendel kills his chosen shield companion, Hondscio, he makes no attempt to save him and shows no distress at his death—in unsettling contrast to Hrothgar's long lament when Aeschere is killed by Grendel's mother. Moreover, he is the only king in the poem who lives to old age without marrying or choosing an heir. This paper explores why the poet has chosen to obscure Beowulf's interiority.
1 May
Via Zoom. Email andrewws@unimelb.edu.au to receive the Zoom link.
Jenny Smith, Monash University
The Conflict of Conscience and the Glass of Government: Two 1570s English Morality Plays
After Queen Elizabeth's excommunication in 1570, and with religious division at home and in Europe, the play as mirror or moral example for its audience was a complex metaphor. This paper looks at mirror metaphors in two plays that draw on conventions of medieval moral allegorical plays. The minister Nathaniel Woodes' Conflict of Conscience retells the story of a historical figure who recanted his Protestant beliefs, as an everyman character in the morality play tradition, dazzled by the 'glass of vanities' held by personified vices, so that the audience might see themselves in the story. Like Woodes, George Gascoigne framed his Glass of Government as a mirror 'for euery man, that list his faultes to mend'. Lately returned from the wars of religion in the Netherlands, Gascoigne's choice of plot (a version of the parable of the prodigal son, set in Antwerp) supports his positioning of himself as a reformed prodigal. In this paper I want to consider how the conventions of morality plays were used in a post-Reformation context that included debate about the function of performance itself.
Jenny Smith is a PhD student at Monash University, working on a history of the mirror as a metaphor in Elizabethan England.
5 June
Via Zoom. Email andrewws@unimelb.edu.au to receive the Zoom link.
Michael Warby
Trade, Empire, Fiefs and Militias: Adverse Incentives Within the Medieval Roman State
The thematic cavalry of the medieval Roman state was perhaps the most prominent cavalry militia system, and one of the longer-lasting militia systems, in history, evolving in response to the Arab conquests and collapsing in the eleventh century. In its decay, it reflected the weaknesses of militia systems.
The granting of extensive trading privileges to the Italian city-states weakened both the long-term commercial development of the medieval Roman state and reflected, and entrenched, adverse incentive structures within that state.
This paper presents a simple model of the revenue of pre-industrial states that explicates the role of trade revenue in the rise and decline of empires. It uses the warrior-franchise model to explore the long-term persistence of fief systems, their economising on administrative costs and their superiority over militia systems. It also presents a simple model of the advantages and pathologies, of bureaucracy.
The thematic cavalry and the relative mercantile failure of the medieval Roman state provides a case study to illustrate these patterns, throwing light on the very different long-term trajectories of Latin and Orthodox Christendom.
Michael "Lorenzo" Warby is a principal of Multisensory Education.
3 July
7 August
4 September
2 October
13 November
4 December
Previous Papers