Medieval Round Table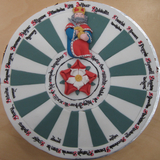 The Medieval Round Table is an informal discussion group open to interested students, academics and independent scholars. The Round Table meets monthly, usually on the first Monday of the month for presentations of papers, discussions of participants' work in progress, discussions of readings etc.
Convenors
Professor Stephanie Trigg
School of Culture and Communication
sjtrigg@unimelb.edu.au
Andrew Stephenson
School of Historical and Philosophical Studies
andrewws@unimelb.edu.au
To be added to the mailing list please email Andrew Stephenson andrewws@unimelb.edu.au.
Time
6.15 pm except where noted otherwise.
Venue
As noted for each session.
Programme for 2019
4 March
Old Arts room 209 - Graduate Seminar Room 2
Michael Warby
Celts, Clans and Canon Law (or Pinker and Patricians)
The effect of the medieval Church's canon law marriage system (monogamy, mutual consent, no divorce, no adoption, no cousin marriage, stigmatisation of illegitimacy) was to undermine clan structures by limiting the ability to maintain extensive, cohesive and robust lineage systems. The consequent effect of replacing socially 'large' clans, able to provide a range of protections and benefits to their members, with socially 'small' families increased the institutional coherence and effectiveness of both the Church and secular authority.
The operation of the clan structure in Ireland also provides an example, within the scope of historical documentation, that sheds light on the sharp narrowing of surviving male lineages across Eurasia after the development of (plough) farming and pastoralism until the development of chiefdoms and states.
This paper explores why clan structures persisted in the Celtic fringe of Ireland, Wales and Scotland, concentrating on Ireland as a natural experiment where the effects of the persistence of Brehon law, and thus failure to adopt the Church's marriage system, displays the connection between the Church's marriage doctrines, the institutional strength of the Church and the evolution of medieval states.
Michael "Lorenzo" Warby is a director of Multisensory Education, which puts on medieval and ancient days for schools. He is currently writing a book on marriage, to be published by Connor Court.
1

April

Old Arts room 209 - Graduate Seminar Room 2
6 May
Old Arts room 209 - Graduate Seminar Room 2
John Weretka
3 June
Old Arts room 209 - Graduate Seminar Room 2
Anya Adair, University of Hong Kong
Old English Law and the Constructing of Legal Time
1 July
5 August
2 September
Jenna Mead, University of Western Australia
Editing Chaucer's Treatise on the Astrolabe ... Again
This talk reports on a new edition of Chaucer's Treatise on the Astrolabe for Cambridge University Press's Chaucer's Works series. Joseph Stadolnik (U Chicago) and I are collaborating on this project at the invitation of series editors Julia Boffey and Tony Edwards. The series recognizes that the 'last complete edition of Chaucer was the Riverside Chaucer (1987)' and proposes scholarly editions that 'will contain the corpus of Chaucer's writings, both verse and prose, in old spelling. All texts will be critically edited afresh based on new assessments of all relevant textual evidence' (Prospectus). Two aspects of the texts attract the general editors' particular attention: 'All texts will preserve the orthography of the manuscripts adopted as base text, something no collected edition of Chaucer has previously done. Punctuation, a neglected aspect of the editing of Chaucer, will also be fully reassessed.'
Astrolabe presents its own challenges beginning with the simple fact that the text—or parts of it—is extant in more mss than another Chaucer text except The Canterbury Tales. 33 mss survive; the most recent having been identified by Catherine Eagleton in 2003 and reminding us that that number may yet increase. This project comes at an interesting moment in the history of editing Chaucer: the expansion of scholarship in the history of the book and the 'new' codicology, has sharpened attention on the material object while, co-incidentally, the digitization of manuscripts, scholarly resources and the proliferation of online content have not only changed the protocols and reach of scholarship, but also the nature of the object under scrutiny. As theorists of digital texts have observed: digitization transforms a verbal text from semiotic system to binary algorithm and scholars are still thinking through the implications of this transition.
I'd like to share some of our thinking about editing Chaucer's only 'scientific,' as opposed to poetic or philosophical text: a translation that, as Fachliteratur, has moved in readers' estimation from being a complete waste of time (Ezra Pound) to challenging disciplinary assumptions about, among other things, the connections between literary and non-literary texts, texts and objects, human and non-human.
This talk will be accompanied by images. No prior knowledge of scientific instruments will be assumed.
7 October
11 November

(2nd Monday)

Old Arts room 209 - Graduate Seminar Room 2
2 December
Old Arts room 209 - Graduate Seminar Room 2
Previous Papers