Under the Weather: an alternative forecast
Under the Weather is a library of recordings, curated by Dr Olivia Meehan, and presented by writers, artists, musicians, and thinkers, who recite, perform, and describe the weather depicted in art, literature, and music.
We invite you to consider the weather with a renewed sense of wonder and reflect upon the way you observe and interact with changing atmospheric conditions.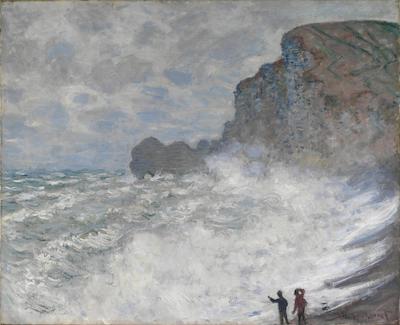 The forecast tells us one story: but can we get under the weather?
British writer and literary critic Alexandra Harris reads an extract from her book Weatherland: Writers and Artists Under English Skies (2015) about Samuel Taylor Coleridge's observations of the weather.
Vienna based pianist Elaine Loebenstein talks about how rain stopped play, then inspired some creative ingenuity at this year's Pianistengasse.
Rinzai Zen Priest and Head Abbott of Shunkoin Temple, Kyoto, Rev. Takafumi Kawakami, discusses seasons and weather from a Zen Buddhist perspective.
The Rev. Professor Russell Goulbourne reads an extract from his translation of Jean-Jacques Rousseau's Reveries of the Solitary Walker (2011). In his Fifth Walk Rousseau takes care to observe small details in the atmosphere and prepares for a possible change in the weather
Robyn Archer explains her love of rain, the many songs written about rain and reflects on her own relationship with rainy weather.
The Flower Garden by Bertolt Brecht (translated by John Willett), performed by Robyn Archer. Dominic Muldowney, piano, recorded at Abbey Road Studios London, 1981.
Beijing-based contemporary artist Liu Ding 刘鼎 and curator and museum director Carol Yinghua Lu have recorded a new poem by Liu Ding for which he collected all the weather warnings that appear on LED screens on the road.
Writer and curator Juliana Engberg makes connections between the imagination of song and contemporary art and the weather.
Frédéric Chopin, Prelude Op. 28 No. 15
Dr. Miya Tokumitsu, Curator of the Davison Art Center, Wesleyan University, discussed the layered atmospheres in Adrian Zingg's View of the Town of Herrnhut.
Olivia describes a drawing by British artist Paul Nash and his unique way of seeing landscape.
Being Human 2021
This project was produced in collaboration with the 2021 Being Human Festival. Founded in the UK as the only national festival of the humanities, Being Human is now a global celebration dedicated to demonstrating the breadth, diversity and vitality of the humanities.
Explore the full Faculty of Arts international hub program here