Directors and Lead researchers
Professor Peter Otto
Executive Director, Enlightenment, Romanticism, and Contemporary Culture Research Unit (ERCC); Professor of Literature, English and Theatre Studies, The University of Melbourne
Peter Otto has published widely on William Blake, Gothic Fictions, dark Romanticism, popular entertainments, the prehistory of virtual reality, and Romanticism and contemporary culture. Recent publications include Multiplying Worlds: Romanticism, Modernity, and the Emergence of Virtual Reality (OUP 2011); 'Innovations in Encompassing Large Scenes', an online exhibition housed in the Romantic Circles Gallery of Visual Culture (2013); and William Blake: Selected Works in the 21st Century Oxford Authors Series (2018). He is consultant editor of The Victorian Popular Culture Portal: Spiritualism, Sensation, and Magic. His current research interests include the history of imagination and of imagination-machines; the pasts and futures of virtual reality; the post-secular; and the exchanges between architecture, fiction, imagination, and experience.
Email: peterjo@unimelb.edu.au
Phone: +61 3 8344 5482
Professor Trevor Burnard
Co-Director and Lead Researcher, ERCC; Professor of American History, School of Historical and Philosophical Studies, The University of Melbourne
Trevor Burnard is a scholar of early American, imperial, world and Atlantic history, with a special interest in plantation societies in the New World and their connections to eighteenth-century modernity. Particular interests include slavery, social history and demography, imperialism, economic and business history, and gender. His work over the last decade has been especially concerned with identity in the New World in the eighteenth century and with how settler societies have been formed, or have failed to form in plantation societies in the Caribbean and the Chesapeake.
Email: tburnard@unimelb.edu.au
Phone: +61 3 8344 6886
Professor Deirdre Coleman
Co-Director and Lead Researcher, ERCC; Robert Wallace Chair of English, English and Theatre Studies, School of Culture and Communication, The University of Melbourne
Deirdre Coleman has published widely on the intersection of British Romantic literature with antislavery, natural history and colonialism. More recently she has been researching museum archives in Melbourne, Sydney and Queensland for an ARC-funded Linkage project with the Australian Museum on the economics of the 19th-century natural history trade. She is also exploring the social history of collecting in Australia, looking in particular at the diverse community which produced knowledge about the natural world from earliest settlement onwards. Starting with the correspondence networks and journal publications of members of the Victorian Field Naturalists Club (established in the early 1880s), she examines the motives and interests of bushmen, commercial specimen dealers, amateur collectors and (from 1900 onwards) an increasing number of salaried museum professionals. Cross-cultural exchange between indigenous people and fieldwork collectors on the colonial frontier, especially in far north Queensland and the Northern Territory, forms another part of this project, the aim of which is to achieve a wider understanding of Australia's natural heritage and environmental history.
Email: colemand@unimelb.edu.au
Phone: +61 3 8344 5496
Professor Jennifer Milam
Co-Director and Lead Researcher, ERCC; Head of School of Culture and Communication and Professor of Art History, The University of Melbourne
Jennifer Milam's research interests focus on understanding how the visual arts during the eighteenth century expressed philosophical ideas that rivalled the exposition of Enlightenment concepts in texts. Arguably what changed from the mid-eighteenth century onwards was broader exposure to 'big ideas' in visual form. Enlightenment ideas enjoyed wider circulation and cultural uptake through public exhibitions of art works that engaged audiences in interpretive response to aspects of the Enlightenment project. Milam will use her expertise in exactly this area to provide input into the research program of the ERCC by keeping this aspect of the Enlightenment in focus and elaborating upon its legacy in the contemporary culture sector.
Email: jennifer.milam@unimelb.edu.au
Phone: +61 3 8344 8639
Professor Clara Tuite
Co-Director and Lead Researcher, ERCC; English and Theatre Studies, School of Culture and Communication, The University of Melbourne
Clara Tuite works in the literary and cultural history of Romanticism, with a particular interest in the work of Jane Austen and Lord Byron. Her research engages eighteenth- and nineteenth-century Romantic literature and culture from the perspectives of the history of the literary institution, sociability, fashion, history of emotions and sexuality studies, as well as the endurance of literary and popular Romanticisms in the contemporary moment.
Email: clarat@unimelb.edu.au
Phone: +61 3 8344 4216
Associate Professor Mark Davis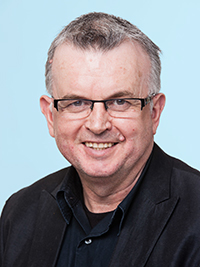 Lead Researcher, ERCC; Publishing and Communications, School of Culture and Communication, The University of Melbourne
Mark Davis' current research focuses on online 'anti-publics' and extreme online discourse, Australian digital literary cultures and taste making, changing media ecologies and the cultural politics of gatekeeping and disintermediation, Australian public culture, and media representations of young people. The first of my two current research projects focuses on post-digital literary cultures and the destabilisation of the literary-print cultural field by digital media. My second project focuses on online anti-publics, such as the alt-right, neo-reactionary (NRx) groups, anti-vaccination groups, anti-climate-science groups, and white nationalist groups, who use digital media to create communities that position themselves against basic democratic, scientific, and enlightenment principles.
Email: davismr@unimelb.edu.au
Phone: +61 3 8344 3349
Dr Thomas H. Ford
Lead Researcher, ERCC; Lecturer in English, School of Humanities and Social Sciences, La Trobe University
Thomas Ford's work focuses on poems and other texts from Romanticism and the long eighteenth century. He reads this archive in the historicist traditions of philological materialism, and in light of the transdisciplinary imperatives of the environmental humanities. Ford calls this approach 'ecophilology' (a discipline that explores the role of textual environments in various settings, in all kinds of media, from the ancient cave drawings and graffiti to the contemporary electronic media). You can read about it in his new book, Wordsworth and the Poetics of Air (Cambridge University Press, April 2018).
Email: T.Ford@latrobe.edu.au
Professor Vedi Hadiz
Lead Researcher, ERCC; Director and Professor of Asian Studies at the Asia Institute, The University of Melbourne
Vedi Hadiz's research interests revolve around political sociology and political economy issues, especially those related to the contradictions of development in Indonesia and Southeast Asia more broadly, and more recently, in the Middle East. Professor Hadiz's latest book is entitled Islamic Populism in Indonesia and the Middle East (Cambridge University Press 2016). His other books include Localising Power in Post-Authoritarian Indonesia: A Southeast Asia Perspective (Stanford University Press 2010) as well as the co-edited Between Dissent and Power: The Transformation of Islamic Politics in the Middle East and Asia (Palgrave Macmillan 2014).
Email: vedi.hadiz@unimelb.edu.au
Associate researchers
Dr Claire Knowles
Senior Lecturer in English Literature, La Trobe University, Melbourne
Claire Knowles has published numerous articles on eighteenth- and nineteenth-century women writers. Her book, Sensibility and Female Poetic Tradition, 1780-1860: The Legacy of Charlotte Smith, was published by Ashgate in 2009 and she also recently edited, with Ingrid Horrocks, Charlotte Smith: Major Poetic Works (Broadview, 2017.) She is currently working on a project on newspaper poetry and popular literary culture in the Romantic period titled, "Romanticism, Newspapers, and the Democratization of Poetry, 1785-1810."
Email: c.knowles@latrobe.edu.au
Associate Professor Justin Clemens
Academic, School of Culture and Communication, The University of Melbourne
Justin Clemen's work focuses primarily on the relationships between poetry, psychology and philosophy in Romantic and post-Romantic writing. He has written extensively on figures such as Sigmund Freud, Jacques Lacan, and Alain Badiou, as well as on themes of slavery and technology. His recent books include What is Education? (Edinburgh UP 2017), edited with A.J. Bartlett and The Afterlives of Georges Perec (Edinburgh UP 2017), edited with Rowan Wilken.
Email: jclemens@unimelb.edu.au
Photo credit: Nicholas Walton-Healey
Associate Professor John Rundell
Principal Fellow, School of Culture and Communication, The University of Melbourne and Adjunct Professor in Philosophy, La Trobe University, Melbourne
John Rundell's research focuses on the problems of the imagination, creativity and modernity. As ERCC Research Fellow he is especially interested in the themes of 'Critique, Creativity, Comparison' and 'Worldiness, Cosmopolitanism, Globalisation'. His publications include Origins of Modernity; Imaginaries of Modernity; Aesthetics and Modernity Essays by Agnes Heller; Rethinking Imagination (with Gillian Robinson); Blurred Boundaries (with Rainer Bauboeck), and 'Creating Social Theory: Enlightenment, Romanticism, Revolution' in The Handbook for Social Theory edited by George Ritzer and Barry Smart. He is currently completing a book on the work of Immanuel Kant entitled Kant and Critical Theories before turning to another entitled The Creative Imagination: From Kant to Castoriadis and Beyond.
Email: johnfr@unimelb.edu.au
Dr Sean Gaston
Visiting Scholar, Wolfson College Oxford (2017-2018), Emeritus Reader in English, Brunel University, London, and Honorary Research Fellow, The University of Melbourne
I am exploring 'the eighteenth century origins of modernity'. I have focused on concepts of disinterest, sympathy and pity, as well as fictions of imprudence and the invention of the literary character. I am now working on concepts of world in British Romanticism, Revolutionary America and the 'Atlantic World'.
Email: gastons@unimelb.edu.au
Dr Miranda Stanyon
Lecturer in Comparative Literature, King's College London
Miranda Stanyon's research focuses on enlightenment and Romantic era literature in Britain and Germany and takes a comparative approach to aesthetics, as a key field in constructing the post-enlightenment human subject and configuring its relationships with nature. She has published on the sublime, music and sound, emotions history, and visual culture.
Email: miranda.stanyon@kcl.ac.uk
Dr Steven Hampton
Sessional Lecturer in English and Theatre Studies, School of Culture and Communication, The University of Melbourne
Steven Hampton's research centres on the multilingual and transnational nature of cultural and literary production during the eighteenth and nineteenth centuries, in particular the interrelations between literatures in English, French and German. His current focus is the national epic as it was reconstructed, rediscovered or invented during the Age of Revolutions in Europe.
Email: hamptons@unimelb.edu.au
Dr Marc Mierowsky
McKenzie Postdoctoral Fellow, School of Culture and Communication, The University of Melbourne
Marc Mierowsky's research ranges broadly across period and genre, but is unified by the drive to investigate questions of collective identity and uncover the cultural dimensions of citizenship. He is one of the editors of Daniel Defoe's Correspondence (along with Nicholas Seager and Andreas Mueller) forthcoming with Cambridge University Press, and editor (along with Nicholas Seager) of Defoe's Roxana, forthcoming with Oxford World's Classics. His interest in Enlightenment thought and literature coheres around questions of sovereignty, naturalization and constitutionality, the emergence of common-sense philosophy and theories of intersubjectivity. He is currently working on two discrete but overlapping projects: a narrative history of the group of spies whose work helped bring Scotland into an incorporated Union with England in 1707 and a cultural history of naturalization in Britain and the Australian colonies. In recent work he has focused on the enlightenments of Eastern Europe, with particular emphasis on the Haskalah (or Jewish Enlightenment) and its influence on contemporary literature, ethics and stand-up comedy.
Dr Anita Archer
Research Coordinator, Enlightenment, Romanticism, and Contemporary Culture Research Unit, Faculty of Arts, The University of Melbourne
Anita Archer is an art historian whose research focus is contemporary art markets, with interest in the changing dynamics of primary and secondary markets, the evolving domination of multinational auction houses and the networked activities of art world intermediaries in the translocation of art globally. Anita's PhD thesis examined the emerging market for Chinese Contemporary Art in the West and her recent focus is the role of Singapore as an art market hub for Southeast Asia. Anita's research interest stems from her extensive work experience in the global art field as an international auctioneer and independent art consultant specialising in Asian contemporary art.
Email: anita.archer@unimelb.edu.au
Adjunct Professor Jennifer Wawrzinek
Adjunct Professor, English Institute, University of Potsdam
Jennifer Wawrzinek's research focuses on the intersections between the political and the ethical in literature and culture of the Romantic and post-Romantic eras. She recently completed a monograph entitled Beyond Identity: Romanticism and Decreation, which investigates modes of decreation in British Romanticism as a response to the political and ethical crises of the late-eighteenth and early-nineteenth centuries. Jennifer is currently editing, together with Lisa O'Connell (UQ), a special edition of the journal Postcolonial Studies which will investigate the ways in which global movements and colonial contact in the long eighteenth century can be seen to have transformed or reinvented European literature and culture of the period. She is currently developing a new research project which aims to investigate Romantic models of relationality in which (human) being is conceived as embedded within a world that is not only biological, but techno-ecological as well. This project is particularly interested in the human-animal-machine formations of William Blake.
Dr James Jiang
School of Culture and Communication, The University of Melbourne
James Jiang's research traces the residues of Romantic thought in modern and contemporary British and American writing. His recent articles on William James and Marianne Moore draw out the implications for literary modernism and philosophical pragmatism of concepts such as style and character—concepts which assume their modern shape in the late eighteenth and early nineteenth century. James is currently at work on a project entitled Sage Modernism that explores the intersection between pragmatist poetics and therapeutic culture.
Email: james.jiang@unimelb.edu.au
Graduate researchers
Corey Cribb
PhD candidate in Screen and Cultural Studies, School of Culture and Communication, The University of Melbourne
Corey Cribb specialises in film theory and the continental philosophy of film. Focusing on the film-philosophies of Gilles Deleuze and Jean-Luc Nancy, his research considers the potential of modern cinema to perpetuate the non-mediated transformation of the world and occasion the ontological renewal of thought, bodies and ways of being-in-the-world. In part, this involves a consideration of the palpable influence of Maurice Blanchot's literary ontology upon these thinkers, and the subsequent question of why Deleuze and Nancy maintain that the marked passivity (or worklessness) of modern cinema harbours unprecedented potential for ontological change and the restoration of belief in a world from which we are said to be absent. Beyond the notion of worklessness as "the most essential - the most romantic and the most modern - gesture in romanticism" (Watt, 2017, pp. 18), Corey's research connects with the concerns of the ERCC by seeking to show how some of the most ground breaking developments in film theory today bear the influence of debates which can be traced back to German Idealism.
Todd Dearing
PhD Candidate in English Literature, Flinders University, Adelaide
Todd Dearing's work focuses on Romantic conceptions of human imagination, creativity, and genius and their relationship to contemporary literary criticism. He is currently completing his doctorate thesis on William Blake and the daimon as a literary trope, through a study of Blake's magnum opus, Jerusalem: The Emanation of the Giant Albion as an allegory for literary practice. His broader research interests include German and English Romantic literature, art, and philosophy, post-humanism, contemporary literary criticism, and the links between cognitive science and literature.Todd is interested in the ERCC because it offers networks, events, and potential collaboration with scholars in areas of research similar to his own.
Email: todd.dearing@flinders.edu.au
Francesca Kavanagh
PhD Candidate in English and Theatre Studies, School of Culture and Communication, The University of Melbourne
Francesca Kavanagh specialises in eighteenth and nineteenth-century women's reading and writing practices with a focus on material culture. She is also interested in the gothic and cultures of celebrity and fandom from Romanticism to the present. Her current project examines practices of letter-writing, annotation, and commonplacing from a range of women writers throughout the long eighteenth century and pairs this archival material with fictional accounts of these practices by Samuel Richardson and Jane Austen to elucidate the ways in which women in the long eighteenth-century used these textual practices in the production of textual and virtual spaces of intimacy. She currently has a journal article forthcoming in The Australasian Journal of Victorian Studies entitled "'Marianne Knight | Godmersham Park': Inscription as Community Interface in the Books of Jane Austen's Niece". She is interested in a number of the ERCC's current themes, including Actual Mixed and Virtual Realities and Worldliness, Cosmopolitanism, Globalisation, as well as opportunities for future collaborations.
Samuel Watts
PhD Candidate & Teaching Associate, School of Historical and Philosophical Studies, The University of Melbourne
Samuel Watts researches and writes about the experiences of African Americans in the Deep South during Reconstruction. His focus is on how formerly enslaved people interpreted ideas of freedom and citizenship in violently contested urban spaces, while working to construct and maintain lasting communities and networks. Additionally, Samuel is broadly interested in the historical legacies of racial discourse in the US, Australia and beyond. He currently has a book chapter in peer-review, entitled: "Reconstruction Justice: African American Police Officers in Charleston and New Orleans," in Freedom's Gained and Lost: Reinterpreting Reconstruction in the Atlantic World, eds. Simon Lewis and Adam Domby (New York: Fordham University Press, 2019 - forthcoming). He is interested in a number of ERCC projects, most notably those focused on slavery, and has an ongoing interest in the legacies of Enlightenment thought in debates about race, citizenship and revolution.