2021
Heap, Jodie Lee. The Creative Imagination: Indeterminacy and Embodiment in the Writings of Kant, Fichte and Castoriadis. Rowman, 2021.
By engaging with the notions of indeterminacy and embodiment within the writings of Immanuel Kant, Johann Fichte and Cornelius Castoriadis, this book addresses and brings to the fore the significance of the creative imagination as an ontological source of human creation. Principally inspired by Castoriadis' revolutionary elucidation of the imagination and the imaginary, this book actively contributes to this neglected line of enquiry by exposing deep lines of continuity and rupture both within and between the writings of Kant, Fichte, and Castoriadis. More information…
Stanyon, Miranda Eva. Resounding the Sublime: Music in English and German Literature and Aesthetic Theory, 1670-1850. University of Pennsylvania Press, 2021.
What does the sublime sound like? Harmonious, discordant, noisy, rustling, silent? Miranda Eva Stanyon rereads and resounds this crucial aesthetic category in English and German literatures of the long eighteenth century from a musical perspective and shows how sonorous sublimes lay at the heart of a central and transformative discourse. For Enlightenment and Romantic era listeners, the musical sublime represented a sonic encounter of the most extreme kind, one that tested what humans were capable of feeling, imagining, thinking, and therefore becoming. More information…
2020
Rundell, John. Kant: Anthropology, Imagination, Freedom. Routledge, 2020.
In a new reading of Immanuel Kant's work, this book interrogates his notions of the imagination and anthropology, identifying these – rather than the problem of reason – as the two central pivoting orientations of his work. Such an approach allows a more complex understanding of his critical-philosophical program to emerge, which includes his accounts of reason, politics and freedom as well as subjectivity and intersubjectivity, or sociabilities. Examining Kant's theorisation of the complexity of our phenomenological existence, the author explores his transcendental move that includes reason and understanding whilst emphasising the importance of the faculty of the imagination to undergird both, before moving to consider Kant's pluralised, transcendental notion of freedom. This outstanding book will appeal to scholars with interests in philosophy, politics, anthropology and sociology, working on questions of imagination, reason, subjectivities and human freedom.
Burnard, Trevor. Jamaica in the Age of Revolution. University of Pennsylvania Press, 2020.
Between the start of the Seven Years' War in 1756 and the onset of the French Revolution in 1789, Jamaica was the richest and most important colony in British America. White Jamaican slaveowners presided over a highly productive economic system, a precursor to the modern factory in its management of labor, its harvesting of resources, and its scale of capital investment and output. Planters, supported by a dynamic merchant class in Kingston, created a plantation system in which short-term profit maximisation was the main aim. Their slave system worked because the planters who ran it were extremely powerful.
In Jamaica in the Age of Revolution, Trevor Burnard analyses the men and women who gained so much from the labor of enslaved people in Jamaica to expose the ways in which power was wielded in a period when the powerful were unconstrained by custom, law, or, for the most part, public approbation or disapproval. Burnard finds that the unremitting war by the powerful against the poor and powerless, evident in the day-to-day struggles slaves had with masters, is a crucial context for grasping what enslaved people had to endure.
Burnard, Trevor. The Atlantic in World History, 1490-1830. Bloomsbury, 2020.
The Atlantic in World History, 1490-1830 looks at the historical connections between four continents – Africa, Europe, North America and South America – through the lens of Atlantic history. It shows how the Atlantic has been more than just an ocean: it has been an important site of circulation and transmission, allowing exchanges and interchanges which have profoundly shaped the development of the world.
Divided into four thematic sections, Trevor Burnard's sweeping yet concise narrative covers the period from the voyages of Columbus to the New World in the 1490s through to the end of the Age of Revolutions around 1830. It deals with key topics including the Columbian exchange, Atlantic slavery and abolition, war as a global phenomenon, the Age of Revolution, religious conversion, nation-building, trade and commerce and intellectual movements such as the Enlightenment. Rather than focusing on the 'rise of the West', Burnard stresses the interactive nature of encounters between various parts of the world, setting local case studies within his broader interconnected narrative.
Johnson, Claudia L. and Tuite, Clara. 30 Great Myths about Jane Austen. John Wiley & Sons, 2020.
Was Jane Austen the best-selling novelist of her time? Are all her novels romances? Did they depict the traditional world of the aristocracy? Is Austen's writing easy to understand? Well into the 21st century, Jane Austen continues to be one of the most compelling novelists in all English literature. Many of her ideas about class, family, history, intimacy, manners, love, desire, and society, have inspired "myths" that are often contradictory – she was a Tory who was also a liberal feminist, or, her novels are at once sharply satirical and unapologetically romantic. Myths, like Austen's works, are dynamic, changing over time and impacting how we read and interpret literature. 30 Great Myths about Jane Austen examines the accepted beliefs – both true and untrue – that have most influenced our readings of Austen. Rather than simply de-bunking, or validating, commonly-held views about Austen, authors Claudia L. Johnson and Clara Tuite explore how these myths can be used to engage with the life, work, and reception of Jane Austen.
2019
Burnard, Trevor. Britain in the Wider World, 1603-1800. Routledge, 2019.
Britain in the Wider World traces the remarkable transformation of Britain between 1603 and 1800 as it developed into a world power. At the accession of James VI and I to the throne of England in 1603, the kingdoms of England / Wales, Scotland and Ireland were united only by having a monarch in common. They had little presence in the world and were fraught with violence. Two centuries later, the consolidated state of the United Kingdom, established in 1801, was an economic powerhouse and increasingly geopolitically important, with an empire that stretched from the Americas, to Asia and to the Pacific. The book offers a fresh approach to assessing Britain's evolution, situating Britain within both imperial and Atlantic history, and examining how Britain came together politically and socially throughout the eighteenth century.
Gaston, Sean. Jacques Derrida and the Challenge of History. Rowman and Littlefield, 2019.
This important new book argues that Jacques Derrida's work can be treated as the basis for a distinctive historiography. The possibility of seeing Derrida not as a philosopher of language but as a philosopher of history has become more apparent with the recent publication of Derrida's 1964-1965 seminar Heidegger: The Question of Being and History. We now know that the problem of history was at the heart of Derrida's writing in the mid-1960s, prior to the publication of his best-known work, Of Grammatology (1967).
Arguing that Derrida's scholarship in the 1960s and early 1970s on historicism, historicity and the problem of history can be treated as the basis for a philosophy of history, Sean Gaston focuses on Derrida's work from the mid-1970s to the mid-1990s and his relentless questioning of context, memory and narrative as the delineation of a deconstructive historiography.
2018
Coleman, Deirdre. Henry Smeathman, the Flycatcher: Natural History, Slavery, and Empire in the Late Eighteenth Century. Liverpool University Press, 2018.
In 1771 Joseph Banks and other wealthy collectors sent a talented, self-taught naturalist to Sierra Leone to collect all things rare and curious, from moths to monkeys. Henry Smeathman's expedition to the West African coast, which coincided with a steep rise in British slave trading in this area, lasted four years during which time he built a house on the Banana Islands, married into the coast's ruling dynasties, and managed to negotiate the tricky life of a 'stranger' bound to his landlord and local customs. In this book, which draws on a rich and little-known archive of journals and letters, Coleman retraces Smeathman's life as he shuttled between his home on the Bananas and two key Liverpool trading forts – Bunce Island and the Isles de Los.
Ford, Thomas H. Wordsworth and the Poetics of Air. Cambridge University Press, 2018.
Before the ideas we now define as Romanticism took hold the word 'atmosphere' meant only the physical stuff of air; afterwards, it could mean almost anything, from a historical mood or spirit to the character or style of an artwork. Thomas H. Ford traces this shift of meaning, which he sees as first occurring in the poetry of William Wordsworth. Gradually 'air' and 'atmosphere' took on the new status of metaphor as Wordsworth and other poets re-imagined poetry as a textual area of aerial communication – conveying the breath of a transitory moment to other times and places via the printed page. Reading Romantic poetry through this ecological and ecocritical lens Ford goes on to ask what the poems of the Romantic period mean for us in a new age of climate change, when the relationship between physical climates and cultural, political and literary atmospheres is once again being transformed.
2020
Hibberd, Sarah and Stanyon, Miranda (eds.). Music and the Sonorous Sublime in European Culture, 1680-1880. University of Cambridge Press, 2020.
The sublime - that elusive encounter with overwhelming height, power or limits – has been associated with music from the early-modern rise of interest in the Longinian sublime to its saturation of European culture in the later nineteenth century and beyond. This volume offers a historically situated study of the relationship between music, sound and the sublime. Together, the authors distinguish between the different aesthetics of production, representation and effect, while understanding these as often mutually reinforcing approaches. They demonstrate music's strength in playing out the sublime as transfer, transport and transmission of power, allied to the persistent theme of destruction, deaths and endings. The volume opens up two avenues for further research suggested by the adjective 'sonorous': a wider spectrum of sounds heard as sublime, and (especially for those outside musicology) a more multifaceted idea of music as a cultural practice that shares boundaries with other sounding phenomena.
2019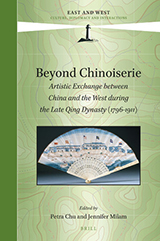 Chu, Petra and Milam, Jennifer (eds.,). Beyond Chinoiserie: Artistic Exchange Between China and the West During the Late Qing Dynasty (1796-1911). East and West series, Vol. 4. Brill, 2019.
The complex interweaving of different Western visions of China had a profound impact on artistic exchange between China and the West during the nineteenth century. Beyond Chinoiserie addresses the complexity of this exchange. While the playful Western "vision of Cathay" formed in the previous century continued to thrive, a more realistic vision of China was increasingly formed through travel accounts, paintings, watercolours, prints, book illustrations, and photographs.
Simultaneously, the new discipline of sinology led to a deepening of the understanding of Chinese cultural history. Leading and emerging scholars in the fields of art history, literary studies and material culture, have authored the ten essays in this book, which deal with artistic relations between China and the West at a time when Western powers' attempts to extend a sphere of influence in China led to increasingly hostile political interactions.
Tuite, Clara (ed.,). Byron in Context. Cambridge University Press, 2019.
George Gordon, the sixth Lord Byron (1788-1824), was one of the most celebrated poets of the Romantic period, as well as a peer, politician and global celebrity, famed not only for his verse, but for his controversial lifestyle and involvement in the Greek War of Independence. In thirty-seven concise, accessible essays, by leading international scholars, this volume explores the social and intertextual relationships that informed Byron's writing; the geopolitical contexts in which he travelled, lived and worked; the cultural and philosophical movements that influenced changing outlooks on religion, science, modern society and sexuality; the dramatic landscape of war, conflict and upheaval that shaped Napoleonic and post-Napoleonic Europe and Regency Britain; and the diverse cultures of reception that mark the ongoing Byron phenomenon as a living ecology in the twenty-first century. This volume illuminates how we might think of Byron in context, but also as a context in his own right.
2018
Clemens, Justin and Bartlett, A. (eds.,). Badiou and His Interlocutors. Bloomsbury Academic, 2018.
This is a unique collection presenting work by Alain Badiou and commentaries on his philosophical theories. It includes three lectures by Badiou, on contemporary politics, the infinite, cinema and theatre and two extensive interviews with Badiou – one concerning the state of the contemporary situation and one wide ranging interview on all facets of his work and engagements. It also includes six interventions on aspects of Badiou's work by established scholars in the field, addressing his concept of history, Lacan, Cinema, poetry, and feminism; and four original essays by young and established scholars in Australia and New Zealand addressing the key concerns of Badiou's 2015 visit to the Antipodal region and the work he presented there.
With new material by Badiou previously unpublished in English this volume is a valuable overview of his recent thinking. Critical responses by distinguished and gifted Badiou scholars writing outside of the European context make this text essential reading for anyone interested in the development and contemporary reception of Badiou's thought.
Otto, Peter (ed.,). William Blake: Selected Works. Oxford University Press, 2018.
This volume in the 21st Century Oxford Authors series offers students and readers a comprehensive selection of the work of William Blake (1757-1827). Accompanied by full scholarly apparatus, this authoritative edition enables students to explore Blake's poetry, illuminated poetry, and prose alongside selections from his letters, manuscripts, notebook, advertising pamphlets, marginalia, and works he printed in conventional letterpress.
The edition arranges Blake's works in chronological order, according to the date when they were first printed or, in the case of unpublished works, the years in which they were composed. With the help of editorial headnotes and annotations, this arrangement brings to the foreground Blake's material and intellectual labours as a poet, painter, prophet, and non-academic philosopher; the networks of acquaintances, friends, patrons, and enemies who helped support or provoke this work; and the tumultuous historical events he responded to, which included the beginning of modern feminism, the agricultural and industrial revolutions, the American and French Revolutions, William Pitt's so-called 'Reign of Terror' in Britain, an attempted revolution in Ireland (1798), a successful slave rebellion in Haiti (1791-1804), and the French revolutionary and Napoleonic wars. Some editions attempt to sanitise Blake, by hiding from view the most startling elements of his thought; but in this edition Blake's sexual, political, religious, and poetic heterodoxy comes into full view.
2020
Aarons, Debra and Mierowsky, Marc (2020). "The Marvelous Mrs. Maisel as an Alternative History of Stand-Up," in Comedy Studies
Archer, Anita (2020). "Materialising Markets: The Agency of Auctions in Emergent Art Genres in the Global South," in Arts 9, No. 4, pp. 106-106
Bekmen, Ahmet; Ongel, Ferit Serkan and Hadiz, Vedi R. (2020). "Contesting Working-Class Politics in Turkey: Social Transformations, Islam, and the Left," in Critical Sociology 46, No. 7-8, pp. 1025-1040
Clemens, Justin (2020). "Not Not. A Note on the Figures of Power in Giorgio Agamben," in Etica e Politica / Ethics and Politics 22, No. 3
Clemens, Justin (2020). "Morbus Anglicus; or, Pandemic, Panic, Pandaemonium," in Crisis and Critique 7, No. 3
Clemens, Justin (2020). "Where then shall hope and fear –, " in Meanjin
Clemens, Justin (2020). "An Alogical Space of Genetic Reintrication: Notes on an Element of Giorgio Agamben's Method," in Polemos
Clemens, Justin (2020). "In the State of Nature Nothing will be Lost," in Australian Humanities Review 66
Davis, Mark (2020). "The Culture Wars and Corporatism: The Cultural Mission in Australian Non-Fiction Book Publishing, 1958-2018," in Australian Literary Studies 35, No. 1
Davis, Mark (2020). "The Online Anti-Public Sphere," in European Journal of Cultural Studies
Green, Charles, and Gardner, Anthony (2020). "Okwui Enwezor's Johannesburg Biennale: Curating in Times of Crisis," in Documenta Studies 8
Hadiz, Vedi R (2020). "Indonesia's Missing Left and the Islamisation of Dissent," in Third World Quarterly
Knowles, Claire (2020). "Female Romantic Poetry, 1798-1819: The Climate of Fear and the Loss of a Radical Generation," in Women's Writing pp. 1-14
McHugh, Siobhan, McLean, Ian and Neale, Margo (2020). "Notes from a Cross-Cultural Frontier: Investigating Australian Aboriginal Art through Podcasts," in Liminalities: A Journal of Performance Studies 16, No. 4
Otto, Peter (2020). ""Looking 'thro ... & not with" the Eye: From Romanticism to the Counter Culture, Rock and Roll, and the Anthropocene," in European Romantic Review 31, pp. 67-74
Otto, Peter (2020). "Negotiating the 'Holy Land': Cross-Cultural Encounters from Bonaparte to Blake." Postcolonial Studies 23, No. 3, pp. 404-429
Rundell, John (2020). "Underdevelopment and Critical Theorizing: Empowerment and Cosmopolitan Democracy," in Critical Horizons 21, No. 4, pp. 367-377
Rundell, John (2020). "Kant on the Imagination: Fanciful and Unruly, or 'an Indispensable Dimension of the Human Soul'," in Critical Horizons 21, No. 2, pp. 106-129
Stanyon, Miranda (2020). "Organ Pipes and Bodies with Organs: Listening to De Quincey's First Opium War Essays," in Literature & History 29, No. 1, pp. 19-36
Tuite, Clara (2020). "Speechless: Werther-Fever and the Media of Romantic Love," in Cultural and Social History 17, No. 3, pp. 333-353
Weber, Millicent, and Davis, Mark (2020). "Feminism in the Troll Space: Clementine Ford's Fight Like a Girl, Social Media, and the Networked Book," in Feminist Media Studies 20, No. 7, pp. 944-965
2019
Burnard, Trevor. "A New Look at the Zong Case of 1783," in XVII-XVIII 76, 2019
Burnard, Trevor. "Beyond Salutary Neglect: A Reflection on 'Thinking the Empire Whole'," in History Australia 16 No. 4, 2019, pp. 642-645
Champion, Matthew S. and Stanyon, Miranda. "Musicalising History," in Transactions of the Royal Historical Society 29 No. 4, 2019, pp. 79-103
Clemens, Justin. "First Fruits of a Barron Field," in Critical Quarterly 61 No. 1, 2019, pp. 18-36
Coleman, Deirdre. "Anti-Slavery, African Colonization, and the Natural History of Ballooning," in Romanticism 25 No. 1, 2019, pp. 32-44
Davis, Mark. "A new, online culture war? The communication world of Breitbart.com," in Communication Research and Practice 5 No. 3, 2019, pp. 241-254
De Wildt, Lars, Apperley, Thomas H., Clemens, Justin, Fordyce, Robbie and Mukherjee, Souvik. "(Re-)Orienting the Video Game Avatar," in Games and Culture, 2019
Diprose, R., McRae, Dave and Hadiz, Vedi R. "Two Decades of Reformasi in Indonesia: Its Illiberal Turn," in Journal of Contemporary Asia 49 No. 5, 2019, pp. 691-712
Ford, Thomas H. and Clemens, Justin. "Barron Field's Terra Nullius Operation," in Australian Humanities Review 65, 2019, pp. 1-19
Ford, Thomas H. "Frankenscription, a natural history of poetry," in Nineteenth-Century Contexts 41 No. 3, 2019, pp. 271-285
Hadiz, Vedi R. "The 'Floating' Ummah in the Fall of 'Ahok' in Indonesia," inTRaNS: Trans -Regional and -National Studies of Southeast Asia 7 No. 2, 2019, pp. 271-290
Hankinson,Alexandra. "Flora's Go-betweens: Nectar, Insects, and Flowers in the Romantic Natural History of Pollination," in Romanticism 25 No. 1, 2019, pp. 3-21
Jiang, James. "Curious Self-Evidence: Graphology and Gusto in Marianne Moore's Critical Prose," in Modernism/modernity 26 No. 2, 2019, pp. 375-398
Mierowsky, Marc. "John West. Dryden and Enthusiasm: Literature, Religion, and Politics in Restoration England," in The Review of English Studies 70 No. 294, 2019, pp. 368-370
Rundell, John. "David Roberts: Images of Aesthetic Modernity," in Thesis Eleven 152 No. 1, 2019, pp. 76-86
Rundell, John. "Joel S. Kahn (1947-2017) – Perennial Anthropologist," in Thesis Eleven 151 No. 1, 2019, pp. 117-124
Stanyon, Miranda. "The Passion of Edmund Burke: 'To Dr H_____n' Revisited," in Huntington Library Quarterly 82 No. 2, 2019, pp. 249-276
Tuite, Clara. "Redeemed from the Worm: Manfred's Celebrity Revenge Tragedy," in Romantic Circles Praxis, June 2019, pp. 1-17
Weber, M. and Davis, Mark. "Feminism in the Troll Space: Clementine Ford's Fight Like a Girl, Social Media, and the Networked Book," in Feminist Media Studies, 2019
2018
Archer, Anita. "Genesis of an Auction Sale Category: Sotheby's Inaugural Auction of 'Contemporary Chinese Art'," in Journal for Art Market Studies 2 No. 3, 2018
Burnard, Trevor. "A Voice for Slaves: The Office of the Fiscal in Berbice and the Beginning of Protection in the British Empire, 1819-1834," in Pacific Historical Review 87 No. 1, 2018, pp. 30-53
Burnard, Trevor and Candlin, Kit. "Sir John Gladstone and the Debate over the Amelioration of Slavery in the British West Indies in the 1820s," in Journal of British Studies 57 No. 4, 2018, pp. 760-782
Clemens, Justin. "Barron Field and the Myth of Terra Nullius," in Journal and Proceedings of the Royal Society of New South Wales 151 No. 2, 2018, pp. 135-141
Clemens, Justin. "Of Avatars and Apotheoses: David Fallon's Blake," in Filozofski Vestnik 39 No. 2, 2018, pp. 41-57
Clemens, Justin. "As Fire Burns: Philosophy, Slavery, Technology," in Crisis and Critique 5 No. 1, 2018, pp. 130-145
Coleman, Deirdre. "Antislavery Satire before Abolitionism: Two New Images," in The Wordsworth Circle 49 No. 1, 2018, pp. 28-32
Davis, Mark. "'Globalist war against humanity shifts into high gear': Online anti-vaccination websites and 'anti-public' discourse," in Public Understanding of Science 28 No. 3, 2018
Davis, Mark. "'Culture is inseparable from race': Culture Wars from Pat Buchanan to Milo Yiannopoulos," in M/C Journal 21 No. 5, 2018
Ford, Thomas H. "Echohistoricism: Aristotle, Dryden, Montgomery, Conrad," in Romanticism 24 No. 3, 2018, pp. 278-293
Ford, Thomas H. "Miracles 24/7," in Art + Australia 55.1, 2018, pp. 44-51
Ford, Thomas H. "The Romanthropocene," in Literature Compass 15 No. 5, 2018
Hadiz, Vedi R. "Imagine All the People? Mobilising Islamic Populism for Right-Wing Politics in Indonesia," in Journal of Contemporary Asia 48 No. 4, 2018
Inglis, A., Coleman, Deirdre and Gaston, Vivian. "British and Australian portraits at the National Gallery of Victoria," in Art Journal of the National Gallery of Victoria No. 56, 2018
Knowles, Claire. "A Woman's Place is in the Morgue: Understanding Scully in the Context of 1990s Feminism," in M/C Journal 21 No. 5, 2018
Knowles, Claire. "Della Cruscanism and Newspaper Poetics: Reading the Letters of Simkin and Simon in the World," in Studies in Romanticism 57 No. 4, 2018, pp. 581-600
Tuite, Clara. "Lord Byron's Preposterous Liberalism: Perversity, or The Fear that Pleases," in Occasion 11, 2018
Tuite, Clara. "Jane Austen's House of Friction," in Persuasions: The Jane Austen Journal On-Line 38 No. 2, 2018
Van Ryn, Luke, Apperley, Thomas and Clemens, Justin. "Avatar Economies: Affective Investment from Game to Platform," in New Review of Hypermedia and Multimedia 24 No. 4, 2018, pp. 291-306