2020
Hibberd, Sarah and Stanyon, Miranda (eds.). Music and the Sonorous Sublime in European Culture, 1680-1880. University of Cambridge Press, 2020.
The sublime - that elusive encounter with overwhelming height, power or limits – has been associated with music from the early-modern rise of interest in the Longinian sublime to its saturation of European culture in the later nineteenth century and beyond. This volume offers a historically situated study of the relationship between music, sound and the sublime. Together, the authors distinguish between the different aesthetics of production, representation and effect, while understanding these as often mutually reinforcing approaches. They demonstrate music's strength in playing out the sublime as transfer, transport and transmission of power, allied to the persistent theme of destruction, deaths and endings. The volume opens up two avenues for further research suggested by the adjective 'sonorous': a wider spectrum of sounds heard as sublime, and (especially for those outside musicology) a more multifaceted idea of music as a cultural practice that shares boundaries with other sounding phenomena.
2019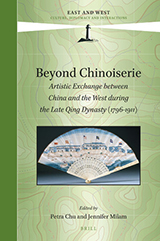 Chu, Petra and Milam, Jennifer (eds.,). Beyond Chinoiserie: Artistic Exchange Between China and the West During the Late Qing Dynasty (1796-1911). East and West series, Vol. 4. Brill, 2019.
The complex interweaving of different Western visions of China had a profound impact on artistic exchange between China and the West during the nineteenth century. Beyond Chinoiserie addresses the complexity of this exchange. While the playful Western "vision of Cathay" formed in the previous century continued to thrive, a more realistic vision of China was increasingly formed through travel accounts, paintings, watercolours, prints, book illustrations, and photographs.
Simultaneously, the new discipline of sinology led to a deepening of the understanding of Chinese cultural history. Leading and emerging scholars in the fields of art history, literary studies and material culture, have authored the ten essays in this book, which deal with artistic relations between China and the West at a time when Western powers' attempts to extend a sphere of influence in China led to increasingly hostile political interactions.
Tuite, Clara (ed.,). Byron in Context. Cambridge University Press, 2019.
George Gordon, the sixth Lord Byron (1788-1824), was one of the most celebrated poets of the Romantic period, as well as a peer, politician and global celebrity, famed not only for his verse, but for his controversial lifestyle and involvement in the Greek War of Independence. In thirty-seven concise, accessible essays, by leading international scholars, this volume explores the social and intertextual relationships that informed Byron's writing; the geopolitical contexts in which he travelled, lived and worked; the cultural and philosophical movements that influenced changing outlooks on religion, science, modern society and sexuality; the dramatic landscape of war, conflict and upheaval that shaped Napoleonic and post-Napoleonic Europe and Regency Britain; and the diverse cultures of reception that mark the ongoing Byron phenomenon as a living ecology in the twenty-first century. This volume illuminates how we might think of Byron in context, but also as a context in his own right.
2018
Clemens, Justin and Bartlett, A. (eds.,). Badiou and His Interlocutors. Bloomsbury Academic, 2018.
This is a unique collection presenting work by Alain Badiou and commentaries on his philosophical theories. It includes three lectures by Badiou, on contemporary politics, the infinite, cinema and theatre and two extensive interviews with Badiou – one concerning the state of the contemporary situation and one wide ranging interview on all facets of his work and engagements. It also includes six interventions on aspects of Badiou's work by established scholars in the field, addressing his concept of history, Lacan, Cinema, poetry, and feminism; and four original essays by young and established scholars in Australia and New Zealand addressing the key concerns of Badiou's 2015 visit to the Antipodal region and the work he presented there.
With new material by Badiou previously unpublished in English this volume is a valuable overview of his recent thinking. Critical responses by distinguished and gifted Badiou scholars writing outside of the European context make this text essential reading for anyone interested in the development and contemporary reception of Badiou's thought.
Otto, Peter (ed.,). William Blake: Selected Works. Oxford University Press, 2018.
This volume in the 21st Century Oxford Authors series offers students and readers a comprehensive selection of the work of William Blake (1757-1827). Accompanied by full scholarly apparatus, this authoritative edition enables students to explore Blake's poetry, illuminated poetry, and prose alongside selections from his letters, manuscripts, notebook, advertising pamphlets, marginalia, and works he printed in conventional letterpress.
The edition arranges Blake's works in chronological order, according to the date when they were first printed or, in the case of unpublished works, the years in which they were composed. With the help of editorial headnotes and annotations, this arrangement brings to the foreground Blake's material and intellectual labours as a poet, painter, prophet, and non-academic philosopher; the networks of acquaintances, friends, patrons, and enemies who helped support or provoke this work; and the tumultuous historical events he responded to, which included the beginning of modern feminism, the agricultural and industrial revolutions, the American and French Revolutions, William Pitt's so-called 'Reign of Terror' in Britain, an attempted revolution in Ireland (1798), a successful slave rebellion in Haiti (1791-1804), and the French revolutionary and Napoleonic wars. Some editions attempt to sanitise Blake, by hiding from view the most startling elements of his thought; but in this edition Blake's sexual, political, religious, and poetic heterodoxy comes into full view.