A poetic future in memory of Peter Steele
A much loved and esteemed member of the University of Melbourne and Newman College communities, Father Peter Steele SJ AM (22 August 1939 - 27 June 2012) inspired a new generation of poets.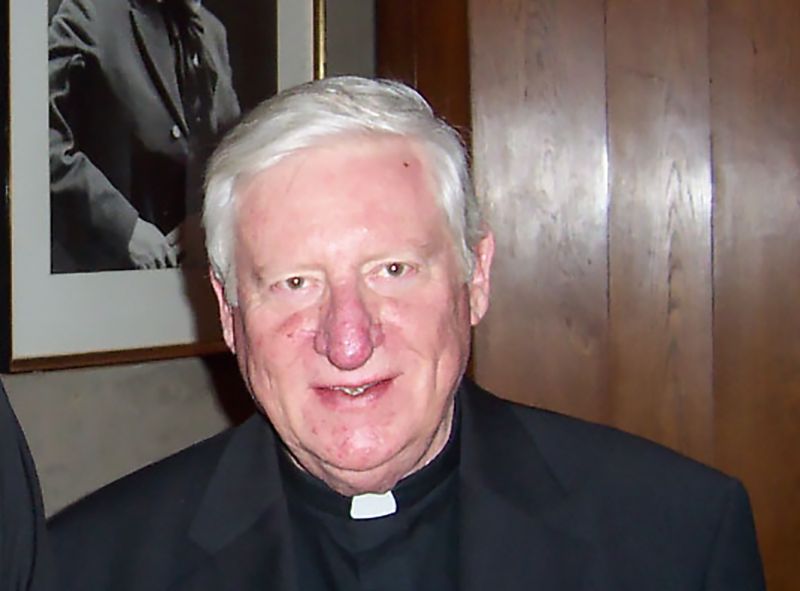 Father Steele was awarded the Christopher Brennan Award for lifetime achievement in poetry in 2010 and was made a Member of the Order of Australia in 2012 for services to literature and higher education, and to the Catholic Church.
Poet Kate Middleton was a student of Professor Steele.
"As an undergraduate student at the University of Melbourne, I took every class taught by Professor Peter Steele SJ.
"How like the Peter Steele I came to know over a number of years to understand the world from the perspective of the materials with which we build it. I am certain I am just one of the many students to whom Peter Steele delivered a much richer vision of the world," wrote Kate in her moving obituary to Peter published in the Australian Book Review.
The Peter Steele Poetry Trust Fund, established by the Faculty of Arts in association with Newman College and the Melbourne Humanities Foundation will continue Peter's legacy of inspiring new generations of poets, at a time when poetry is enjoying a renaissance of its own.
"The future of poetry is in the hands of the young people writing it." says Professor Kevin Brophy, who completed his PhD under Father Steele's supervision and currently teaches creative writing at the University of Melbourne.
"Peter was open, patient, and tolerant with me while I was a student. His work opened eyes to see the world and become responsive to all of its beauty and wonder," says Professor Brophy.
"Poetry asks us to look again and again at ourselves and at the wider world."
The Peter Steele Poetry Trust Fund is a permanent endowment to support poetry initiatives, including the establishment, and endowment of positions, teaching and research initiatives, scholarships and prizes. Established with the support of the Hon Susan Crennan AC QC, Dr Michael Crennan QC, the Chancellor Allan Myers AC QC and Mrs Maria Myers AC, it aims to create a lasting legacy in memory of this remarkable man.
Donate today to the Peter Steele Poetry Trust Fund and support a new generation of literary graduates and a bright future for poetry. A generous donor has agreed to match all donations to the fund in the first year of its establishment.
Praying
Sometimes it feels like Jimmy Durante calling
goodnight to Mrs Calabash, whoever
she was or whether. Sometimes it's the tenth
hour in the trans-Pacific plane,
all glamour gone and connections still to make.
And it's been known to turn dirty,
as if a cutter, back from the peat-hag, found
his ass's pannier loaded with nothing.
But whistling in the dark, as the poet said,
is good practice for whistling, so
one goes on doing it and cognate things,
knowing a little and holding out
for a touch of what shows in the eyes of the old
hands at the business, their voices surrendered,
a better than Boeing winging their hopes, the laden
flesh beginning to take fire.
From White Knight With Beebox, New and Selected Poems, by Peter Steele. John Leonard Press 2008. Copyright: John Leonard. Due to limitations in our web-publishing system, this poem is unfortunately not set out as intended by the poet.
More Information
Julie Du Plessis