Chinese (Mandarin) program activities
A program of activities was developed to demonstrate the use of community resources in the teaching of Chinese (Mandarin). This program utilised two resources:
Shops and shopkeepers
The visible symbols and signs of the Chinese language in the shop fronts of a suburb and the presence of shopkeepers who speak the language provide the context for teaching linguistic functions such as location, direction and shopping
The mixed backgrounds of students in the class
The implementation of the program of activities involves:
These activities were designed and developed by Irene Liem.
A conceptual framework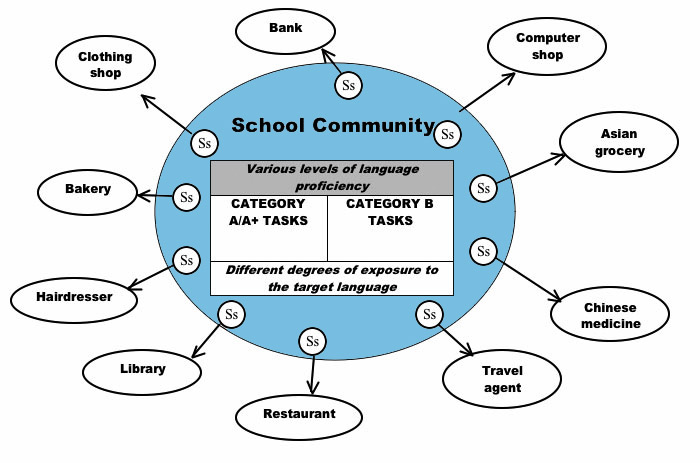 Above is a model of a mixed background class, using community resources as a springboard and context for learning a community language. Students with different levels of proficiency and degrees of background in the language participate in different activities. Click on the thumbnail to enlarge the image.
Classroom organisation
There are two broad types of classroom organisation: teacher-centred and peer-based.
Strategies for a successful peer-based learning classroom
To organise an effective and successful peer-based learning classroom in a community language program, it is essential to consider the following strategies:
Grouping of students and group size
Students are organised into small groups, each consisting of a mixture of students with different levels of language proficiency and a different range of language backgrounds. An ideal group size is between 4 to 6 students. It is big enough to include diversity but small enough for more interpersonal exchanges.
Composition of the groups
Ensure that the composition of each group is balanced, ie the teacher should avoid using friendship groups but use:
knowledge of students' background in the target language, eg years of study of the target language in school and outside school, home background, frequency of usage and contact with the language outside school
students' level of proficiency as a guide because home background in the language does not necessarily mean a higher level of proficiency
Task differentiation
Tasks are differentiated according to the various levels of language proficiency. While individual students on one hand tackle a task appropriate to their level of proficiency, they are also encouraged, through structured activities, to share their learning strategies, knowledge and skills in the target language with other members of the small groups as well as with the whole class.
Combined classes
In schools where there are Advanced, Intermediate and Beginners classes at one horizontal year level, the possibility of them timetabled together at least once a week will provide the opportunity for greater sharing in mixed backgrounds groups, encouraging an environment of a learning community.
A syllabus
The tasks in this module include:
Location
(1) Asking and identifying the facilities / shops in the local community
(2) Asking and giving their locations
Direction
(3) Asking and giving directions to a designated location in the local community
Shopping
(4) Asking and gibing information about the goods / services of these facilities / shops
The local community
(5) Describing the local community, focusing on the shops
As this module* is catering to a class or combined classes of mixed backgrounds students in an age-related horizontal year level, the syllabus is differentiated into three Categories of tasks so as to meet the learning needs of students at different levels of proficiency in the target language. Those in Category B tackle less complex tasks such as (i) (ii) (iii); those in Category A tackle more complex tasks such as (iv), while those in Category A+ tackle extension activities such (v).
The aim of differentiation is to enable students to tackle tasks according to their current level of proficiency and at the same time extend beyond by working with others to achieve group tasks that require collaboration. The more advanced students will have the opportunity to take up leadership and teaching roles in the team, helping others while developing a new repertoire of linguistic, metalinguistic metacognitive and social skills.
* The module aims to help students reach language proficiency level CSFII between 5 and 6 (Pathway 1) between 4A and 6A (Pathway 2).
Category B tasks*
Category A tasks *
Category A+ tasks *
Linguistic functions

Names and location of facilities and shops in the local community
Directions - how to go to these shops and facilities

How to get useful information for the shops and facilities in the local community

How to put useful information on the local community into writing

Linguistic skills

Speaking
Listening
Reading
Writing

Speaking
Listening
Reading
Writing

Activities

Games, activities using the local community as the context.

How to introduce oneself.
How to ask for information using the local community as the context.

Writing factual information
Constructing a pamphlet promoting the local community.

Format and class structure
Stage 1

Teacher-directed learning and peer-based learning

Teacher-directed learning and peer-based learning

Computer and teacher-directed learning

Stage 2

Students of each category work together in an integrated task.
Chinese program activities
These activities involve going into the community and are placed in a sequence. The following are only suggestions as to the type of tasks that students can do - teachers can use their creativity to design activities that engage their students.
Category B tasks
Category A tasks
Category A+ tasks

Before fieldwork

Students in groups prepare to go out into the community

Identify the name of shops;
Label shops on a local map;
Identify and locate shops in relation to their school;
Describe the distance of shops in relation to the school;
Tell how to go from school to a specific shop/shops.

Introduce oneself to a person in local shop;
Ask for at least 5 items of information from a specific shop.

Search the web for a profile of the local community such as population, countries of origin, languages spoken etc;
Use Chinese word processor to write a paragraph or two about the local community
Help category B and A team members to fine tune their preparation for fieldwork.

During fieldwork

Students of categories A and B form a team and go out to the community.

Ask and give directions to a designated shop from school;
Name various types of shops in Chinese on site;
Observe and listen to Category A students' interaction with shopkeepers.

Name the shops on location;
Introduce oneself to the shopkeeper stating purpose of visit;
Ask for at least 5 items of information from a specific shop;
Note-taking: writing down the conversation between student and shopkeeper.

Observe on-site local shops, interview shopkeepers, note-taking;
Support team members giving them the confidence to use the language.

Category B, Category A and A+ students form a team of 4 or 5. Students go as a team to a shop, when Category B students are naming shops, asking and giving direction, Category A students can listen and check if the dialogue is correct. When Category A students are interacting with the shopkeepers, Category B students can observe and listen to the interaction, try to learn from their experience.

After fieldwork

Students from Categories A and B form a team and give a presentation to the whole class.

Write a script for a role play showing how to ask and answer questions on direction to a shop selected by the team, it should also include an interaction with a shopkeeper. The role play should be presented orally to the whole class.

Create a web page/ create a pamphlet/ write an article for school paper with information about, for example, the cheapest place for noodles or to get the latest hairstyle. Present the web page/ pamphlet/ article to the whole class.
Keys to success
Teachers as facilitators
While teachers may not be teaching directly during small group activities, they have an even more important role and responsibility: that of giving support to the groups in terms of:
a) identifying the needs of a group
b) identifying the needs of individual students within a group
c) intervening in the group process if required
d) correcting linguistic errors
e) suggesting appropriate strategies for students to tackle a particular task as individuals and as a group
Team teaching
In combined classes, teachers from different classes come together and work as a team, sharing ideas, supporting each other in the effort to develop activities/tasks that will enrich the learning experiences of students. Differentiated Tasks As each group consists of students with a range of backgrounds in the language as well as varying levels of proficiency, tasks need to be differentiated to meet the needs of such a diverse group of students. While the less advanced student is given the basic grounding in the language, the more advanced is given more challenging tasks.
Maximum exposure
Students within such a classroom will not be exposed only to what the teacher offers them, but to a range of metacognitive, cognitive, social and linguistic skills offered by their peers in class.
Experience that is relevant
Giving students the experience of using what they have learned in real-life situations makes learning relevant.