This fellowship is awarded annually to writers in the non-fiction fields of biography, autobiography and life writing to further a work in progress.
Applications for the 2024 Fellowship are currently open until 7 August 2023. Please visit the Peter Blazey Fellowship page here for further information.
2023
Winner
SJ Norman Skin in the Game
The winner of the Peter Blazey Fellowship for 2023 is SJ Norman who will work on their second book, Skin in the Game, an account of trans/queer love in a time of pandemic. Conceived as an experimental auto-fiction contributing to the growing body of work by Blak and Indigenous, queer and gender-diverse writers, Norman's work explores experiences of power and empowerment between and across bodies and eroticism, states and territories, communities and identities. Those who savoured Norman's first book, Permafrost, have much to look forward to in this poetic, compelling and tough exploration of contemporary relations of grief and becoming. Norman's is a voice that needs to be heard.
Commended
Barbarella Karpinski Queer Beautiful Tainted Mess
This lively and entertaining memoir by Barbarella Karpinski stood out for the distinctiveness of the narrative voice and the vividness of the writing. Combine those elements with Karpinski's longstanding role in Australia's LGBQTI subcultures, including as a 78er (one of those involved in the first-ever Sydney Mardi Gras march), as a striptease and performance artist, and as a journalist and reporter of queer life, and this work shows great potential and cultural importance.
Brooke Maddison You are the Story
Brooke Maddison's You are the Story is an affecting and cleverly structured essay about the author's relationship with their adopted son. It is attuned to the narratives that structure our lives – the material constraints of race, citizenship, borders, blood, kinship, and class. It blends this awareness with a self-reflexive attitude toward narrative and its limitations, the ways in which stories can be told and can reflect on their own telling. It offers a reflection on the nature of devotion, being a parent, and of coming to understand more about one's own life through that of another.
Rebecca Beirne Not Otherwise Specified
A promising new voice, Rebecca Beirne's boldly confessional memoir Not Otherwise Specified navigates an unusual Western Sydney childhood where parental control in a fraught external environment shaped by religious cults and family services produces a disturbing, sharply observed and darkly ironic narrative. The work meticulously examines the complexities of mental health, trauma, medicalisation and societal stigma in a unique and compelling way.
Selection committee
Professor Sarah Maddison (Director, Australian Centre, University of Melbourne)
Declan Fry (2021 Fellowship recipient)
Professor Chris Healy (Screen and Cultural Studies)
Tim Herbert (representative of the Blazey family)
Aviva Tuffield (Publisher)
2022
Winner
Dženana Vucic A Teleology
The selection committee are delighted to announce that the winner of the Peter Blazey Award 2022 is Dženana Vucic for A Teleology. This formally inventive and ambitious entry draws on the author's childhood memories of the Bosnian war, coming to Australia as a refugee, and returning to Bosnia as an adult, to produce a strikingly original reflection on how we make sense of stories and ourselves. It braids personal memoir, detailed historical research and philosophical reflection in a moving work about the vagaries of memory, the complexities of identity and the vertigo of a family caught up in war. The writing is marked by exactitude and grace, bridging the gap between the personal and the political with compelling fidelity.
Commended
Tristen Harwood Nana
Tristen Harwood is an emerging Indigenous voice and art critic who is creating a biography of his Nana, a second-generation member of the Stolen Generations. Tristen skillfully combines art criticism and historical research with the stories told to him by his Nana; in this world, trees, animals, rivers and land are stories themselves. The territory covered in the writing is impressive, from the story of the entanglement of an orchid and wasp, to an analysis of the poetry of Big Bill Neidjie (an artist Peter Blazey met on his travels and work in the 1980s). Tristen impressed us with his precise and arresting prose; here is a writer with an extraordinary poetic eye.
Jessica Kirkness A Sense of You
The committee commends Jessica Kirkness's urgent and timely work, exploring the lives of her deaf grandparents and her relationship with them. The work interrogates the idea of the 'hearing line': a term Christopher Krentz coined to describe the invisible boundary that exists between deaf and hearing people. Jessica's work is ethically framed and approached, masterfully balancing the fine line between representing others and speaking for them. The committee felt the work had great potential and recognised the importance for stories written by and of deaf people to take up space in the public imagination.
Mykaela Saunders Communing with Uncle Kev Through the Archives
Mykaela Saunders' close relationship with her late Uncle Kev, who passed away in 2012, underpins this ambitious and probing reflection on the role of the archive in personal and communal storytelling. Everywhere in the writing is the author's refusal to pander, trespass or make peace with the violence of archives and prisons in a settler-colonial state. The cut-through directness is exhilarating; the sentences, if you stay with them long enough, can take your skin off. They are also often darkly funny. Mykaela's is an entry of striking moral power, an act of communing across time with her treasured uncle.
Selection committee
Professor Ronan McDonald (Gerry Higgins Chair in Irish Studies, University of Melbourne)
Associate Professor Maria Tumarkin (Creative writing, University of Melbourne)
Magenta Sheridan (Editor, Going Down Swinging)
Jol Blazey (representative of the Blazey family)
2021
Winner
Declan Fry Justice for Elijah: A Spiritual Dialogue with Ziggy Ramo, Dancing
First Nations creator and critic Declan Fry's project is an ethically charged, lyrical exploration of contemporary Australian life in a series of dialogic portraits. His work gives cogent expression to the duty of a writer to bear witness and change understanding.
Commended
SJ Norman Blood from a Stone
SJ Norman's submission is unique in speaking of the lived experience of transitioning in the frameworks of colonial and institutional violence. This is intellectually challenging, impressive writing that unfolds against the background of a pandemic and evokes urgent, multifaceted questions of identity and desire.
Dženana Vucic Teleology of Folding
Dženana Vucic's deeply considered work provides a much-needed antidote to mainstream discourses of what it is to be a refugee in today's world. A challenging meditation on her identity as a Bosnian Muslim in Australia, her project places identity formation in the tangled but richly suggestive contexts of war, history, culture and family.
Eloise Grills big beautiful female theory
Eloise Grills' superbly realised graphic investigation of art, art history, gender and body archetypes stimulates the reader intellectually, emotionally, and viscerally. Her vibrant, provocative artworks combine with powerful prose to explode ideas of identity, beauty and desire.
Judges
Professor Ken Gelder (Co-director of the Australian Centre, University of Melbourne)
Clare Forster (Representative of the Blazey family)
Jonathan Green (Editor, Meanjin)
Dr Maria Tumarkin (Creative Writing, University of Melbourne)
2020
Winner
Ellen van Neerven Personal Score
This exciting piece of work juxtaposes an evocatively alternative sports narrative – about a 'gender diverse' character's experiences at a women's football club – with a meditation on Indigenous connections to land and place. The footballers are competitive, conflictual and visceral; they bond together, sometimes intimately; there is always a lot going on. The narrative then shifts to an account of Mununjali links to south east Queensland, to the ways in which an Indigenous family comes to understand itself even as family members move around. In the process, it offers a profound examination of shifting border zones amongst First Nations people, set against colonial designations. The queering of the sports narrative adds to this work's innovative impact and nuances the theme of speaking from and in marginalised positionalities. This is writing about being both 'in transit, transitive' on the one hand, and in place on the other: intimately, and culturally.
Commended
Oliver Reeson Body Potential
This is a fine piece of life writing, about the body experiences of publicly identifying as a woman but struggling with gender dysphoria and then beginning to transition – starting testosterone therapy not long after having gone through chemotherapy and other treatment regimes for breast cancer. The narrative thinks carefully, even microscopically, about patterns of change and continuity as transition gets underway; it is both clinical and intensely affecting. This is a wonderfully honest, self-analytical work that, as it looks towards the future, wonders about both the possibility of parenthood and the loss of childhood. As it charts a radically changing body condition, it nevertheless remains constantly engaged with the world. 'I can't picture where I want to end up', Reeson writes, 'but I still know where to go'.
Judges
Professor Ken Gelder (Acting director of the Australian Centre, University of Melbourne)
Tim Herbert (Representative of the Blazey family)
Jonathan Green (Editor, Meanjin)
Dr Odette Kelada (School of Culture and Communication, Faculty of Arts, University of Melbourne)
2019
Winner
Sanaz Fotouhi for Love Marriage in Kabul: A Memoir
In this extract, Sanaz Fotouhi writes about her journey to Afghanistan to make a film about the marriage of a young couple at a place called Mahboba's Promise Hope House, an Australian non-profit organisation that provides help and support for local widows and orphans. She also interviews some of the young orphans there, the children: which leads her to recall her own childhood in Tehran in the 1990s in the wake of the war between Iran and Iraq.
This evocative and touching memoir turns back to Fotouhi's father to chronicle his struggles with education, in particular his determination to learn English 'which expanded his world'. Eventually, her father becomes global and diasporic, working in New York, Los Angeles, Japan and Hong Kong. Returning to Tehran, her family is part of a cosmopolitan Iranian middle class. But then her father leaves for a banking job in Kabul in Afghanistan, ruined after Soviet occupation and Taliban rule. This is a beautifully written memoir about local traumas and predicaments, pitching them - often uneasily - against global movement and an increasingly cosmopolitan self-awareness.
Commended
Bill Ethell Love and Water
This is a lively and determined piece of writing from Bill Ethell, a union activist and sailor who was the skipper of the anti-nuclear protest ship Pacific Peacemaker – which sailed into the French nuclear testing site at Mururoa Atoll in the Pacific in 1982, and which also went to Seattle the same year to protest against America's Trident missile system.
Judges
Professor Ken Gelder (Director of the Australian Centre and Head of English and Theatre Studies, the University of Melbourne)
Penny Blazey (Representative of the Blazey family)
Zoe Dzunko (Co-editor, The Lifted Brow)
Dr Jeanine Leane (School of Culture and Communication, Faculty of Arts, the University of Melbourne)
2018
Winner
Cassandra Pybus for Truganini: Journey through the apocalypse
This is a valuable and important piece of biographical research, focussing on the life of Trugannini, an Indigenous Tasmanian woman who was taken from Bruny Island at the age of sixteen and, as Pybus puts it, was "effectively a prisoner of the state until she died in 1876". The judges were impressed with the quality of writing, the rigour of the research and the command of narrative direction. This is a significant biography, one that will reveal both the horrors of militant colonialism and the ability of Indigenous people to survive under great duress. We note that this work is mindful of "the protocols that govern non-indigenous writers dealing with Indigenous subjects."
Commended
Quentin Sprague for The Stranger Artist

A compelling and culturally significant account of the developing creative relationship between the Gija artist Paddy Bedford and his non-Aboriginal arts advisor, Tony Oliver. The reader is taken on a fascinating journey to a place called Crocodile Hole, and charts the life of the community there and the role it played in Indigenous art production.
Judges
Professor Ken Gelder (Co-director of the Australian Centre, the University of Melbourne)
Ms Penny Blazey (representative of the Blazey family)
Mr Jonathan Green (Editor, Meanjin)
Professor Denise Varney (Co-director of the Australian Centre, the University of Melbourne)
2017
Winner
Eleanor Hogan for Into the Loneliness: The unholy alliance of Ernestine Hill and Daisy Bates
This impeccably researched work provides a captivating account of two famous Australians, Daisy Bates and Ernestine Hill. Both women were heavily implicated in the lives of Indigenous people: Bates was an influential amateur ethnographer and Hill was a popular journalist, author of The Great Australian Loneliness (1937). Eleanor Hogan offers insightful and compelling reflections on their unsteady friendship, their unwavering ambitions, the details of their hard-earned experiences, and the crucial role they both played in giving shape to our colonial legacy.
Commended
Fiona Wright, for Homing In
The judges commend this work as a fascinating and astute investigation of the Australian suburbs, an unflinching chronicle of what it means to live there, and to grow up there. It tells of being shaped by the suburbs and yet excluded from the things they relentlessly prioritise. As her narrative unfolds, Wright also gives us a perceptive and heartfelt account of what it means to be an Australian woman today.
Judges
Professor Ken Gelder (Co-director of the Australian Centre, the University of Melbourne)
Ms Clare Forster (representative of the Blazey family)
Mr Jonathan Green (Editor, Meanjin)
Professor Denise Varney (Co-director of the Australian Centre, the University of Melbourne)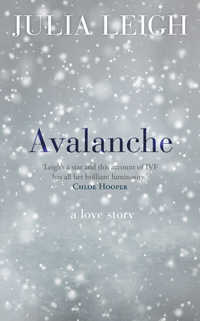 2016
Winner
Julia Leigh for Avalanche
Julia Leigh's submission to the Blazey Fellowship was an extract from her forthcoming autobiographical work Avalanche, a frank, touching and beautifully written account of her experiences with IVF. The extract chronicles her decision to undergo treatment, built around her need for what she calls 'Sweet dark purpose'. It folds a sophisticated and sometimes clinically detached view of the effects of medical processes on women into an intensely personal narrative to do with loss, hope and longing. The extract is a series of exquisitely constructed scenes that immerse the reader into the choices she makes and the challenges she faces.
Judges
Professor Ken Gelder, Co-director of the Australian Centre, the University of Melbourne
Mr Tim Herbert, representative of the Blazey family
Ms Catherine McInnis, deputy editor, Meanjin
Professor Denise Varney, Co-director of the Australian Centre, the University of Melbourne
2015
Winner
Rebe Taylor for Into the Heart of Tasmania: A Search For Human Antiquity
In 1908 English gentleman, Ernest Westlake, packed a tent, a bicycle and forty tins of food and sailed to Tasmania. On mountains, beaches and in sheep paddocks he collected over 13,000 Aboriginal stone tools. Westlake believed he had found the remnants of an extinct race whose culture was akin to the most ancient Stone Age Europeans. But in the remotest corners of the island Westlake encountered living Indigenous communities.
Into the Heart of Tasmania tells a story of discovery and realisation. One man's ambition to rewrite the history of human culture inspires an exploration of the controversy stirred by Tasmanian Aboriginal history. It brings to life how Australian and British national identities have been fashioned by shame and triumph over the supposed destruction of an entire race. To reveal the beating heart of Aboriginal Tasmania is to be confronted with a history that has never ended.
Commended
Jane Messer for Grave Relations: A Biography
Jessica White for Blue Shadows and Morning Light: Tracing the Art Collection of F.G. White
Judges
Ms Penny Blazey (representative of the Blazey family)
Professor Ken Gelder (Co-director of the Australian Centre, the University of Melbourne)
Ms Brigid Mullane (editor, Kill Your Darlings)
Associate Professor Denise Varney (Co-director of the Australian Centre, the University of Melbourne)
2014
Winners
Michael Farrell for The Case of Jong Ah Sing
Mark Mordue for Boy On Fire: The Young Nick Cave
The first volume of the long-awaited, near-mythical biography of Nick Cave, by award-winning writer, Mark Mordue. A beautiful, profound and poetic biography of the formative years of the dark prince of Australian rock 'n' roll, Boy on Fire is Nick Cave's creation story. This is a portrait of the artist as, first, a boy, and then as a young man. A deeply insightful work which charts his family, friends, influences, milieu and, most of all, his music, it reveals how Nick Cave shaped himself into the extraordinary artist he would become.
As well as a powerfully compelling biography of a singular, uncompromising artist, Boy on Fire is a fascinating social and cultural biography, a vivid and evocative rendering of a time and place, from the fast-running dark river and ghost gums of Wangaratta, to the nascent punk scene which hit staid 1970s Melbourne like an atom bomb, right through to the torn wallpaper, sticky carpet and the manic, wild energy of nights at the Crystal Ballroom.
Commended
Elmo Keep for The Two Fathers
Judges
Ms Penny Blazey (representative of the Blazey family)
Professor Ken Gelder (Co-director of the Australian Centre, the University of Melbourne)
Dr Jeff Sparrow (editor, Overland)
Associate Professor Denise Varney (Co-director of the Australian Centre, the University of Melbourne)