Grant Writing Strategies: Insights from CONREP
Grant writing is a crucial component of research and academia. Research grants provide financial support for seed funding, research projects often involving travel and conference participation, and publication. Grants are therefore an essential source of funding supporting innovative research, facilitating networking opportunities, and enhancing professional development. Drawing on their extensive experiences with previous grants and the Jean Monnet Erasmus+ network grant Comparative Network on Refugee Externalisation Policies (CONREP), Professor Philomena Murray (University of Melbourne) and Dr Margherita Matera (University of Melbourne) provided information in this seminar on identifying funding opportunities and strategies for grant writing. This was an excellent opportunity for PhD students and Early Career Academics to gain deeper insights into the challenges of grant writing including:
Identifying the right grant for you
What to think about before you start a grant application
How to make your application competitive; and
EU grants: What can be learned from our experiences with CONREP?
As mentioned in the seminar, Professor Murray has kindly shared a comprehensive information document on 'Grants from Europe: Jean Monnet and the European Research Council' which can be downloaded here.
Speakers
Dr Margherita Matera is a lecturer in Political Science in the School of Social and Political Sciences at the University of Melbourne and a member of the Comparative Network on Refugee Externalisation Policies. She has previous experience working in the area of research grant administration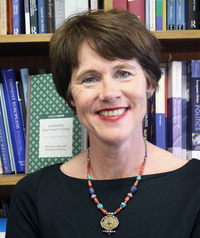 Professor Philomena Murray, Director of the Comparative Network on Refugee Externalisation Policies, is Honorary Professorial Fellow and Jean Monnet Chair ad personam in the School of Social and Political Sciences at the University of Melbourne. A recipient of many international and national grants, she has been an assessor for many years for the Australian Research Council, the European Research Council and other European research bodies
The seminar was chaired by Kelly Soderstrom who is a Research Partner with CONREP and PhD Researcher in the School of Social and Political Sciences, Faculty of Arts, University of Melbourne. Her research interests include immigration and asylum governance, externalisation, EU politics, crisis management, citizenship, and identity construction
Event details
Date: 3 June 2021
Time: 5pm-6:30pm (AEST); 9am-10:30am (CET)
Contact: Kelly Soderstrom