Melbourne Peer Mentor Program
In the Melbourne Peer Mentor Program, newly commencing Bachelor of Arts students are supported to navigate their transition to University; make new social connections with other first year students; and access helpful advice.
Peer Mentor in the Faculty of Arts
First Year Mentees
As a first-year student you will be a part of the Melbourne Peer Mentor Program and matched with a group of your peers and a Peer Mentor. In your meetings, you will have opportunities to forge friendships and hear more about University services available. You will meet with your mentoring group on a regular basis throughout the semester.
For more information on Melbourne Peer Mentor Program, access the Student Portal and check out the "Advising and Mentoring" link in the navigation bar at the top of the page.
Mentors
As Peer Mentors, you will support students to navigate their first semester and give tips on how to maximise the opportunities offered within the Faculty of Arts and the wider University community.
The benefits of becoming a Mentor include:
Opportunities to grow your leadership potential
Developing your intercultural awareness and communication skills
New friendships and opportunities to give back to the Faculty of Arts and University community
As Peer Mentors, you are not expected to have the answers to all the questions a mentee might ask or replace academic and professional assistance provided by the University. Instead, you will model help-seeking behaviours, guide and support new students, encourage them to work things out for themselves and help them to find their own solutions. You will be supported as a Peer Mentor by an experienced group of Peer Leaders and the Arts Student Life Team.
Isabelle – 2020 Arts Mentor
My proudest moment about this program has been seeing the engagement between my mentees outside of our mentoring sessions. Whether it is their banter in the sessions or their comments on each other's Facebook posts, I find great joy in the fact they have built genuine friendships from meeting each other at our first mentoring session.
Reina – 2020 Arts Mentor
My favourite part of the program is the opportunity for me to assist other students in understanding what resources are available for them.
I'm honoured to have been a part of this program, and I thank my Peer Leaders for the help and support they provided for the Peer Mentors.
Steph – 2020 Arts Mentor
The best element of the program was that it was an opportunity to make friends and form connections with those who are going through similar first year experiences as a mentee or had gone through it already as a mentor - and especially during the Covid-19 quarantine as the program adjusted quickly to support the needs of first years. I am also glad I got to improve my leadership and communication skills during this time.

Thank you for supporting mentors too!
Meet our Mentor Leaders
The Faculty of Arts has a great group of Mentor Leaders who are here to support our Mentors. Mentor Leaders are current University of Melbourne students who have a range of experience in mentoring, supporting students and student programs.
You will be allocated your own Mentor Leader/s, who will be able to get to know you over the course of the program, check in with you regularly to offer support and will be someone you can reach out to for advice and guidance.
Andia Latifi Meybodi
Andia is a third-year Bachelor of Arts student, majoring in Criminology and Politics, hoping to work in law reform one day.
She was a mentor in 2021 and has really enjoyed supporting new students in their academic and social journeys at university. She is very excited to support the mentors in the same way and make new friends within the program.
Andia is a massive cat person and has two Ragdolls who have made numerous appearances in her online classes.
Bridie Cochrane-Holley
Bridie is a third-year Juris Doctor (JD) student at the Melbourne Law School. She completed her Bachelor of Arts in Ancient World Studies and Diploma in Languages in French in 2019, whilst also mentoring and welcoming first-year students to Arts at Melbourne.
She says that "mentoring is a great way to use your own experiences; both trials and triumphs to help someone else start off on the front foot".
Having supported first-year mentees previously, Bridie will be going into her third year of helping prepare and support the mentors within the program, so that they can then best support their first-year students and welcome them into the Arts community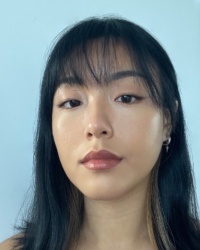 Maddie Pan
Maddie is a third year Bachelor of Arts student majoring in Psychology and Media and Communications.
She was a mentee when she first came to Melbourne as an international student. She found her mentor helpful supporting her through a tough time, while adjusting to a new life away from home.
Because of her amazing experience as a mentee, she believes that it's important to guide first-year students to navigate their uni life and make connections, so they feel welcomed and more confident moving forward. Having been a peer mentor in previous years, she's excited to support the mentors this year and share her experiences.
Get Involved – apply to become a Peer Mentor
Mentoring in the Faculty of Arts is a rewarding volunteering opportunity. If you are interested in applying and would like further information on time commitment and eligibility, please visit the Apply to become a peer mentor web page.
Frequently asked questions
You can find a range of FAQ's and answers on the Melbourne Peer Mentor Program website.
Contact us
If you want to reach out to ask about the Melbourne Peer Mentor Program, need help as a mentee or mentor or simply need to provide feedback – we would love to hear from you!
Arts Student Life Team
Gabriella Gianni
Program Coordinator
Student Life, Faculty of Arts
Emily Midford
Program Officer Student Life
Faculty of Arts
James Wilsdon
Program Officer Student Life
Faculty of Arts
Submit an enquiry
You can contact us directly by submitting an enquiry here.
Visit us
Room 102, Level 1, Old Arts (Building 149)