Digital Studio
The Digital Studio provides services, expertise, equipment and collaborative spaces for Faculty of Arts researchers and industry partners working in the digital humanities, arts and social sciences (HASS).
The Digital Studio leverages digital technologies to transform the ways in which teaching, research and scholarship are performed in the humanities, arts and social sciences (HASS). In association with University Library and Research Platforms, it offers a combination of research project development resources for staff and students, as well as the technical expertise and services in infrastructure and technology to underpin innovative research and collaboration.
Overview
Digital Scholarship is concerned with understanding the transformative uses of content that result in innovative research and new tools to engage with intellectual materials. It encourages an enquiring approach to digital infrastructure rather than more passive uses of electronic content, such as emailing or word processing. Digital scholarship encompasses a number of disciplines, including humanities/digital humanities, social sciences, cultural informatics, the visual and performing arts, as well as the intersections of these disciplines with scientific domains.
The aims of the Digital Studio are to:
support faculty, staff and students with the creation of digital scholarship works
improve the standard of research data management practice and the development of new and/or improved digital methodologies
support in building partnerships and facilitate connections with campus and library units aimed at enabling the research, teaching and learning goals of the faculty of the University and the surrounding community
contribute to developing innovative digital humanities projects that contribute to research and teaching at The University of Melbourne
become a hub for digital scholarship, staffed by individuals with specialised skills who support work
The Digital Studio is home to a growing number of exciting projects at the intersection of social sciences, humanities and the digital world. From online heritage to data mining, we provide space, advice and equipment for the cutting edge of digital research.
Current Projects
Deep Mapping: Harnessing Museum 'Soft Power'
Dr Natalia Grincheva, Research Fellow, Research Unit in Public Cultures
With strong expertise in museology, international relations and new media, I am pursuing my career in the field of digital humanities focusing on development of computational methods to study contemporary museums as important players in creative economy. Currently, I am working on the project Deep Mapping: Harnessing Museum 'Soft Power', which received the 2017 Museum Computer Network Award for developing innovative solutions to enhance museum transparency and strengthen proactive management in global PR.
The project aims to employ Geographical Information Technologies to develop a pilot version of the digital mapping system "Museum Soft Power Map." It aims to visualise time-space development of museum 'soft power', defined as an institutional ability to attract large and diverse audiences and generate economic capital. In collaboration with the Australian Centre for the Moving Image (ACMI), I am working on the demo version - a dynamic digital map to visualize a growing in time geographic diversity of the Centre's collections, programming, audiences and partnerships. This digital map is designed to reveal what factors affect the development of the ACMI's global brand recognition and influence its capacity to attract larger visitation and revenue.
The major outcome of this project will be a research platform that can make a contribution both to applied knowledge and to academic scholarship. On the practical level, this research system can improve ACMI proactive management in global PR and programming. The digital map will reveal geographic areas of missed opportunities by exposing locations where ACMI has a low or no cultural affiliations. Also, the system will help to identify "hot spots" of social density in terms of visitation and social activities, as well as to explore if stronger institutional efforts to target specific locations can result in a higher economic return on institutional investments. In academic terms, such a digital mapping tool will advance the digital humanities scholarship by developing computational methods to explore cultural institutions and their impacts upon audiences. It will combine quantitative and qualitative traditions within cultural mapping to reveal how collections, curatorial expertise and international programming strategies can generate museum "soft power."
Creative Convergence: Enhancing impact in regional theatre for young people.
Professor Rachel Fensham, School of Cultures and Communications, Chief Investigator
Associate Professor Paul Rae, School of Cultures and Communications, Chief Investigator
Dr Jennifer Beckett, School of Cultures and Communications, Chief Investigator
Dr Megan Upton, School of Cultures and Communications, Research Assistant
A recent five-day fieldwork experience in East Gippsland working with Arena Theatre Company saw team members observing a digital story telling workshop called "DrOne", and implementing a new research workshop model titled "My Online Life", an interactive exploration of young people's engagement with social media.
Asking questions such as, 'Do they see their online lives as performative?' and 'What kind of affective relationships do rural adolescents construct through social media participation?' we used survey tools to identify the extent of their use of social media, and conducted interviews with teachers about the impact of social media in the school context. During the workshop, we also worked with the students to create performance poetry that illustrated their social media identities in an everyday context.
This fieldwork exemplifies the range of methodologies we are using to understand the concept of "convergence" in this project. We are particularly interested in convergences between what live theatre can offer, and convergence in digital spaces such as social media. Could potential convergences between theatre and digital media enhance the impact of a theatre experience for young people? Can it circumvent distance? Can it prolong a conversation that enables young people to navigate transitions in their lives? Can it expand their experiences?
The Digital Studio has provided support for building our data storage plans and for mapping preliminary and documenting qualitative and quantitative data in ways that are suitable for wider dissemination.
Project Partners: Arena Theatre Company; Arthur - a theatre company; Bell Shakespeare; Creative Victoria; Geelong Performing Arts Centre; HotHouse Theatre; Melbourne Theatre Company; Theatre Network Australia.
Investigating Actual and Perceived Videotext Complexity in Second Language Video Comprehension
Emad Alghamdi, PhD Candidate, School of Languages and Linguistics
The overarching aim of my research is to understand what makes a video complex for (language) learners. As a digital artefact, video is a dynamic, interactive and complex multimodal artefact in which meanings are constructed through the interactions of different (semiotic) communicative modes (language, visual, and acoustic) across spatial-temporal dimensions. Language is the most expressive mode, yet it is one among many other communicative modes in videos. Visuals (eg images, diagrams, speaker's facial expression and gestures) and acoustic features (eg pitch, rhythm, and speaker's accent) do also contribute to meaning constructions in videos.
The complex interactions of these modes can be better understood through systemic multilayered analyses of how meaning constructions within and across modes. Using various analytic tools (advanced Natural Language Processing, Data Mining models, and learner-centric visual complexity measures), I will first investigate what video features, eg linguistic, visual and acoustic features, contribute to the complexity of meaning comprehension for language learners. Additionally, I will develop an interactive online tool for video data visualization which can be used for educational and research purposes.
A secondary aim of my research is to develop machine learning models that could predict the complexity level of videos based on the linguistic, visual, and acoustic features found to be difficult for language learners.
Theatre and Dance Platform
Professor Rachel Fensham, School of Cultures and Communications, Chief Investigator
Professor Denise Varney, School of Cultures and Communications, Chief Investigator
Andrew Fuhrmann, School of Cultures and Communications, Research Assistant
The Theatre and Dance Platform is a digital archives project hosted by the Digital Collections repository at the University of Melbourne which aims to diversify and enhance the University's contribution to AusStage, an online database that records information about live performances in Australia. The platform, managed through the Digital Studio and created with LIEF 5 support, hosts a range of digitised material related to the performing arts, includingphotographs, scenic and costume designs, video recordings, posters and textual material such as programmes, reviews and correspondence. Using a visual and readily accessible search interface, the project's key research focus is the cultural heritage and legacy of national and internationally significant dance and theatre collections, such as those of the Melbourne Theatre Company, Lucy Guerin Inc and La Mama Theatre. Digitised visual and textual material and its information architecture is linked to Austage, and is compliant with national and international metadata standards. Currently, with LIEF 6 support, we are adding material related to the venues of the theatre and dance collections listed above, as well as Arts House, the Union Theatre, Russell Street Theatre, and the Malthouse Theatre. These venues map the development of major production venues across the City of Melbourne over a fifty year period. Each venue is a public venue, funded through the grants system and the metadata will enable us to map programming as increasingly multi-functional and entrepreneurial.
Assistant Dean, Digital Studio
Professor Rachel Fensham
Professor Rachel Fensham is a dance and theatre scholar with a history of research development in the digital humanities. She is Lead Chief Investigator (CI) on the ARC Linkage project, "Creative Convergence: Enhancing Impact in Regional Theatre for Young People" (2015-2018) and CI on the LIEF project for AusStage 6 which has developed an interoperable Theatre and Dance Platform at the University of Melbourne. She established the Digital Humanities Incubator (Melbourne, 2014-5) and in the UK, she launched the Digital Dance Archives and Move Research. Forthcoming publications include editing a section on "Making and Assembling" for the Routledge Handbook of Interdisciplinary Research and a long article on issues in dance research for a forthcoming Methuen Handbook. With Professor Peter M. Boenisch, she is co-editor of the Palgrave book series, "New World Choreographies" which has just launched its seventh title.
Digital Studio Project Officer (acting)
Nat Cutter
Email: nat.cutter@unimelb.edu.au
Nat is a current PhD candidate in the School of Historical and Philosophical Studies, researching the experiences and impact of English expatriates in seventeenth-century North Africa. He is interested in cross-cultural engagement, social networks, evangelicalism, millennialism, diplomacy, and piracy. Nat is also a keen administrator, and will be working for the Digital Studio in this capacity until November 2017.
Digital Studio Office Hours
Monday 9.00 am - 5.00 pm
Tuesday 11.30 am - 5.00 pm
Wednesday 10.00 am - 5.00 pm
Thursday 9.00 am - 1.30 pm
Informatics support staff
Social and Cultural Informatics Platform (SCIP)
Greg D'Arcy
Mitchell Harrop
Geordie Zhang
Website: scip.unimelb.edu.au
Steering Committee members
Professor Rachel Fensham
Assistant Dean, Digital Studio
Ms Donna McRostie
Research and Collections representative (Acting Director, Research and Collections, University Library)
Ms Jenny Ellis
Scholarly Information representative (Director, Scholarly Information, University Library)
Associate Professor Sarah Maddison
Assistant Dean, Research (Academic, School of Social and Political Sciences (SSPS))
Ms Lucy Ayers
Partnerships representative (Partnerships Manager, Faculty of Arts)
Mr Stephen Giugni OAM
Research Platforms representative (Associate Director, Research Platform Services)
Mr Ken Clarke
Engineering representative (Electrical and Electronic Engineering / Melbourne Networked Society Institute (MNSI))
Ms Catrionadh Dobson
Business Developments representative (Senior Business Development Manager, Faculty of Arts)
Ms Elliette Dupre Husser
Research representative (Research Manager, Faculty of Arts)
Mr Nat Cutter
Digital Studio Project Officer (acting)
Management User Group members
Ms Kate Gascoigne
Faculty Teaching representative (Manager Strategy, Planning and Resources Unit)
Ms Bernie Farrell
Facilities/OHS representative (Facilities, OHS and Records Manager, Strategy, Planning and Resources)
Ms Ailie Smith
eScholarship Research Centre (ESRC) representative (Research Archivist)
Mr Lyle Winton
Social and Cultural Informatics Platform (SCIP) representative (SCIP Platform Manager)
Ms Mary-Louise Edwards
Scholarly Information representative (Arts Librarian, Scholarly Information)
Ms Kim Doyle
Graduate Student group representative
Ms Meredith Hinze
e-teaching rep (Manager, eLearning/eTeaching, eTeaching Unit)
Mr Nat Cutter
Digital Studio Project Officer (acting)
Digital Studio services
Getting started consultations
General research consultations
Research data management
Consultations
ARC grant applications
Data repository services
Data storage advice
Data management planning
Research tools and services
Consultations
Digitisation
Digitisation self service
Data forensics
Research communication and collaboration tools
Research knowledge
Archiving reference management
Research profile and impact
Reports
Research identifiers
Open access
Consultation and advice
Training and events
Workshops
Bespoke information sharing and networking
Other services available in the University
The Melbourne School of Design's FabLab provides a range of digital fabrication services including 3D printing, laser cutting and CNC milling. For more information please see their Contact us web page.
Frequently asked questions
For internal users

What Research Data Management services and support can I access in the Digital Studio?

Personalised advice for the completion of the "Management of Data" section of ARC applications
Advice on constructing a data management plan, system and tools to facilitate your research
Advice on storage and organisation of research data
Advice on coordinating collaborative, large-scale or highly-engaged research activities
Advice on the use of Data Repository Services
Data management planning to make the most out of high-value research materials, both physical and digital
Development and delivery of workshops on department needs on all facets of research information management
Consultations relating to a range of research data compliance areas, including funding requirements and uses of research data

What research tools, services and advice are offered by the Digital Studio and service partners?

Consultations on identifying, accessing and using a range of research support software tools
Digitisation of physical research data via 2D and 3D digitisation services
Digitisation of physical research data via self-service equipment
Access to research data stored in old legacy media via digital forensics services
Development and testing of informatics solutions in archival science and digital humanities
Consultations on locating and advanced searching of primary and secondary research databases

How can the Digital Studio help me to increase my research profiles and demonstrate the impact of my research?

Consultation and advice on making research more accessible through digital technology
By providing bibliographic analysis and other metrics reports
By providing support in creating and merging research identifiers such as ORICIDs

How can the Digital Studio assist me to meet open access requirements?

The Digital Studio will provide advice and support on compliance with funder open access mandates and understanding of open access opportunities for publishing research outputs

How can the Digital Studio assist me in understanding copyright and intellectual property?

The Digital Studio provides consultancy to facilitate non infringing use of scholarly materials for education purposes
The Digital Studio provides information, education and awareness services on copyright and its relevance to teaching and learning, research and knowledge transfer

For external users

What infrastructure and equipment are offered by the Digital Studio?

The Digital Studio offers project research space for short- and long-term projects in the digital humanities, multiple collaborative learning spaces, post-production, self-service digitisation and digital forensics laboratories, two immersive screens, spaces to accommodate informal project work, and an exhibition hall dedicated to the display of the studio's research.

What services will the Digital Studio provide to users?

The Digital Studio is supported by staff providing specialist expertise for research work in the digital environment, including the (Library and SCIP) Socio-Informaticians who specialise in supporting Art and Humanities and discipline-based Liaison Librarians. Expertise will be available in innovative sociotechnical methods, practices and protocols for accessing, collecting, managing, re-using and curating digital research data and output of significant academic and research value.

The Faculty of Arts eLearning/eTeaching unit (including the Equipment loans facility) are also permanently located on Level 3 of the studio, at the end closest to the teaching spaces.

Digital Studio staff will offer consultations on topics including:

compliance with funding requirements
using a digital repository
assistance with ARC application requirements
constructing a data management plan

It will provide advice on:

the identification, access and use of a range of research support software tools
digitisation and digital forensics
how to use data analytics to increase a research profile or demonstrate the impact of research
open access requirements
copyright and intellectual property
Digital Workshop (Multi-purpose room)
This room is suitable for collaboration or small lectures/seminars. It seats 20 people around two large tables
2 video projectors – one per table (Can show different content or mirror displays, interactive whiteboard stylus available on request)
White boards (3)
12 keypad lockers
Power supply (4 outlets) for each table
Digital Lab (Conference Facility and Research Laboratory)
This flexible room seats 30 people and is suitable for conferences, lectures, group meetings and collaboration. All tables and chairs can be reconfigured or moved.
1 large projection screen, 3 small projection screens (all can show independent content or mirror). 3 smaller projection screens can be activated as interactive whiteboards on request.
Two large screens on trolleys also available
Power outlets hanging from ceiling
Two control panels at either end of the room
Mobile lectern with projector connection
Collaborative spaces with video-conferencing and recording facilities
These rooms are suitable for small meetings and project work. Collaborative Rooms I and II can be combined into one larger room.
All rooms are equipped for video conferencing, using webcams and sound inputs controlled from the PC. Rooms I and III can produce and store video and audio recordings.
211: Collaborative Room I

Seats 6-10

212: Collaborative Room II

Seats 4-6

306: Collaborative Room III

Seats 6-10

307: Collaborative Room IV

Seats 4-6
An exhibition space with wall and floor projection
Portable control panel
Three digital signage players projected on wall (also two LCD screens in e-teaching area)
Floor projection
8-channel audio, can be broken into three zones
20 x headphones, can be connected to portable pack or 8-channel audio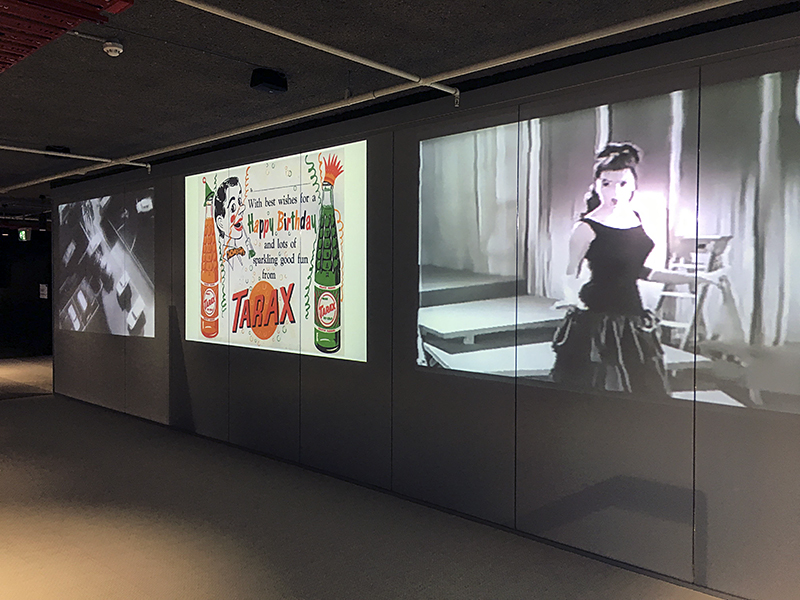 Two immersive rooms with 180° screens
Immersive Space I
Display one single image, or two overlapping
Connect two laptops
Two USB extenders to the rack PCs
Immersive Space II
Display two images side-by-side
Otherwise same setup as Immersive Space I
Informal project spaces
6 sets - 4 powerpoints, 4 USB ports, 2 ethernet ports
2 sets - 2 round tables, 4 chairs
5 x 2-person couches with 2 small round tables
1 x orange couch with powerpoint and USB port
Zeta book scanner
It's easy to scan historical and new books, magazines, files, ring binders, contracts, balance sheets and more. Delivering high-quality data with the highest resolution quickly, the Zeta allows staff and students to output to print, email, USB, ftp or the cloud.
Bookings
Project space and equipment can be booked by signing up to the Digital Studio Booking System.
Public event bookings are requested to provide a banner image and a short description to assist in promotion; and also to indicate if the Digital Studio may take photos at the event for our social media pages.
New users or bookings for large amounts of space are encouraged to email the Digital Studio to first discuss their needs, particularly with regards to technological support.
Location and contact details
The Digital Studio is located on the 2nd and 3rd floor, West Wing of the Arts West (Building 148).
Access is from Level 2 of the West Wing of Arts West, during 9.00 am - 5.00 pm or via the lifts in the rear foyer the West Wing of Arts West.
After hours by appointment or prior arrangement.
Office Hours at the Information Hub (Room 3.10)
Monday 9.00 am - 5.00 pm
Tuesday 11.30 am - 5.00 pm
Wednesday 10.00 am - 5.00 pm
Thursday 9.00 am - 1.30 pm
Contact
Email: digital-studio@unimelb.edu.au
Phone: +613 9035 7936
Twitter: @digitalstudioUM
How can I access the Digital Studio?
Project space and equipment can be booked by emailing the Digital Studio.
How do I access the Digital Studio's services?
Visit the Digital Studio to discuss the services that are available (enter via level 3), and organise a referral to the most appropriate support services,
or
Book a research consultation with a Socio-Informatician from the Social and Cultural Informatics Platform (SCIP), an Arts Liaison Librarian, expert staff from the University of Melbourne Archives or the eScholarship Research Centre via BookIt.