Digital Studio


The Digital Studio provides dedicated collaborative, project and informal spaces for researchers, students, collaborators and industry partners working on digital projects in the humanities, arts and social sciences (HASS).
Set across two floors of the Arts West Building on the University of Melbourne campus, the Digital Studio provides a range of services and infrastructure to support University researchers, professionals and selected industry experts and students working on digital projects in the humanities, arts and social sciences (HASS). The Digital Studio therefore aims to assist the Faculty of Arts to build scale in significant and interdisciplinary fields of research endeavour.
Overview
The Digital Studio leverages state of the art technologies to transform the ways in which teaching, research and scholarship are performed. In association with University Library and Research Platforms, it offers a combination of research project development resources for staff and students, as well as the technical expertise and services in infrastructure and technology to underpin innovative research and collaboration.
Digital Scholarship is concerned with understanding the transformative uses of content that result in innovative research and new tools to engage with intellectual materials. It encourages an enquiring approach to digital infrastructure rather than more passive uses of electronic content, such as emailing or word processing. Digital scholarship encompasses a number of disciplines, including humanities/digital humanities, social sciences, cultural informatics, the visual and performing arts, as well as the intersections of these disciplines with scientific domains.
The aims of the Digital Studio are to:
support faculty, staff and students with the creation of digital scholarship works
improve the standard of research data management practice and the development of new and/or improved digital methodologies
support in building partnerships and facilitate connections with campus and library units aimed at enabling the research, teaching and learning goals of the faculty of the University and the surrounding community
contribute to developing innovative digital humanities projects that contribute to research and teaching at The University of Melbourne
become a hub for digital scholarship, staffed by individuals with specialised skills who support work
Assistant Dean, Digital Studio
Professor Rachel Fensham
Professor Rachel Fensham is a dance and theatre scholar with a history of research development in the digital humanities and the current Head of School of Culture and Communication, The University of Melbourne. She established projects such as the Digital Humanities Incubator (Melbourne, 2014-5) and launched the Digital Dance Archives and Move Research. Currently Lead Chief Investigator (CI) in a collaborative digital research project, "Creative Convergence: Enhancing Impact in Regional Theatre for Young People" (ARC Linkage 2015-2018), Rachel has recently co-edited a section on "Making and Assembling" for the Routledge Handbook of Interdisciplinary Research. With Professor Peter M. Boenisch, she is co-editor of the Palgrave book series, "New World Choreographies" which has just launched its fifth title.
Informatics support staff
Manager, Digital Scholarship and SCIP Platform Manager
Greg D'Arcy, Socio-Informatician, Social and Cultural Informatics Platform (SCIP)
e-Teaching staff
Meredith Hinze (Manager, elearning /eTeaching)
Email: m.hinze@unimelb.edu.au
Phone: +61 3 8344 3573
Cameron Dunlop (eTeaching Production and Learning Officer)
Email: dunlopc@unimelb.edu.au
Phone: +61 3 9035 3974
Mitch Buzza (eTeaching Training and Support Officer and LMS faculty representative)
Email: mitch.buzza@unimelb.edu.au
Phone: +61 3 9035 7549
Jordan Old (eTeaching equipment Loans officer)
Email: jordan.old@unimelb.edu.au
Phone: +61 3 8344 1372
Plus three casual production staff.
Steering Committee members
Professor Rachel Fensham
Assistant Dean, Digital Studio
Ms Donna McRostie
Research and Collections representative (Acting Director, Research and Collections, University Library)
Ms Jenny Ellis
Scholarly Information representative (Director, Scholarly Information, University Library)
Associate Professor Sarah Maddison
Assistant Dean, Research (Academic, School of Social and Political Sciences (SSPS))
Ms Lucy Ayers
Partnerships/Business Development representative (Partnerships Manager, Faculty of Arts)
Mr Stephen Giugni OAM
Research Platforms representative (Associate Director, Research Platform Services)
Mr Ken Clarke
Engineering representative (Electrical and Electronic Engineering / Melbourne Networked Society Institute (MNSI))
Professor Angela Ndalianis
(Professor in Screen Studies, School of Culture and Communication (SCC) / Director of Transformative Technologies Research Unit (TTRU))
External representative
Management User Group members
Ms Kate Gascoigne
Faculty Teaching representative (Manager Strategy, Planning and Resources Unit)
Ms Bernie Farrell
Facilities/OHS representative (Facilities, OHS and Records Manager, Strategy, Planning and Resources)
Ms Ailie Smith
eScholarship Research Centre (ESRC) representative (Research Archivist)
Mr Lyle Winton
Social and Cultural Informatics Platform (SCIP) representative (SCIP Platform Manager)
Ms Mary-Louise Edwards
Scholarly Information Rep Arts Librarian, Scholarly Information
Ms Donna Mcrostie
Library rep
Dr Katrin Steinack
Research rep (Faculty of Arts Research Manager)
Mr David Flanders
Research platforms (technical) representative
Ms Kim Doyle
Graduate Student group representative
Ms Meredith Hinze
e-teaching rep (Manager, eLearning/eTeaching, eTeaching Unit)
Digital Studio Project Manager
TBA
Digital Studio services
Getting started consultations
General research consultations
Research data management
Consultations
ARC grant applications
Data repository services
Data storage advice
Data management planning
Research tools and services
Consultations
Digitisation
Digitisation self service
Data forensics
Research communication and collaboration tools
Research knowledge
Archiving reference management
Research profile and impact
Reports
Research identifiers
Open access
Consultation and advice
Training and events
Workshops
Bespoke information sharing and networking
Other services available in the University
The Melbourne School of Design's FabLab provides a range of digital fabrication services including 3D printing, laser cutting and CNC milling. For more information please see their Contact us web page.
Frequently asked questions
For internal users

What Research Data Management services and support can I access in the Digital Studio?

Personalised advice for the completion of the "Management of Data" section of ARC applications
Advice on constructing a data management plan, system and tools to facilitate your research
Advice on storage and organisation of research data
Advice on coordinating collaborative, large-scale or highly-engaged research activities
Advice on the use of Data Repository Services
Data management planning to make the most out of high-value research materials, both physical and digital
Development and delivery of workshops on department needs on all facets of research information management
Consultations relating to a range of research data compliance areas, including funding requirements and uses of research data

What research tools, services and advice are offered by the Digital Studio and service partners?

Consultations on identifying, accessing and using a range of research support software tools
Digitisation of physical research data via 2D and 3D digitisation services
Digitisation of physical research data via self-service equipment
Access to research data stored in old legacy media via digital forensics services
Development and testing of informatics solutions in archival science and digital humanities
Consultations on locating and advanced searching of primary and secondary research databases

How can the Digital Studio help me to increase my research profiles and demonstrate the impact of my research?

Consultation and advice on making research more accessible through digital technology
By providing bibliographic analysis and other metrics reports
By providing support in creating and merging research identifiers such as ORICIDs

How can the Digital Studio assist me to meet open access requirements?

The Digital Studio will provide advice and support on compliance with funder open access mandates and understanding of open access opportunities for publishing research outputs

How can the Digital Studio assist me in understanding copyright and intellectual property?

The Digital Studio provides consultancy to facilitate non infringing use of scholarly materials for education purposes
The Digital Studio provides information, education and awareness services on copyright and its relevance to teaching and learning, research and knowledge transfer

For external users

What infrastructure and equipment are offered by the Digital Studio?

The Digital Studio offers project research space for short- and long-term projects in the digital humanities, multiple collaborative learning spaces, post-production, self-service digitisation and digital forensics laboratories, two immersive screens, spaces to accommodate informal project work, and an exhibition hall dedicated to the display of the studio's research.

What services will the Digital Studio provide to users?

The Digital Studio is supported by staff providing specialist expertise for research work in the digital environment, including the (Library and SCIP) Socio-Informaticians who specialise in supporting Art and Humanities and discipline-based Liaison Librarians. Expertise will be available in innovative sociotechnical methods, practices and protocols for accessing, collecting, managing, re-using and curating digital research data and output of significant academic and research value.

The Faculty of Arts eLearning/eTeaching unit (including the Equipment loans facility) are also permanently located on Level 3 of the studio, at the end closest to the teaching spaces.

Digital Studio staff will offer consultations on topics including:

compliance with funding requirements
using a digital repository
assistance with ARC application requirements
constructing a data management plan

It will provide advice on:

the identification, access and use of a range of research support software tools
digitisation and digital forensics
how to use data analytics to increase a research profile or demonstrate the impact of research
open access requirements
copyright and intellectual property
Digital Workshop (Multi-purpose room)
This room is suitable for collaboration or small lectures/seminars. It seats 20 people around two large tables
2 video projectors (1 per table)
White boards (3)
12 keypad lockers
Digital Lab (Conference facility and research laboratory)
This flexible room seats 30 people and is suitable for conferences, lectures, group meetings and collaboration. All tables and chairs can be reconfigured or moved.
There is one large projection screen for the whole room and one each in the room's three zones. These screens can work independently or together.
Digital Chamber (Digital Forensics Laboratory)
6 Workstations comprising:
1 x filing cabinet/draws
1 x desk
1 x chair
2 x on desk powerpoints, 6 under desk powerpoints and 2 ethernet pots
1 monitor mount
1 x shelf
7th workstation with only 2 desktop powerpoints and 1 monitor mount
Locakable cupboards along Western wall.
1 x set 4 powerpoints, 4 USB ports and 2 ethernet ports.
Collaborative spaces with videoconferencing and recording facilities
These rooms are suitable for small meetings and project work. Collaborative Rooms I and II can be combined into one larger room.
These two rooms can record video and audio of the whole room. Cameras are controlled from PCs.
211: Collaborative Room I

Seats 8.
212: Collaborative Room II

Seats 3.
306: Collaborative Room III

Seats 8.
307: Collaborative Room IV

Seats 4.
An exhibition space with wall and floor projection
Portable control panel
Three digital signage players (also the two LCD screens in e-teaching area)
Floor projection
3 x headphones, 8-channel audio. Audio can be broken into three zones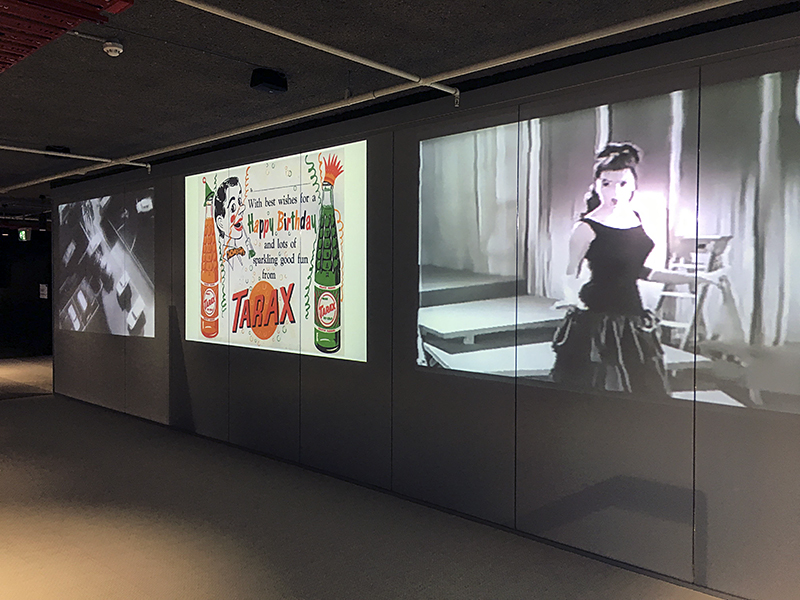 2 immersive rooms with 180º screens
Immersive Space I
Display one single image, or two overlapping
Connect two laptops
Two USB extenders to the rack PCs
Immersive Space II
Display two images side-by-side
Otherwise same setup as Immersive Space I
Informal project spaces
6 sets - 4 powerpoints, 4 USB ports, 2 ethernet ports
2 sets - 2 round tables, 4 chairs
5 x 2-person couches with 2 small round tables
1 x orange couch with powerpoint and USB port
Zeta book scanner
It's easy to scan historical and new books, magazines, files, ring binders, contracts, balance sheets and more. Delivering high-quality data with the highest resolution quickly, the Zeta allows staff and students to output to print, email, USB, ftp or the cloud.
Videos
Launch of the Digital Studio